Global e-Commerce Business
Start Your eCommerce Business on eBay Effortlessly

Title
Exclusive DISCOUNT offered to GS1 HK Members!
Body
According  to Statista, retail ecommerce sales worldwide are projected to reach US$6.54 trillions in 2022.  With millennials and Gen Z, the digital natives, becoming the core consumers in future, ecommerce  is expected to expand in every direction and become an integral part of consumer experience globally. 
ebay, one of the major global ecommerce platforms, has its gross merchandise volume surged to a record high in 2019, and user base reaching 182 millions worldwide.  To help businesses capitalise on the growing ecommerce trend, GS1 HK has partnered with SoldEazy, an official ecommerce partner of eBay, to enable you start a hands-free online business on eBay with the Global Dropship Platform.
eBay sellers, possessed with in-depth knowledge of individual markets and expertise in selling goods worldwide, will select products from our Global Dropship Platform to sell on their eBay shops.  In addition, they help suppliers identify the most appropriate markets to sell in, and adapt the marketing strategy to work more effectively.  By joining the dropship platform, you can effortlessly manage your ecommerce business, connect with top-rated eBay sellers and get products listed on the eBay global marketplace.
Contact Us
Title
The Easiest Way to Expand Your Sales Channels and Get Started Selling Online
Body
Establish Overseas Sales Channels Quickly & Cost-effectively

Match with the most suitable eBay top sellers with a simple click, powered by the eBay data analytics tool
Save cost and effort in searching buyers around
Start selling online without ecommerce resources or skills needed 
Enjoy exclusive discount offered to GS1 HK members

Achieve Better Sales Channel Management
Set different prices in different regions and limit the stock level for sales channel management
Open up new markets instantly without impacting existing sales channels 

Gain New Business at Zero Risk
Don't need to invest heavily in inventory
Improve cash flow by receiving payment before goods delivery

Manage Everything in One Place
Manage order fulfilment easily via the one-stop platform integrated with eBay systems including logistics, order information, customs clearance forms, etc. 
Enjoy all-round expertise and support 
Body
GS1 HK Members upload product information onto SoldEazy's Sourcing Platform
eBay Sellers select products on the platform to sell on their eBay shops
eBay Buyers place orders
eBay Sellers place orders to GS1 HK members
GS1 HK members process order and arrange goods delivery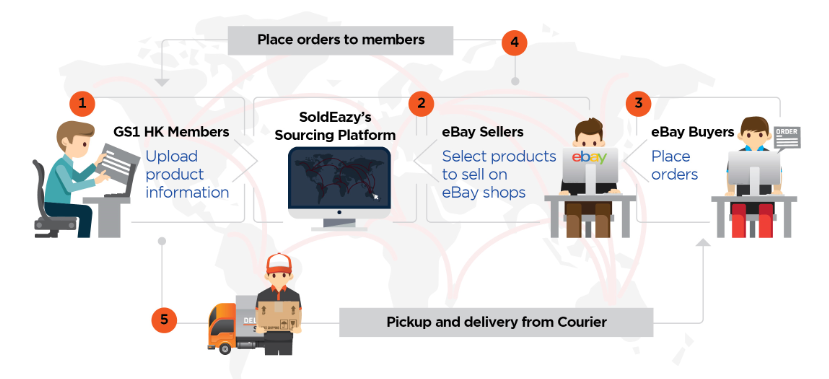 ​
Title
Applicable Product Categories