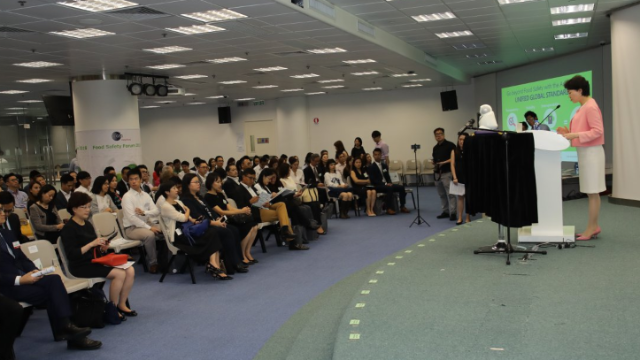 27 July 2016 (Wednesday)
Cross-border E-commerce Strategy Luncheon Series (4) - New Challenges in Cross-border Ecommerce
12:00 - 14:30
OTB Building, 160 Gloucester Road, Wanchai, Hong Kong
20 (Limited seats)
Cantonese
Summary
Member price: HKD 350
Non member price: HKD 450
A luncheon sharing to provide brands and retailers more understanding on the latest cross-border e-commerce development and challenges in China as well as the policy update 
Enquiry: Miss Winifred Wong - E: training@gs1hk.org
Should you have interests, please register online by 20 July 2016. Please settle your payment by cheque payable to "GS1 Hong Kong Limited" with remarks "Cross-border E-commerce Strategy Luncheon Series (4) - New Challenges in Cross-border Ecommerce" at the back and mail to: GS1 Hong Kong, 22/F, OTB Building, 160 Gloucester Road, Wan Chai, Hong Kong. Confirmation will be sent to the successful candidates 3 days prior to the event. 
Overview
Cross-border E-commerce Strategy Luncheon Series (4) - New Challenges in Cross-border Ecommerce
Understanding the latest policy update and development in China Cross-border Ecommerce
With increasing income and emerging trend of digitalization, Chinese shoppers are now looking for one-of-a-kind, authentic and quality products. They are shifting from purchasing low-price domestic products to foreign goods which leads to a booming demand on cross-border e-commerce. According to a recent survey released by McKinsey[1], Chinese cross-border e-commerce sales amounted up to USD 40 billion (nearly 259 billion renminbi) in 2015. To facilitate customs clearance and stem illegal gray-market imports, the China government established cross-border e-commerce comprehensive pilot zones in 12 cities last year and posted new duty tax policy on 8 April 2016. So how could foreign brands and retailers capture the opportunities against these new challenges?
With overwhelming response in 15 June luncheon, another session will be held on 27 July. During this luncheon, our guest speaker will share:
•    Channels of cross border e-commerce (Operation flow) (with price reference)
     1) B2C by Mail Channel 
     2) B2C by Courier 
     3) B2B2C in China bonded zone
•    Policy update on different channels & normal trade 
     1) Product registration & customs clearance procedure
         - normal trade
         - B2C mail
         - B2C courier
         - B2B2C
     2) CIQ requirement 
         - normal trade
         - e-commerce
     3) Taxation
         - normal trade tax (for B2B)
         - old vs new personal postal article tax (for B2C courier & B2C mail)
         - integrated tax/e-commerce import tax for BBC
     4) New policy update on 8 April 2016
         - positive list
•    Branding & Customer Engagement 
     1) How to engage Chinese consumer?
     2) 2/98 vs 20/80 theory
     3) Wechat shop
•    Understanding Consumer Behaviours with Innovations
     1) Enablers and Innovations to understand consumer behaviours in order to provide interactive shopping experience to new consumers and enhance their loyalty to the brand
     2) 30-min visit to Hong Kong Internet of Things Centre of Excellence to understand the latest industry innovative applications
Event details
-------------------------------
Date : 27 July 2016 (Wednesday)
Time : 12:00nn to 2:30pm ** (registration starts at 11:30am)
Guest Speaker:Mr. Edmun Fung, Managing Director, OYM Logistics
Language : Cantonese
Fee : 
Member            HKD 350
Non-member    HKD 450
(**including refreshment)
---
[1] McKinsey Quarterly Article, February 2016 – Cross-border e-commerce is luring Chinese shoppers
www.mckinsey.com/industries/high-tech/our-insights/crossborder-ecommerce-is-luring-chinese-shoppers/
Who is it for
Who should attend?
Stakeholders and decision makers who are interested and planning to develop cross-border e-commerce, including manufacturers, distributors, importers & exporters, traders, retailers, e-tailers and logistics service providers, etc