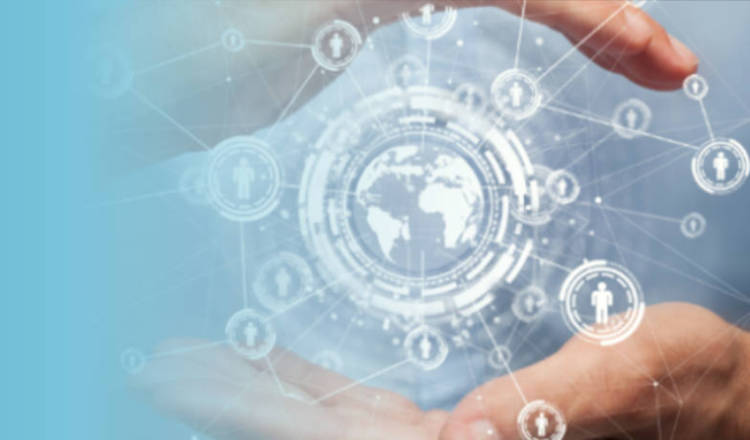 Information and Communications Technology
Body
Information and communications technology (ICT) is not only a key enabler underpinning Hong Kong's thriving economy, it is also taking shape as an economic sector in its own right. The Hong Kong Smart City Blueprint and its subsequent measures underpin HKSAR Government's resolution to embrace innovation and technology to build Hong Kong into a world class smart city. Our physical and cultural proximity to Mainland China, our vibrant startup ecosystem and our advancement in smart technologies like IoT, AI, data analytics, provides tremendous potential for Hong Kong to thrive among other competitive economies.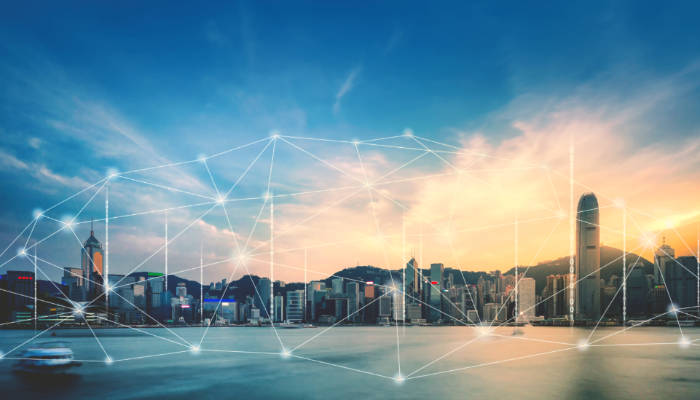 Body
We play a holistic role in forging the local ICT landscape:
Our Standards and Origin of IoT
One of the concepts or innovations that shape the future of ICT is Internet of Things (IoT). First coined in 1999 by the Auto-ID Center at the Massachusetts Institute of Technology (MIT), IoT was a research project that involved integrating the Internet, unique identification with RFID technology, such that it can automatically identify any object along the supply chain by leveraging IoT solutions and IoT platform.
In 2003, the Auto-ID Center released "Electronic Product Code" (EPC) standard based on the research project. EPC was transferred to EPCglobal® formed by GS1 for the development of EPC standards and management to realise IoT adoption, addressing real-world business needs. Thus, the foundation for IoT is built upon the components of EPC technology. 
EPCglobal® developed industry-driven standards for EPC to support the use of Radio Frequency Identification (RFID), enabling global visibility of items in today's fast-moving trading environment. The following standards developed are recognized as ISO/IEC standards:
EPCIS (EPC Information Services) enables trading partners to share information about the physical movement and status of products as they travel throughout the supply chain, providing the visibility needed with what, when, where and why of a product's movement. EPCIS and its companion standard, the Core Business Vocabulary (CBV), have been published by ISO as ISO/IEC 19987 and 19988, ratifiying the GS1 EPC standards improved traceability and anti-counterfeiting.
EPC Gen 2 standard defines the physical and logical requirements for an RFID system of interrogators and passive tags, operating in the 860 MHz - 960 MHz UHF range. ISO/IEC incorporated the EPC Gen 2 standard into ISO/IEC 18000-6C in 2005. The standard can be used for item level tagging applications, providing the visibility needed to assure that the right product in the right place, at the right time.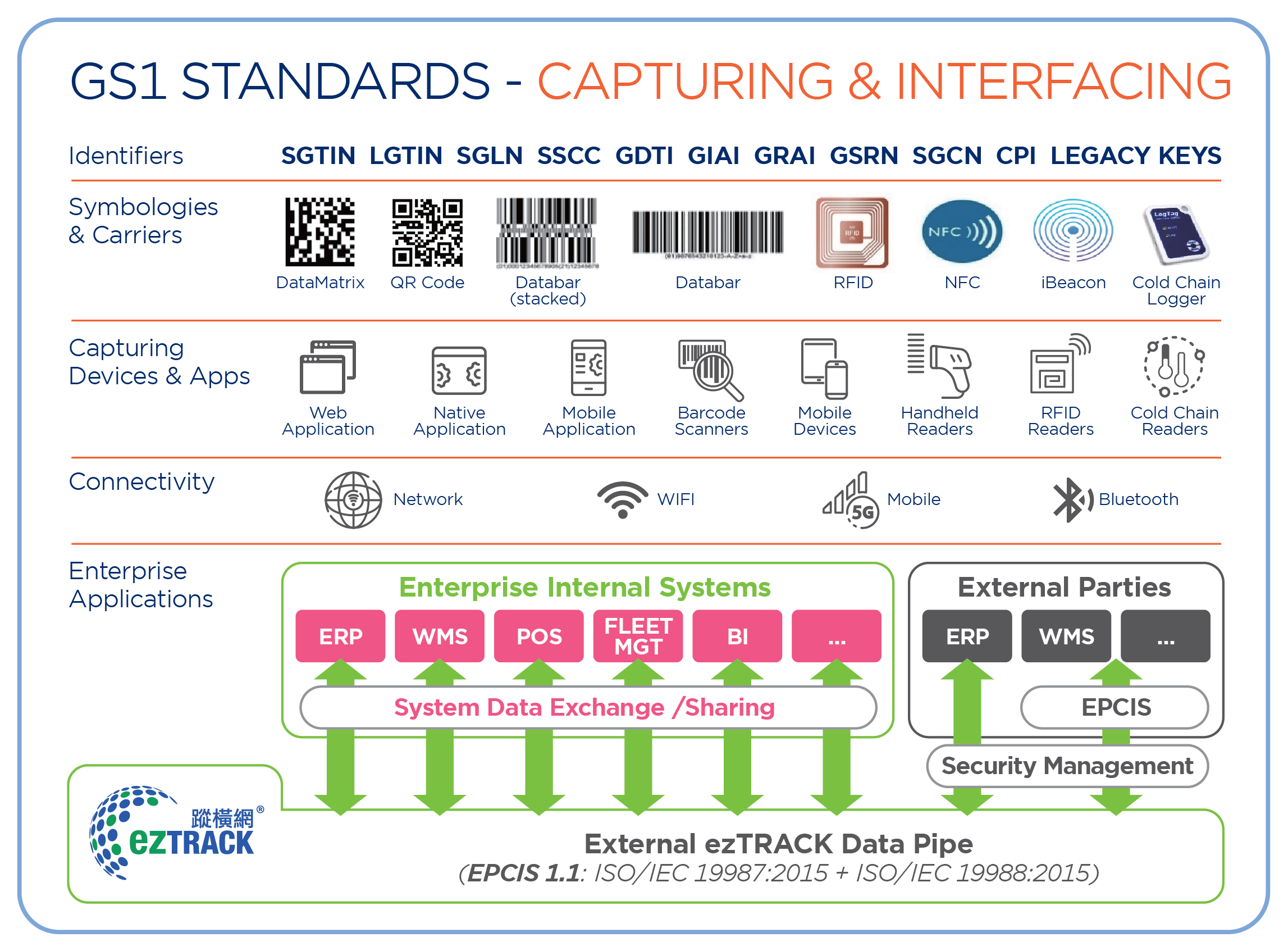 Global language of business connects physical and digital worlds, laying foundation for IoT
IoT is all about integrating multiple disciplines, e.g. sensors, RFID, networks, cloud, security, information technology, etc. in an interoperable manner.

A critical factor in enabling the IoT will be the agreements on what standards to use for identifying things, for capturing data and for sharing information relevant to the IoT applications.

The foundation layer to IoT is the Connected Devices.  These devices include barcode and RFID readers that act as interfaces between uniquely identified objects and the next layers of the architecture where data are transferred, stored and analysed.

GS1's "Global Language of Business" connects the physical and digital worlds, laying the foundation for IoT. The unique identification of objects, assets, locations, etc. (things) and automatic data capture, powered by GS1 barcodes and EPC/RFID, enables interoperability and is a key requirement for IoT.  IoT is driving increased connectivity of "things" – which leads to massive data collection. Seamless, trusted sharing of "big data" is enabled by GS1 standards. Data quality is more important than ever and GS1 standards provide the foundation for accurate, sharable, searchable and linkable data.
Body
Smart Business Innovation Centre ("The Innovation Centre")
Initially known as the "Hong Kong Internet of Things Centre of Excellence" and more commonly referred as the "IoT Centre", The Innovation Centre was set up by GS1 Hong Kong at the Hong Kong Science Park in 2013, with the support of the Innovation and Technology Commission of the HKSAR Government, the Hong Kong Science and Technology Parks Corporation as well as industries, technology partners and other related organisations. It was relocated to GS1 Hong Kong's premises in Wanchai in Nov 2015, and renamed to "Smart Business Innovation Centre ("The Innovation Centre") in 2019. Click to know more.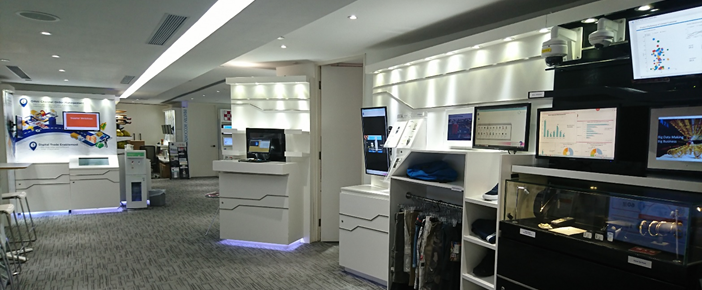 Body
We are dedicated to building a collaborative IoT ecosystem in Hong Kong via a range of initiatives:
Body
Hong Kong Internet of Things Industry Advisory Council (IoT IAC)
In 2013, the Hong Kong Internet of Things Industry Advisory Council was formed by like-minded companies under the auspices of GS1 Hong Kong. Aiming to promote IoT innovations and broaden their adoption, it helps uplift the competitiveness of local enterprises.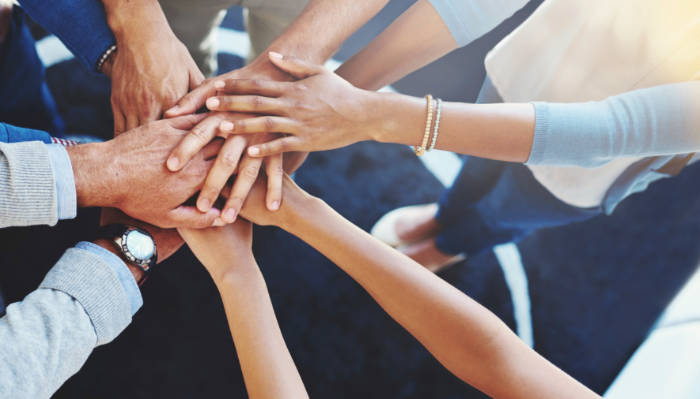 Body
IoT Knowledge Hub
The idea to have a dedicated page for IoT news and trrends was first discussed within the IoT IAC meeting, and gradually built into a knowledge centre to help drive the awareness of IoT development. 
Body
Hong Kong IoT Conference  
One of the largest of its kind in Hong Kong ICT community held annually since 2013, the Hong Kong IoT Conference serves as an efficient platform for industry practitioners to discover how IoT is adopted to meet different market needs and to exchange expertise.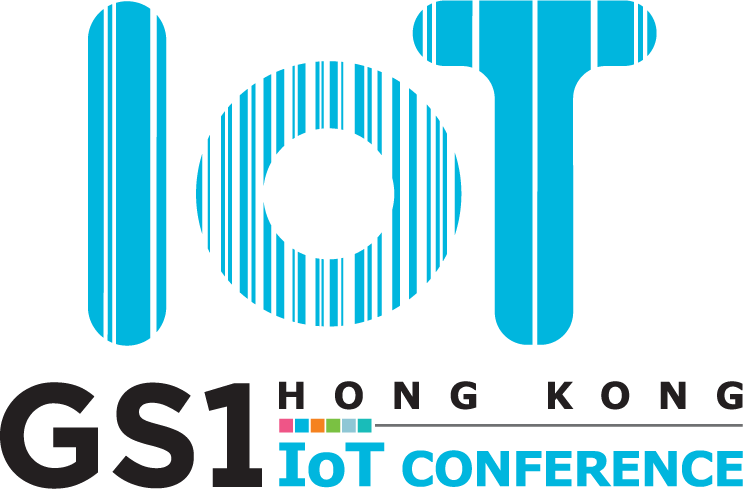 Body
Partners Programme 
A business solution network to drive the adoption of IoT technologies, in order to provide the best of breed solutions conducive to driving growth. Benefits being our partner include:
Branding and marketing opportunities
Market outreach and business development
GS1 Standard and Technology Enablement Programme 
Hong Kong ICT Awards
Steered by the Office of the Government Chief Information Officer, and organised by Hong Kong ICT industry associations and professional bodies, the Hong Kong ICT Awards aims to recognise and promote outstanding ICT solutions, inventions and applications, thereby encouraging innovation and excellence among Hong Kong's ICT talents and enterprises in their constant pursuit of creative and better solutions to meet business and social needs. 

GS1 Hong Kong has been the Leading Organiser (LO) of Hong Kong ICT Awards since 2015, hosting the Best Smart Hong Kong Award from 2015-2017, and the Smart Mobility Award since 2018. 

Submitted Response and Position Paper on Smart City Blueprint for Hong Kong and Re-industrialisation
a) Response on Report of Consultancy Study on Smart City Blueprint for Hong Kong  
b) Positioning on Re-Industrialisation  
Click here to view our advocacy related to the development of ICT in various response papers. 
Body
Leveraging the globally-recognised assessment tools, GS1 Hong Kong Professional Services  team offers consultancy services to help companies utilise best practices and apply latest RFID / IoT technologies and solutions into their supply chain, riding on GS1 standards. 
GS1 HK also offers elementary to advanced seminars/ trainings for the needs of different individuals / companies: 
Click here to learn more