GS1 HK and Zenecom join hands to help local merchants seize trillions O2O opportunities in Mainland medical, healthcare and beauty markets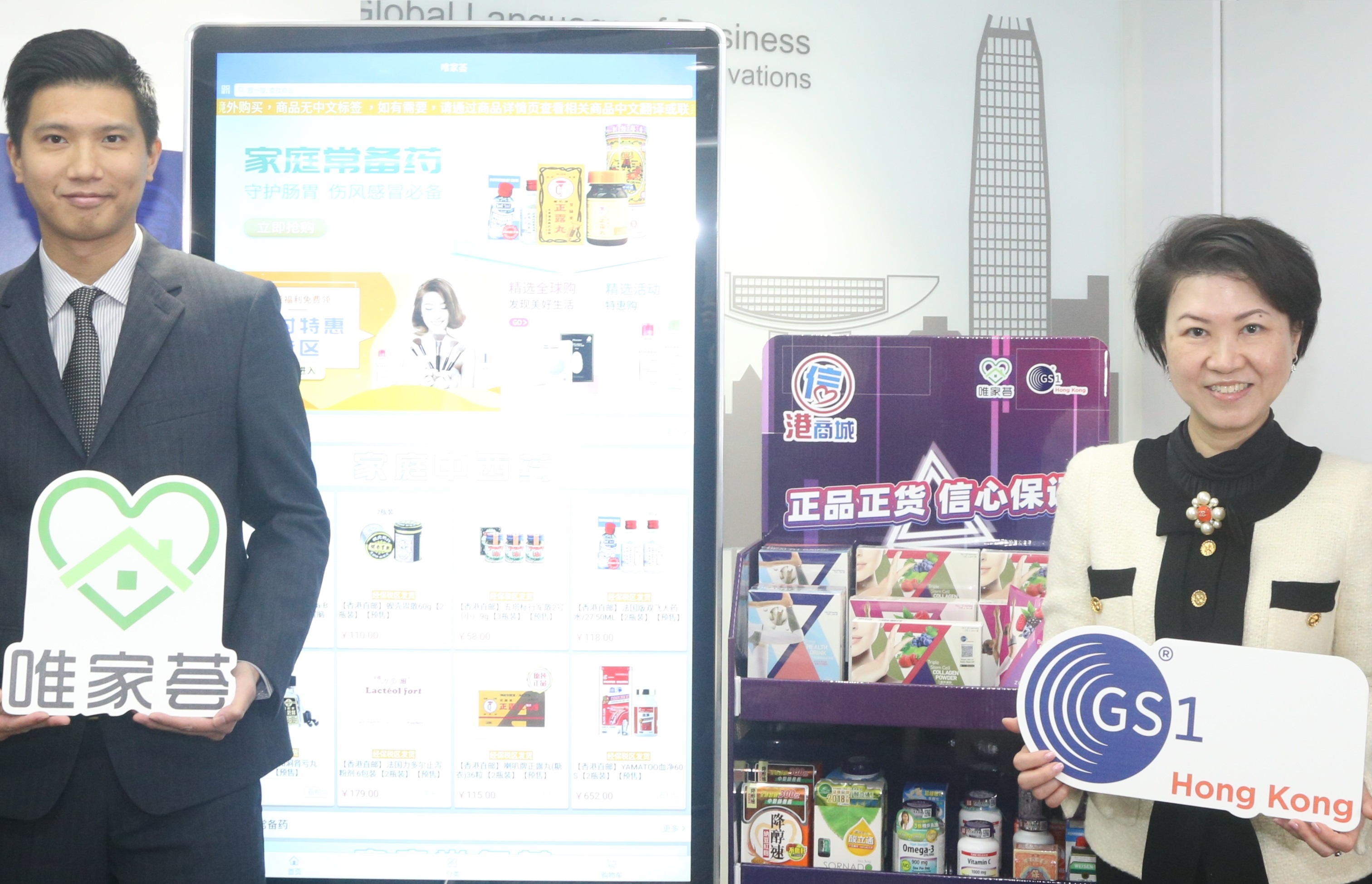 GS1 Hong Kong and Zenecom International Group Co. Ltd launched "HK Trusted Market+ WJH" initiative, aiming to bring premium Hong Kong's medicines, health supplement, beauty and skincare products to Mainland China O2O (online-and-offline) platforms.
 
(January 20, 2021, Hong Kong) GS1 Hong Kong (GS1 HK) and Zenecom International Group Co. Ltd (Zenecom) formally signed a strategic cooperation agreement to launch "HK Trusted Market + WJH" (信港商城+唯家薈) initiative. Capitalising on the cross-border "Big Health" e-commerce platform WJH, the programme aims to bring premium Hong Kong's over-the-counter medicines, health supplement, beauty and skincare products (Coin as "Big Health" below) to Mainland China O2O (online-and-offline) platforms. Backed by GS1 HK's "REAL" anti-counterfeit label, local companies are able to open up the trillion dollar Chinese market in times of adversity.
"Big Health" opportunities in Mainland China
The pandemic-driven "Big Health" industry stands out in the sluggish global economy. According to "Healthy China 2030" blueprint issued by The State Council, the scale of China's health service industry is expected to reach 16 trillion RMB in 2030. The national policy, coupled with the rising middle-class spending, have resulted in the soaring growth of online shopping for medical and healthcare products. Meanwhile, thanks to the pilot project of importing pharmaceutical products for cross-border e-commerce by the Chinese government, Zenecom, a cross-border e-commerce pilot enterprise approved by the government, is going to bring tremendous opportunities to the "Big Health" industry in Hong Kong.
Anna Lin, Chief Executive of GS1 HK said, "Among our 8,000 members, 21% of them are in the 'Big Health' industries. They revealed numerous obstacles to develop in mainland, for example, products launched on the e-commerce platforms had failed to go offline, poor sales result due to a lack of publicity and promotion, problems and challenges encountered in licensing, customs declaration and clearance, as well as concerns about counterfeits, etc. To help resolve their issues, GS1 HK and Zenecom join hand to launch the "HK Trusted Market + WJH" programme to facilitate their cross-border business and pave way for their further development in China."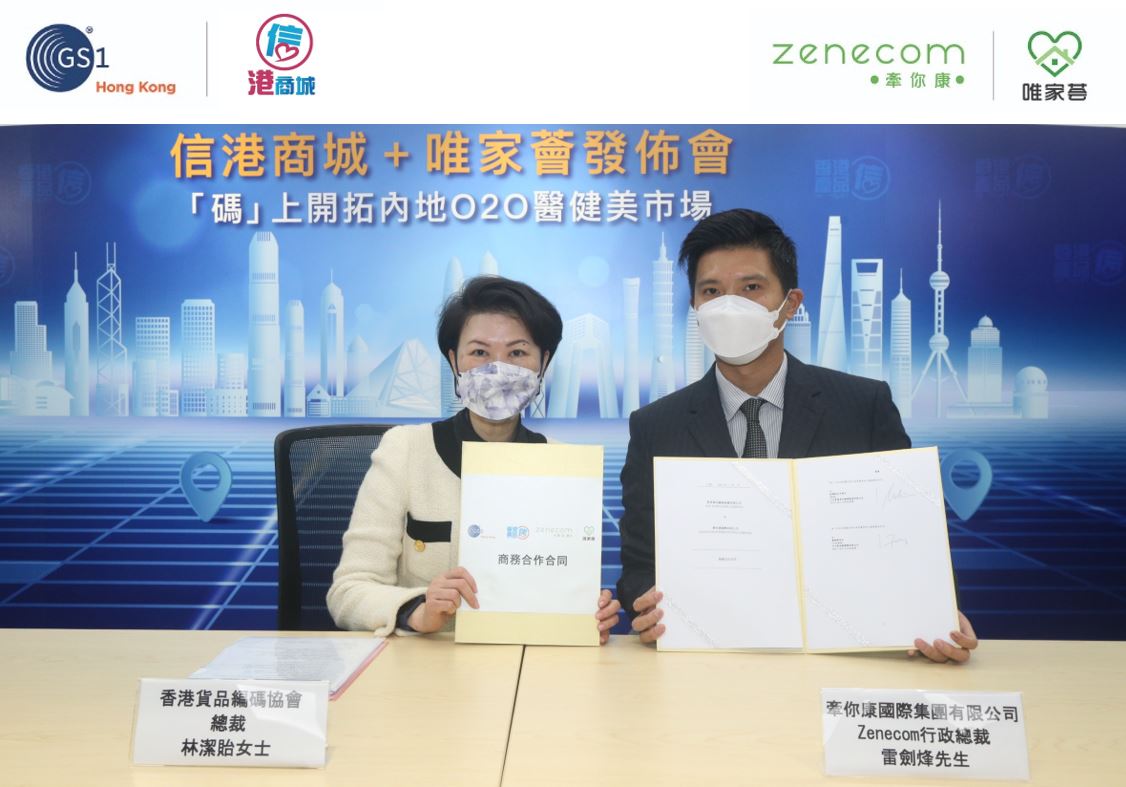 Anna Lin, Chief Executive of GS1 HK and Roy Lei, Chief Executive Officer of Zenecom formally signed a strategic cooperation agreement.

HK Trusted Market + WJH = A trillion-worth cross-border O2O market of medicines, healthcare and beauty industry
The cross-border e-marketplace "HK Trusted Market + WJH" by GS1 HK and Zenecom is designed to enable Hong Kong business to bank on the growing "Big Health" opportunities in mainland China. Zenecom will provide one-stop omni-channel marketing services, covering customs declaration, products listing, cross-border and mainland logistics and storage, brand promotion to offline display. Products listed onto the platform via the programme will be given an exclusive anti-counterfeiting QR code, "REAL Barcode" provided by GS1 HK to ensure the authenticity of its source, enhancing confidence of the mainland consumers. By scanning the REAL label with electronic device, GS1 HK's REAL Barcode app (or its webpage) will be activated to allow consumers scan and authenticate the products.
Mr. Roy Lei, Chief Executive Officer of Zenecom stated, "WJH aims to provide mainland consumers with genuine and authentic "Big Health" products. The cooperation with GS1 HK has achieved our goal. As a cross-border platform with integrated marketing strategy, we look forward to developing the "Big Health" market in mainland with Hong Kong brands."
 
Capitalising on one-stop O2O marketing services with barcode
The "HK Trusted Market + WJH" programme offers to complete the process of customs declaration for cross-border products within 15 days, then the merchants can ship the goods to Zenecom's bonded warehouse in Huangpu District, Guangzhou. The products will be delivered directly from the bonded warehouse to the customers after their online purchase, saving much delivery time.
Partnering with extensive domestic physical point-of-sales and various large-scale reputable pharmacies, Zenecom has set up product display stands and digital kiosks, which enable mainland consumers to experience the products and connect the consumers offline to online. Engaging with different sectors for innovative marketing ideas, Zenecom's "WJH" will also work with an online talent contest "The King of Sales" to promote participating brands and increase their exposure via Hunan Satellite TV International.
The extensive O2O market coverage and the appeal of authentic product guaranteed in this programme are the main reasons that arouse interest of many GS1 HK members, like YesNutri. The spokesman of YesNutri stated, "Rooted in Hong Kong for years, we are known for our high-quality products and credibility. We have tried to enter mainland market, but we were unable to sell products in pharmacies and retail outlets, and lack marketing budget to extensively promote our products. Therefore I think this programme meets our needs, which not only provides a one-stop e-marketplace and sales arrangements, but also enhances our brand exposure in the mainland market."
Ms. Anna Lin added, "I believe this programme will help Hong Kong companies find new business opportunities in times of pandemic. Also instrumental to merchants are the digitised GS1 barcode, which not only is the product listing requirement for major e-commerce platforms, but has also been integrated with mobile apps and social media networks such as WeChat, so users can search, share, buy, and authenticate products by scanning with mobile devices. I urge our business fellows to join and explore the new O2O channels in mainland China together."
- End –
About GS1 Hong Kong
Founded by the Hong Kong General Chamber of Commerce in 1989, GS1 Hong Kong is the local chapter of GS1®. GS1 Hong Kong's mission is to empower business to grow and to improve efficiency, safety, authenticity and sustainability across multiple sectors and facilitate commerce connectivity, through the provision of global supply chain standards (including GTIN & barcodes), and a full spectrum of platforms, solutions and services.
GS1 Hong Kong currently supports close to 8,000 corporate members from 20 sectors including retail & consumer packaged goods, food & beverage and food services, healthcare, apparel & footwear, logistics & ICT. By working closely with communities of trading partners, industry organizations, government, and technology providers, we can foster a collaborative ecosystem with the vision of "Smarter Business, Better Life".
As a non-profit organization, GS1 develops and drives global adoption of supply chain standards. Headquartered in Brussels, Belgium, GS1 has over 115 national chapters in 150 countries.
Website:www.gs1hk.org
About Zenecom International Group
Zenecom International Group Limited is an international group established by a group of medical professionals committed to providing comprehensive and diverse services in the health industry. Zenecom Cross-Border E-Commerce Limited (WJH) is a cross-border e-commerce platform focusing on health products, which allows clients worldwide to import health products into the Chinese market formally.
On the WJH e-commerce platform, Chinese consumers can find over-the-counter medicines, healthcare, beauty, maternal and infant products worldwide. In addition to the online e-commerce platform, WJH has also set up offline display points in over 10,000 large chain stores in China, including medical insurance designated pharmacies, sports centers and indoor children's playgrounds. Using our new intelligent vending machines, consumers can purchase overseas imported products online directly in-store. By combining online cross-border e-commerce and offline locations with vending machines, the company is ahead of its peers in the industry and has established a unique advantage in the market.
Website: www.zenecomgp.com
Media Enquiry:
LT Heyday Culture Communication Co., Ltd
Beryl Ip
Email: beryl@LTheyday.com
  
Zenecom
Christine Tse
Tel: +852 6446 1775
Email: christine@zenecom360.com
GS1 HK
Corinna Fung  
Tel: +852 2863 9787  
Email: corinnafung@gs1hk.org  
Will Ip
Tel: +852 2863 9763
Email: willip@gs1hk.org