Hong Kong ICT Awards 2019 Smart Living Award, Smart Mobility Award, Smart People Award Promote Innovative Solutions Construct Professional Platform to Exchange Insights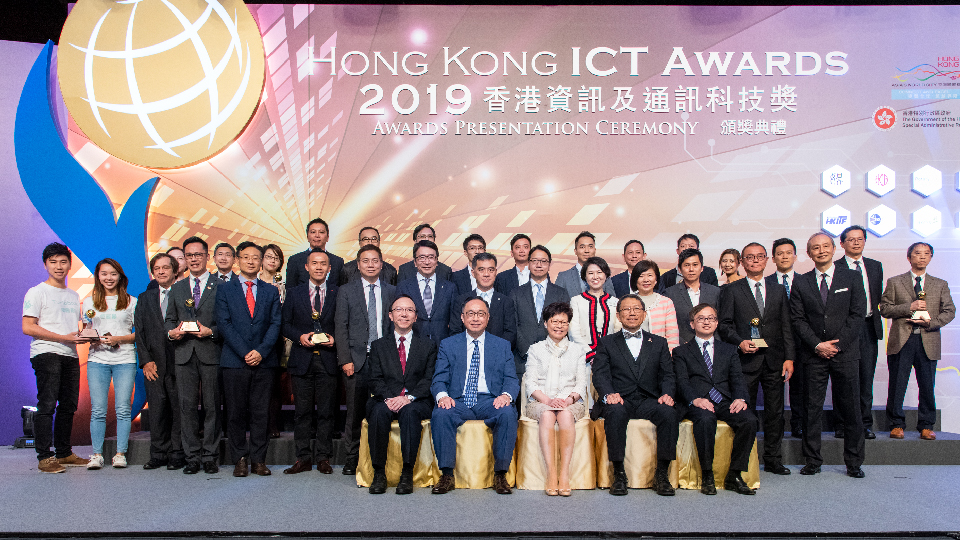 Hong Kong ICT Awards 2019
Smart Living Award      Smart Mobility Award      Smart People Award
Promote Innovative Solutions
Construct Professional Platform to Exchange Insights
(Hong Kong – 4 April 2019) Co-organised by The Hong Kong Information Technology Federation, The Hong Kong Council of Social Service and GS1 Hong Kong, and steered by the Office of the Government Chief Information Officer, the Hong Kong ICT Awards 2019 – Smart Living Award, Smart Mobility Award & Smart People Award Presentation Ceremony was successfully held at the Hong Kong Convention and Exhibition Centre today.
Category awards presentation ceremony organized jointly in concerted effort to promote innovation and outstanding solutions
In a bid to strengthen industry communication, the 3 leading industry and professional associations have joined hands to organise this 3-category award presentation ceremony. The award not only recognises and promotes outstanding ICT invention and applications, it also provides a platform for the exchange of professional knowledge and insights, further strengthening the connection among various sectors of the industry.
Smart Living Award aims at recognising outstanding products and solutions that promotes and facilitate a smart mode of enjoyable and convenient living through capitalising on ICT advancements. Mr. Francis Fong, Honorary President of the Hong Kong Information Technology Federation stated, "Being the leading organiser of the Smart Living Award for the twelfth year, we strive to inject new vitality into the campaign to promote the concept of digital lifestyle. The entries of the Smart Living Award this year integrated technology and lifestyle innovation into people's business and social life seamlessly, we are deeply impressed by the ever-changing ICT as well as the award contestants' enthusiasm and creativity."
Smart Mobility Award encourages the development of Smart Logistics, Smart Transportation and Smart Tourism solutions that serves to enhance the flow of people, goods and tourists, with the ultimate goal to building Hong Kong into a smart city. "We are delighted to see a balanced mix of entries from each category this year, meaning that the ICT development in logistics, transportation and tourism are growing stably and progressively. The award-winning solutions demonstrated a great deal of practicality and sophistication, helping to support Hong Kong's development into a world-class smart city. As an enabling partner of local industries, GS1 HK look forward to more tripartite collaborations between the ICT talents, the industries and the Government to co-create more opportunities and realise "Smarter Business, Better Life" noted Ms. Anna Lin, JP, Chief Executive of GS1 Hong Kong.
Smart People Award aims at promoting the utilization of IT for the disadvantaged groups as well as advocating positive and healthy use of ICT. Mr. Chua Hoi-wai, Chief Executive, The Hong Kong Council of Social Service stated, "The Smart People Award introduces a new stream of "Smart Education and Learning" this year, which facilitates and encourages learning for different ages, backgrounds and abilities to achieve the goal of education for all and thereby promotes the use of ICT in education. We hope the awardees this year will continue to strive for excellence in developing quality ICT products and services to benefit the community and the globally-connected information world."
Each of the Smart Living Award, Smart Mobility Award & Smart People Award features Gold, Silver, Bronze and Certificate of Merit in 3 streams.
| | | |
| --- | --- | --- |
| Smart Living Award | Smart Mobility Award | Smart People Award |
| | | Smart Education and Learning |
| | | |
| | | |
The Grand Award and Smart Healthcare Gold Award of Smart Living Award was presented to ACE VR Ltd. for its "Evaluation of Visual Disability in a Virtual Reality Environment", which constructed virtual reality (VR) environments in a VR headset simulating day-to-day activities to visualise and quantify visual disability. Their data support VR simulations which empower clinicians to better understand a patient's perspective of what and how daily activities impart disability and connect clinical test results of vision to performance measures that are relevant to patients. The innovation of VR simulations of activities are relevant to patients' real-world experience which provide a new paradigm to measure visual disability for enhancement of clinical care, facilitating clinicians to devise appropriate treatment, support and visual aids to improve patients' quality of vision and life.
For further details, please refer to https://smartliving.ictawards.hk
The Grand Award and Smart Logistics Gold Award of Smart Mobility Award went to Airport Authority Hong Kong / Center of Cyber Logistics, AISCL, The Chinese University of Hong Kong / ubiZense Ltd., for their "IoT-Augmented Airfield Service System (AS2)", a managed cloud-based service-oriented system. AS2 utilizes and integrates a multitude of existing disparate data sources such as corporate systems and IoT networks. The integrated data is leveraged to bring real-time operations visibility with descriptive and predictive AI-enabled analytics to the Hong Kong International Airport community. With the consolidated and visualized real-time information, it is easier for stakeholders to monitor flight operations, enhancing aircraft management more effectively.
For further details, please refer to https://www.gs1hk.org/SmartMobilityAward.
The Grand Award and Smart Education and Learning Gold Award of Smart People Award went to iCare Edutainment Ltd. for its "iCare Creator". "iCare Creator" is a training programme that helps socially vulnerable groups to get involved in the IT industry. By introducing the business model of professional gaming companies, iCare offers Special Education Needs (SEN) families corresponding career training in gaming jobs such as Game Project Design, Information Research, Marketing and Promotion, Art Design and Animation with accordance to each individual's talents. Moreover, iCare skillfully instills in them the importance of group task distribution and teamwork, guiding them to create educational moral games and animations.
For further details, please refer to http://ictaward.hkcss.org.hk.
 
Appendix
Hong Kong ICT Awards 2019 – Smart Living Award winners list
Category

Award

Organisation/ Winner

Title of Entry

Smart Living

Grand

ACE VR Ltd.

Evaluation of Visual Disability in a Virtual Reality Environment

Smart Healthcare

Gold

ACE VR Ltd.

Evaluation of Visual Disability in a Virtual Reality Environment

Silver

Hong Kong Applied Science and Technology Research Institute Company Ltd.

Cervical Cancer Screening Management System

Bronze

Visiona MedTech International Ltd.

VisionaDR - Intelligent Diabetic Retinopathy Screening Platform

Certificate of Merit

The Hong Kong Federation of Youth Groups / Zensis Ltd.

Open Up of Jockey Club Online Youth Emotional Support

Smart Home

Silver

Tronico Technology Company Ltd.

Transformative Wireless IOT System for Smart Buildings

Bronze

PCCW Solutions Ltd.

Infinitum™ Visum (Smart Mirror)

Smart Lifestyle

Gold

GRWTH Ltd.

"GRWTH Pay" - Multi-gateway Payment Solution

Silver

Infinity Cube Ltd.

eyes3 for Tennis - AI Driven Mobile Sports Analytics System

Bronze

Farm66 Investment Ltd.

Cloud-based Farming Parameters Monitoring System

Certificate of Merit

R-Guardian Ltd.

Smart Solution for Personal Belongings
Hong Kong ICT Awards 2019 – Smart Mobility Award winners list
Category

Award

Organisation/ Winner

Title of Entry

Smart Mobility

Grand

Airport Authority Hong Kong / Center of Cyber Logistics, AISCL, The Chinese University of Hong Kong / ubiZense Ltd.

IoT-Augmented Airfield Service System (AS2)

Smart Logistics

Gold

Airport Authority Hong Kong / Center of Cyber Logistics, AISCL, The Chinese University of Hong Kong / ubiZense Ltd.

IoT-Augmented Airfield Service System (AS2)

Gold

BPS Global Holdings Ltd.

StoreFriendly Go – Smart Self-storage Service

Silver

Esquel Enterprises Ltd.

Summation RFID System

Smart Transportation

Gold

Highways Department of the Government of the HKSAR / Hong Kong Productivity Council

Prototype of Robot System for the Placement and Collection of Traffic Cones and Lanterns in Road Works

Silver

Miramar Hotel and Investment Company Ltd.

Mira Place App - e-PARKING

Bronze

Single Person Transport Design (SPTD) Ltd.

Share MoBiLET

Certificate of Merit

Hong Kong Observatory

MyFlightWx

Certificate of Merit

Transport Department of The Government of the Hong Kong Special Administrative Region

Smart Traffic Control System for Tai Tam Road (Dam Section)

Smart Tourism

Gold

Shinetown Telecommunication Ltd.

AIRSIM

Silver

Quality Tourism Services Association (QTSA) / Cherrypicks Ltd. / Hong Kong Productivity Council

QPoint

Bronze

Turtobook Ltd.

Turtobook

Certificate of Merit

Hong Kong Space Museum

Star Hoppers

Certificate of Merit

Urban Discovery Ltd.

iDiscover App&Map
Hong Kong ICT Awards 2019 – Smart People Award winners list
Category

Award

Organisation/ Winner

Title of Entry

Smart People

Grand

iCare Edutainment Ltd.

iCare Creator

Smart Education and Learning

Gold

iCare Edutainment Ltd.

iCare Creator

Bronze

HKC Technology Ltd.

Smart Library

Bronze

Hong Kong Research Center on Child Learning / Pendo Technology Ltd.

Smart Handwriting Analysis & Recognition Platform (SHARP)

Certificate of Merit

Cherrypicks Ltd.

Coding Galaxy

Certificate of Merit

Labwork Technology Ltd.

Labwork (Remote Laboratory)

Smart Ageing

Bronze

Motive Force Technology Ltd.

SilverMOVE: VR Physical Training for Healthy Aging And Rehabilitation

Smart Inclusion

Silver

Tung Wah Group of Hospitals

V Power for Rehabilitation

Certificate of Merit

Collaction Company Ltd.

Collaction