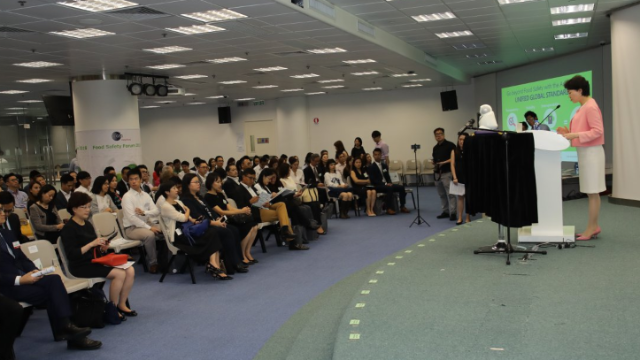 12 Jan 2017
GS1 Hong Kong Annual Members Dinner 2017
18:00-22:00
Sheraton Hong Kong Hotel, Tsim Sha Tsui
--
English and Cantonese
Summary
To celebrate GS1 Hong Kong's success and accomplishments in the past year.
GS1 Hong Kong Annual Member Dinner 2017 – What a Wonderful Night filled with joy and fun featuring international-themed costumes and Ms Chan Chan singing with  everyone "What a Wonderful World"!
A big thank you to all of you joining us at GS1 Hong Kong Annual Members Dinner held on 12 January, 2017.  
Reviewing of Annual Member Dinner 2017:
Overview
Highlights of the night
1. Warm Welcome:
It was a full house again this year at Sheraton Hong Kong gathering more than 400 guests dressed in international costumes from different countries.  "Dressed differently we may be but we are one big family speaking the same unique GS1's Global Language of Business," declared Dr Kelvin Leung, GS1's Vice Chairman, in his Welcome Address, acknowledging GS1's "boundless commercial potential" brought on by bridging the worlds of physical and e-commerce globally as  featured in this international themed party. A great start to a great party!
2. Stimulating Speech:
Guest of Honour, the Hon. Nicholas Yang, Secretary for Innovation and Technology, revealed in his Opening Speech key 2017 targets of the Bureau, including close collaboration with ICT stakeholders like GS1 in mapping out the smartcity blueprint, in particular Internet of Things (IoT), and  encouraging participation of SMEs through public private partnership. A wonderful business opportunity for all enterprises!
3. Exhilarating 020 Experience:
At the venue were a number of kiosks offering guests first-hand O2O experience, featuring GS1 barcode scanning connecting consumers to brands.  One of them introduced HK Trusted Product x ShopThruPost, a joint project between GS1 HK and Hongkong Post, providing customers a wide selection of their most wanted trusted products.  Some merchants also displayed product samples on site.
In another kiosk, guests were treated to a demonstration offering them an impressive barcode experience with a click through WeChat Sweep - barcode scanning, enabling Hong Kong product information to be accessible by WeChat's 840 million users (and in turn connected to an online e-marketplace) opening up infinite potential for retailing.
4. Congratulations Consumer Caring Companies:
84 Consumer Caring Companies 2016  were presented with their awards by Guest of Honour, the Hon. Nicholas Yang, Secretary for Innovation and Technology; Mr Liu Yajun, Deputy Director-General of EAD Head of Commercial Office, Liaison Office of The Central People's Government in the Hong Kong SAR Commercial Office of Economic Affairs Department; Ms Jessie Ting, Postmaster General, Ir Allen Yeung; Government Chief Information Officer; Ms Salina Yan, JP, Director-General of Trade and Industry; and Legco Councillor the Hon. Shiu Ka-fai. An assembly of celebrities for a memorable event! 
>> View Consumer Caring Scheme 2016 Photos
5. Best Dress:
The Best Costume Award of the evening was unanimously voted to be shared among  four  distinguished  guests, including a cute little girl dressed up in Mongolian clothing to attend the dinner with her parents.
6. Great Wine
Courtesy of Kampery Development Ltd, free-flowing red and white wines throughout our cocktais and dinner much to the delight of our guests.
7. Innovative Lucky Draw:
Courtesy of Inner Mongolia Xianhong Science Co. Ltd, the guests were treated to their first lucky draw through QR code scanning printed on a Lai See drawn at the entrance.   Leather belts, an iphone and a Hua Wei smart phone were generously sponsored as prizes. 
8. Abundant Prizes:
Same as previous years, the event was loaded with games and prizes generously offered by sponsors like C&C RFID (Shanghai) Co., Ltd., Infotoo International Limited, PCCW Solutions, etc.. Apart from the 42 cash and gift prizes for the Grand Lucky Draw, dinner guests brought home also Table Prizes and Door Prizes.  Special thanks to Amber Beauty and Prosmart Consultants Ltd. sponsoring the top 2 prizes for the Grand Lucky Draw. 
9. Wonderful Entertainment:
Last but not least, Ms Chan Chan's stunning performance brought the night to a new climax.  All of those present, including GS1 board members who joined her on stage, will remember vividly this memorable night amid the chimes and blessings of "What a Wonderful World" for a prosperous year 2017.
See you next year!
Outline
Program Highlights
Cocktail Reception and Booth Carnival
Prestigious business networking with 400+ industry pioneers
Opening Ceremony and Speech from Guest of Honour
Consumer Caring Scheme 2016 Presentation Ceremony
Singer performance and rich entertainment program
Grand Lucky Draw