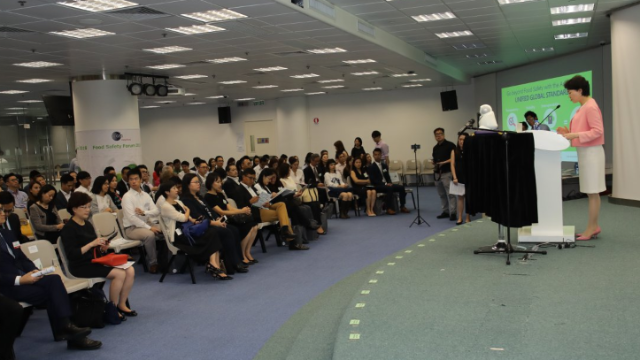 12 Oct 2016 (Wednesday)
A Strategic Guide to the Revised China Food Safety Law Compliance Training
09:15 - 18:00
OTB Building, 160 Gloucester Road, Wanchai, Hong Kong
20pax
Cantonese
Summary
Member price: HKD 2,000
Non member price: HKD 2,200
A full-day dynamic training to highlight the important updates of China Food Safety Law, requirement of food safety and global standards, impact on food and food related businesses, as well as provide 7 tips to meet the new regulatory and quality requirements; with case studies and in-class discussions 
Enquiry: Miss Ting - T: 2863 9753, E: training@gs1hk.org
Should you have interests, please register online by 07 Oct 2016. Please settle your payment by cheque payable to "GS1 Hong Kong Limited" with remarks "China Food Law Compliance Training" at the back and mail to: GS1 Hong Kong, 22/F, OTB Building, 160 Gloucester Road, Wan Chai, Hong Kong. Confirmation will be sent to the successful candidates 3 days prior to the event. 
Overview
Keeping abreast of the latest China Food Safety Law updates to grasp new business opportunities
The food market of Hong Kong and China are linked inextricably. Majority of Hong Kong food is imported while China is the most crucial food supply source. Hong Kong is also a platform of re-exportation of foreign food to mainland China. Since China revised its food safety law with an addition of 50 new articles on 1 October 2015, the Chinese government continues revise and refine the rules and regulations. The ever-evolving regulations do  not only bring stricter governance on domestic and foreign food, but also new challenges to Hong Kong food and related industries exporting to or providing food services in mainland China. How could we turn the challenges into new business opportunities? The training gives you an overview of the most updated food laws and more importantly, it serves as a strategic guide to help you understand and precisely interpret the laws to respond accordingly.
Date : 12 Oct 2016 (Wednesday)
Time : 9:15am to 6:00pm** (registration starts at 9:00am)
Venue : 22/F, OTB Building, 160 Gloucester Road, Wanchai
Language : Cantonese
Fee : Member            HKD 2,000
         Non-member   HKD 2,200
(**including a 30-min tour at the Hong Kong IoT Centre of Excellence to explore the latest industry innovative technology applications)
Who is it for
Who should attend?
Food & beverages manufacturers, processors, distributors, importers & exporters, traders, retailers, e-tailers, catering, storage and logistics service providers, etc
Outline
The training will cover:
China Food Law: Background, Mission & Vision, Definition and Interpretation
Introduction: The structure of Law & Standard, Regulations and Standards (GB)with Reference for Study
Important Highlights of Updated Food Safety Law Today
- Requirements in Food Safety, Traceability, and Standards
- How to facilitate the trading business in special food items, such as food additives, health foods, claims, etc
7 tips to meet the new regulatory and quality requirement 
Case Studies: include GAP, GMP, HACCP/ISO22000 model learning
In-Class Discussions and Q&A