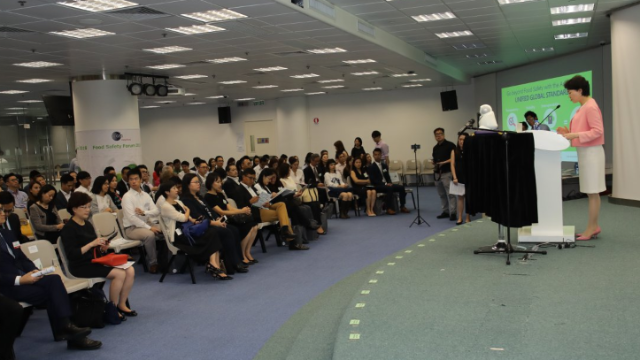 30th Aug 2017
Food Safety Forum 2017 - "Food Brand Protection: Increase Consumer Trust"
13:30 - 18:00
Hong Kong Productivity Council
300+ Delegates Joined
English
Overview
Exciting Tripartite Discussion in Food Safety Forum 2017  
1."Hong Kong is a gourmet paradise. A gourmet paradise counts not only on the varieties of food products and choices, but significantly on food safety and quality." -  Dr. Chui Tak Yi, Under Secretary for Food and Health
2. Embracing the theme "Food Brand Protection: Increase Consumer Trust", Food Safety Forum 2017 was held successfully on 30 August. The forum drew more than 300 experts and practitioners, and 90% of delegates rated the overall programme arrangement "very good and above". 
3. Highlights of the Forum:
Tripartite Collaboration among the Government, the Public and the Industry
Inaugurating the Forum, Dr. Chui Tak-yi, Under Secretary for Food and Health, reassured audience of the government's commitment to protect food safety in Hong Kong in his Opening Address. Mr. Eugene Fung, Deputy Secretary of Food and Health Bureau, delivered a keynote speech on the topic of "Enhancing Food Safety: Multi-pronged Approach and Tripartite Efforts", underlining the importance of food traceability. "When food safety incidents happen, the most important thing is to ensure information visibility at once, including locating the problem swiftly, because only by knowing the root of the problem could we monitor the situation," Mr Fung said.
Heightened awareness on food traceability 
The Award Presentation Ceremony of Quality Food Traceability Scheme 2017 was also held to recognise 21 companies who demonstrate excellence in food safety and traceability practices. This year, 7 companies are new to the Scheme, showing that food traceability is of growing importance to both the industry and consumers. 
Scan barcode to win prizes
During the Networking Break, participants engaged actively in the game at our booth. They simply had to scan the barcode of different products using WeChat scan function to redeem the gifts, including EDO pack crackers and potato chips, Yaokin Umai Corn Snack, Jugard soup packages, Sun Fat Heung soya milk, Green Dot Dot coffee and soya milk gift set!
Pioneers panel discussion
Towards the end of the Forum, the Pioneers Panel Discussion themed Building Local Food Brand and Loyalty was held. During the discussion moderated by representative from Hong Kong Food Council, renowned panelists shared their perspectives on how to successfully build Hong Kong food brands and winning tips to boost consumer loyalty. The thought-provoking discussion sparked interesting questions from the audience. 
Agenda
Time

Topic

13:30-14:00

Registration and Industry Solution Booth Showcase

14:00-14:10

Welcome Address

- Ms. Anna Lin, JP, Chief Executive, GS1 Hong Kong

14:10-14:20

Opening Address by Guest of Honour

- Dr. Chui Tak Yi, Under Secretary of FHB

14:20-14:40

Keynote (1) - Risk Communication to Build Consumer Trust

Building effective risk communication strategies

- Mr. Matt Kovac, Executive Director, Food Industry Asia

14:40-15:00

Keynote (2) - Enhancing Food Safety: Multi-pronged Approach and Tripartite Efforts

- Mr. Eugene Fung, JP, Deputy Secretary for Food and Health (Food), Food and Health Bureau

15:00-15:20

How vulnerable is your brand to food fraud?

- Mr. Brian Marterer, Senior Manager, China Food Supply & Integrity Services, PwC China 

15:20-15:40

GS1 Hong Kong Quality Food Traceability Scheme 2017 - Award Presentation Ceremony

- Moderator: Ms. Heidi Ho, Principal Consultant, GS1 Hong Kong

15:40-16:00

Networking Break and Industry Solution Booth Showcase

16:00-16:15

Building trust from local customers

A holistic approach towards brand building

- Ms. May Chung, Business Executive Officer, Wyeth (Hong Kong) Holding Company Ltd.

16:15-16:30

Trust in sustainable farming at source

Delivering quality, safe and nutritious giant grouper from farm to fork

- Mr. Mark Kwok, Director, Aquaculture Technologies Asia Ltd.

16:30-16:45

Understanding Consumer Behavior in Digital Age

How to capture digital food consumers through enhancing supply chain management and marketing

- Mr. Danny Shum, Chief Executive Officer, Ztore HK Ltd.

16:45-17:00

Deliver accurate food information on food packaging

Protection of important information such as expiration date through technology

- Dr K.M. HO, Edmond, Chief Research Officer, China Hi-Tech Anti-Counterfeit Group Ltd.

17:00-17:50

Pioneers Panel Discussion: Building local food brand and loyalty

- Moderator: Mr. Thomson Wong, Food Safety Consultant and Advisor, Hong Kong Food Council

- Panelists : (in alphabetical order by organization name)

- Mr. Mark Kwok, Director, Aquaculture Technologies Asia Ltd.

- Ms. Anna Lin, JP, Chief Executive, GS1 Hong Kong

- Ms. Tammy Lam, Chief Operating Officer, Hop Hing Oil Group Ltd.

- Mr. Kenneth Chan, Chief Executive Officer, Rich Harvest Agricultural Product Ltd.

- Mr. Danny Shum, Chief Executive Officer, Ztore HK Ltd.

17:50-18:00
Recap & End of Forum