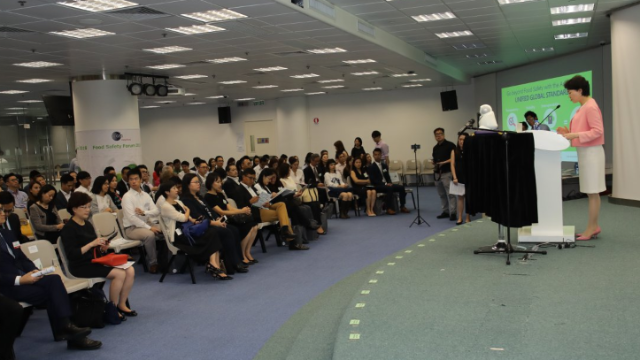 14 & 21 Mar 2016
Food Traceability Training (Mar 2016)
09:30 - 17:00
OTB Building, 160 Gloucester Road, Wanchai, Hong Kong
--
Cantonese (with English materials)
Summary
Member price: HK$ 4,800 per head for 2 days (up to HK$2,000 subsidy from VTC NTTS funding)
Non member price: HK$ 4,800 per head for 2 days (up to HK$2,000 subsidy from VTC NTTS funding)
A 2-day training to walk you through from the basics - fundamental theory of global traceability standards, strategic roadmap to success case sharing and hand-in-hand implementation in-class activities to enhance food safety and traceability.
Special Package! Any company send 4 representatives to join the training, a FREE assessment upon its food supply chain management system will be given (original cost HKD 15,000)
*An accredited course by VTC NTTS (Click here to learn more). Successful candidate can receive a subsidy up to HKD 2,000.
*Certificate will be given to participants with 100% attendance.
Interested parties can register online here on or before 4 March 2016. Confirmation email will be sent to successful candidates 3 days prior to the event. Please settle your payment by cheque payable to "GS1 Hong Kong Ltd" with remarks "Food Traceability Training" as well as contact information (company name, name of registrant, tel. no. and email) at the back and mail to: GS1 Hong Kong, 22/F, OTB Building, 160 Gloucester Road, Wan Chai, Hong Kong
Enquiry: Miss Winifred Wong | Tel: +852 2861 2819 | food@gs1hk.org
Website: www.gs1hk.org
Overview
Standardising your food chain operation to enhance production quality and increase customer loyalty
With rapid development of omni-channel retailing in recent years, other than consumer products, fresh produce and food products are also added to the customer's shopping wish list. Different from the conventional e-commerce products, such as electronic goods and domestic products, the shelf life of fresh produce is comparatively short as well as easily deteriorated. Thus, the quality control requirement throughout the entire food industry operation is highly increased - from supply, distribution to retailing. Standardising food product information and value chain operation is the only key to achieve an effective and traceable food system so as to enhance production quality and increase customer loyalty.
Theory + Implementation + Strategy : Develop Your Trusted Food Brand!
To demonstrate incustry stakeholders the importance and best practices of food safety and traceability. GS1 Hong Kong organises a  2-day "Food Traceability Training" to provide you a step-by-step guidance in implementing global traceability standards in food supply chain and operation management system, in order to help strengthen the monitoring process, enhance food quality and safety, thereby retain consumers' confidence as well as achieve a healthy industry competition and development.
Cafe Deco, Circle K, Danny Catering, Hop Hing, Lee Kum Kee, Maxim's, Pure Kitchen, Rich Harvest, Saint Honore, Swire Coca Cola, Tsit Wing, Wyeth Nutrition, and more, have improved their food system after this hands-on workshop. ACT NOW to be one of leading gurus in food safety and traceabiliy! 
Course details:
Introduction of "Food Traceability" and relevant regulations, internationl standards and industry requirement 
Benefits of "Global Traceability Standards & Solutions" as well as case sharing
Implementation methodology and tactics in the food supply chain management system with and within the company 
Who is it for
Food manufacturers & processors
Logistics service providers
Retailers, distributors, importers & exporters
Food service providers
Agenda
14 March 2016 (9:30am - 5pm)

21 March 2016 (9:30am - 5pm)

1. What is "Traceability"?
   - Laws and regulations
   - Global standards and best practices
   - Industry and business requirement

1. How to implement "Global Traceability Standards & Solutions" in the food supply chain management system within the company?

2. Roles and responsibilities througout the traceability process

2. Relationship between traceability and technology

3. Data and information management of traceability system

3. Traceability assessment

4. How to develop a thorough traceability system

4. Case studies and in-class activities