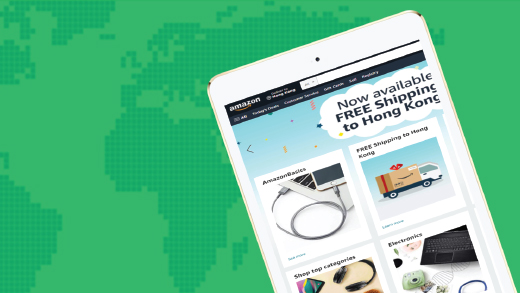 3 Mar 2021
【GS1 HK Academy】5 Steps to Start Selling on Amazon
Summary
Amazon can take your business to the next level, offering numerous opportunities to brand owners:
•As of 2020, Amazon owns a staggering 40% of e-commerce market share in the US
•200 million unique visitors visit Amazon website each month
•Amazon is investing billions into improving its already world-class logistics infrastructure
•There were 225,000 sellers worldwide with over USD 100,000 in sales in 2019
As sellers in Hong Kong, you can simply start selling on Amazon and expand your business with 5 simple steps. In our upcoming webinar, GS1 Hong Kong, Greenhouse, Janco Holdings and First Page Digital will share the tips and provide a step-by-step guide to help you sell strategically  on Amazon.  You may also interact with us to learn how to "Go Digital" and start "Selling on Amazon"!
Overview
Webinar Details: 
Topic:
Time:
Speaker:

1) What is required to sell on Amazon? How to register an Amazon account in U.S.?

3:00pm – 3:20pm

Mr. Viktor Kyosev
(Greenhouse.co – CEO)

2) Tips to List Products on Amazon

3:20pm – 3:40pm

Ms. Dora Kit
(GS1 Hong Kong Limited – Digital Service Manager)

3) All You Need to Know About Amazon Logistics

3:40pm – 4:00pm

Mr. Jason Wong
(Janco Holdings Limited – eCommerce Manager)

4) Building an Amazon Marketing Strategy for 2021

4:00pm – 4:30pm

Mr. Tony DeGennaro
(First Page Digital Limited – Digital Strategist)