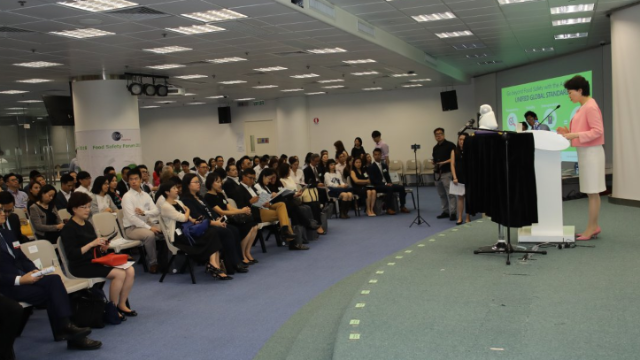 19 Nov 2015
14th GS1 Hong Kong Supply Chain Management Excellence Summit (19 Nov 2015)
English content only
09:30 - 18:30
Rooms 220s, Level 2, Hong Kong Convention and Exhibition Centre, Wanchai
--
English
Summary
Member price: Early bird - HKD 1,290 per head (by 30 Sep); Regular price - HKD 1,590 per head
Non member price: Early bird - HKD 1,550 per head (by 30 Sep); Regular price - HKD 1,850 per head
A unique and premier business platform brings over 500 pioneering industry leaders and influencers together to share their insights on supply chain strategies and innovations, best practices as well as success stories gearing towards the evolving e-commerce market.
Enquiry: Miss Haissi Ho | +852 2863 9766 | event@gs1hksummit.com
Website: www.gs1hksummit.com
*Bonus Pack -- First 50 registrants can get a FREE copy of "Act Like a Leader, Think Like a Leader" by Herminia Ibarra (2015). Limited Offer, on a first-come-first-served basis.
Overview
Why GS1 Hong Kong Supply Chain Management Summit?
GS1 Hong Kong Supply Chain Management (SCM) Excellence Summit, with 13 years of conference history and experience, will present an unprecedented line-up with the theme "Riding the Wave of E-commerce Boom - Delivering a Seamless Customer Journey" this year. The latest industry trends and best practices will be shared with more than 500 pioneering industry leaders and influencers from Hong Kong and Asia Pacific. It is intended that the discussions will not only be an opportunity for thought-provoking dialogues on the impacts of global e-commerce, but also a chance for our diverse participants to co-create new ideas for revolutionising business models.
Get inspired by the world's supply chain and e-commerce leaders who will share insightful and creative perspectives on global e-commerce landscape and impact across supply chain, as well as how to win the new consumers' loyalty
Interact and network with over 500 key industry stakeholders on how to overcome the supply chain challenges and reposition your business to lead the evolving bricks-and-clicks market
Explore new supply chain solutions and technologies for potential collaboration, enabling supply chain efficiency and visibility
Highlights of 2015 – Four Key Steering Forces
This year the event will focus particularly on the FOUR key steering forces on how to capture business opportunities and improve the customer experience in the new digital era:
Supply Chain Optimisation: Customers and suppliers are effectively connected in ways that allow them to easily exchange information, demand data, and have the visibility of product status.
Supply Chain Visibility: Real-time visibility across supply chain empowers a company to manage the fragmented data in real time, hence to have greater control of day-to-day business metrics.
Digital Consumers' Connection: Engaging consumers from the early stages of searching for products and retailers online to brick-and-mortar experience, offers a seamless shopping journey to connect consumers to the products, brands and services they need.
Building Consumer Trust: The lack of both physical touch points and interaction in the online environment makes it more difficult for the brands to establish trust with consumers.
Who You'll Meet?
20+ global thought leaders and influencers
500+ senior executives and top industry practitioners in e-commerce, omni-channel, retail, supply chain, logistics, customer engagement and other supply chain related sectors
20+ solution providers who will showcase innovative supply chain technologies
Who is it for
Senior executives and industry practioners in e-commerce, omni-channel, retail, digital, technology, supply chain, logistics, customer engagement, operation and other supply chain related sectors. 
Google Maps:
Rooms 220s, Level 2, Hong Kong Convention and Exhibition Centre, Wanchai
Add to calendar