GS1 HK Solution Day Ushers in Digital Evolution Era Joined by Over 400 Cross-industries Delegates Annoucning the Debut of GS1 HK's ezSHIP Solution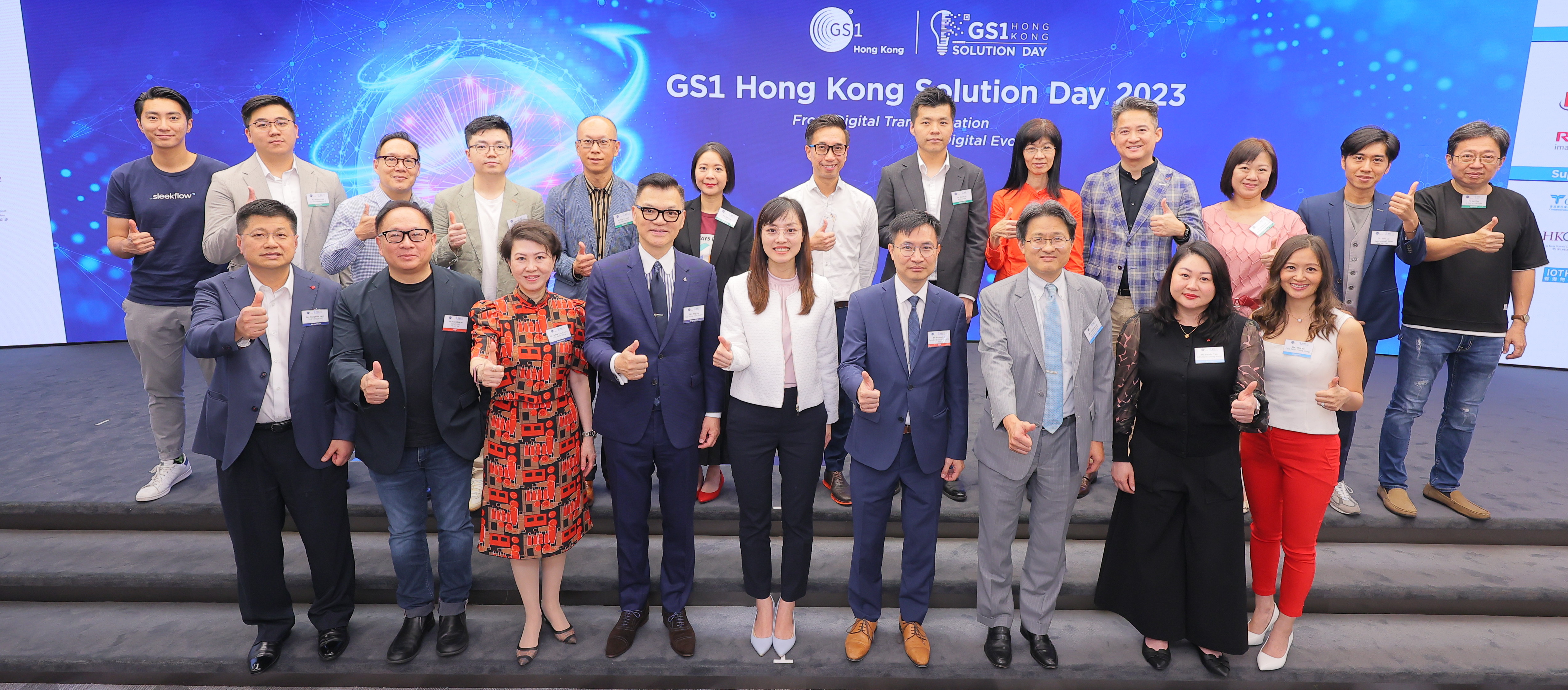 Hong Kong, 30 May 2023 – GS1 Hong Kong Solution Day concluded successfully today in HKPC Building, where 5 thematic zones with a wide array of digital and enterprise data services and solutions are featured, aimed to help accelerate businesses' digital transformation. Ms. Lillian Cheong, Under Secretary for Innovation, Technology & Industry of the HKSAR Government, graced the occasion as Guest of Honour, along with more than 400 attendees from various sectors throughout the half-day event. GS1 Hong Kong (GS1 HK) announced the launch of "ezSHIP", a smart logistics matching platform that empowers shippers to streamline the transport assignment process and select the ideal carrier, boosting efficiency for the best possible results.   
Themed "From Digital Transformation to Digital Evolution", the Solution Day highlights 5 thematic zones including Digital Product Journey, Omni-channel Commerce, Digital Trade, Smart Retail and Smart Operations with showcases by 13 technology partners, presenting 18 different kinds of technologies and solutions. It is expected to equip businesses with increased competitiveness for better efficiency and enhanced market access with the use of technology. 
In her opening speech, Ms. Cheong noted, "The full suite of digital and enterprise data services and solutions in today's GS1 HK Solution Day will enable companies to harness the power of innovative technologies, forge ahead their digital transformation journey and tap into the many opportunities brought by the digital economy. To help steer the digitalisation development, the HKSAR Government set up the Digital Economy Development Committee (DEDC) last year to pick the brains of cross-sector experts on digital economy development. The Government also supports enterprises in adopting technologies to improve productivity, upgrade and transform their business processes through different channels."
The key solutions showcased include ezSHIP, a smart logistics matching platform, GS1 HK's 1QR, Digital Trade Financing and Smart Operations solution. 

 
How it works:
ezSHIP helps shippers match suitable carriers with multiple search criteria, eliminating the need for endless searching for capacity as the platform identifies available quotes faster and assign the right shipment, to the right carrier, at the right price. 
Connected to ezTRADE*, the platform allows current GS1 HK ezTRADE users to place order faster without manual input because shipment information can be retrieved automatically from the POs in ezTRADE to the orders in ezSHIP. 
Benefits:
ezSHIP enables user to streamline logistics works and prioritise strengthening existing relationships, building new networks, and improving customer experience. 
Users can make good use of the logistics data to boost efficiency.
Shippers can actively monitor the delivery status and service performance, managing capacity planning customized to the users' needs. 
ezTRADE users can use the ePOD (electronic Proof-of-Delivery) from the platform to apply for digital trade financing, so that banks can make more accurate credit facility assessment based on the alternative data. 
* ezTRADE is a B2B eCommerce platform that facilitates the exchange of electronic orders, invoices and shipment notices among trading parties, with about 2,000 companies in Hong Kong and China, across retail and FMCG, cosmetics, healthcare to food and food services industries, connected through platform.
Built on GS1 global standard, "1QR" is a QR code comprising diverse information. With a simple scan, consumers can access product information, incentives, certification, nutritional values, etc., while merchants can update the content anytime, enabling users to scan for new surprises. When combined with GS1 HK's track-and-trace and authentication capabilities, merchants can uplift product credibility, authenticity and safety, as well as connecting online and offline business opportunities. 
GS1 HK partnered with different banks to capitalise on the SMEs' trade data on GS1 Hong Kong's ezTRADE e-commerce platform for streamlined financing application process. The solution not only frees SMEs from massive amounts of document submission, but also allows financial institutions to accelerate the credit assessment and approval process, improving cash-flow for SMEs and steering digital trade financing development. 
Using IoT-connected devices like RFID sensors to capture operational data, combined with ezTRACK platform and technologies like video analytics and AI, the solution helps monitor and analyse operations, proactively detect issues and make corrective actions. It supports companies optimise resources use, boost efficiency, reduce wastage, promote sustainability and achieve greater business resilience.
In addition to the 2 industry sharing sessions on digital trade financing and smart operations, the award presentation ceremony of the 12th edition of "Consumer Caring Scheme" also took place at the same occasion. (Please visit "Consumer Caring Scheme 2022 Result Announcement" for details).


Ms. Anna Lin, Chief Executive of GS1 HK, congratulated all the recognised "Caring Companies" and thanked the guests and industry practitioners for their presence. "To address the challenges facing SMEs like manpower shortages, intense market competition and rising consumer demands, digitalisation, automation and datafication are the key. I hope all delegates today get their inspirations from today's event to further their digital and smart applications for transformation. We will stay committed to co-creating cross-industry synergy and fostering a business ecosystem driving commerce connectivity and innovations, taking the digital economy development to the next level."
- End - 
For further information, please contact: 
Corinna Fung                            
Phone: +852 2863 9787 / 9037 2013      
Email: corinnafung@gs1hk.org            
Corinna Fung                            
Phone: +852 2863 9763 / 9252 8725     
Email: willip@gs1hk.org     
About GS1 Hong Kong
Founded by the Hong Kong General Chamber of Commerce in 1989, GS1 Hong Kong (GS1 HK) is the local chapter of GS1®, which supports companies' digitalisation to enhance supply chain transparency and efficiency, ensure product authenticity, and facilitate online and offline commerce with global supply chain standards (product identification key and barcode) and a full spectrum of standard-based platforms, solutions and services. 
Currently, GS1 HK has around 8,000 corporate members covering close to 20 industries including retail consumer goods, food and food services, healthcare, apparel, logistics as well as information and technology. By engaging with communities of trading partners, industry organisations, government, and technology providers, GS1 HK is fostering a collaborative ecosystem with the vision of "Smarter Business, Better Life".
Headquartered in Brussels, Belgium, GS1® is a not-for-profit, standards organisation that has 116 national chapters serving 150 economies globally. For more information, please visit www.gs1hk.org.