GS1 Hong Kong Summit 2019 Ended on a High Note Smart Business: Creating, Connecting, Collaborating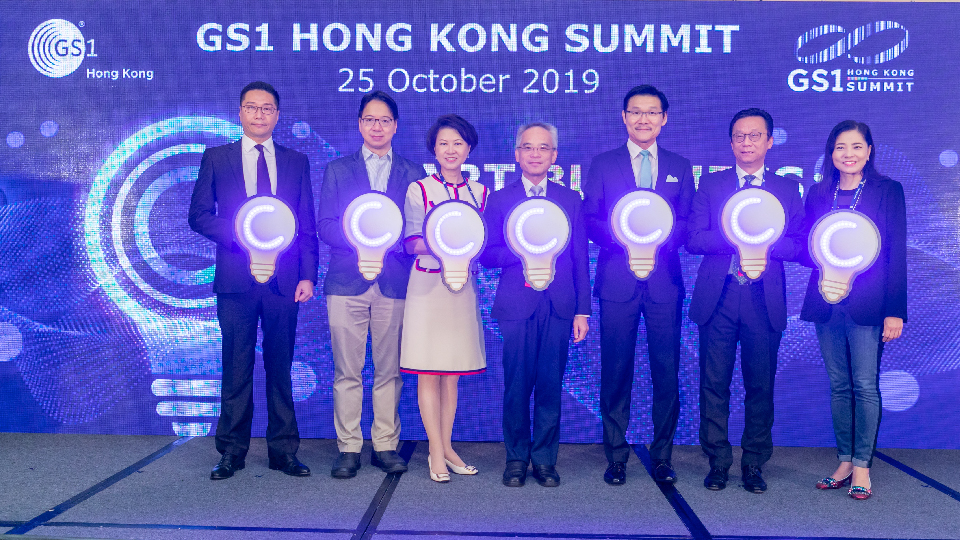 GS1 Hong Kong Summit 2019 Ended on a High Note
Smart Business: Creating, Connecting, Collaborating
Hong Kong, 25 October 2019 – GS1 Hong Kong today organised the 19th edition of GS1 Hong Kong Summit ("the Summit"), where over 500 delegates from all walks of trade attended. Themed "Smart Business: Creating, Connecting, Collaborating", more than 25 speakers shared their collective wisdom on the integration of smart technologies, innovation and new business models that create an enhanced consumer journey and strengthen business connectivity. The survey results of 300+ CEOs and 1,500+ consumers were also announced and discussed at the event, where industry leaders agreed that using big data collection and analytic tools is the most important business priority in the near future, to better understand customers, improve their decision-making and make better forecasts.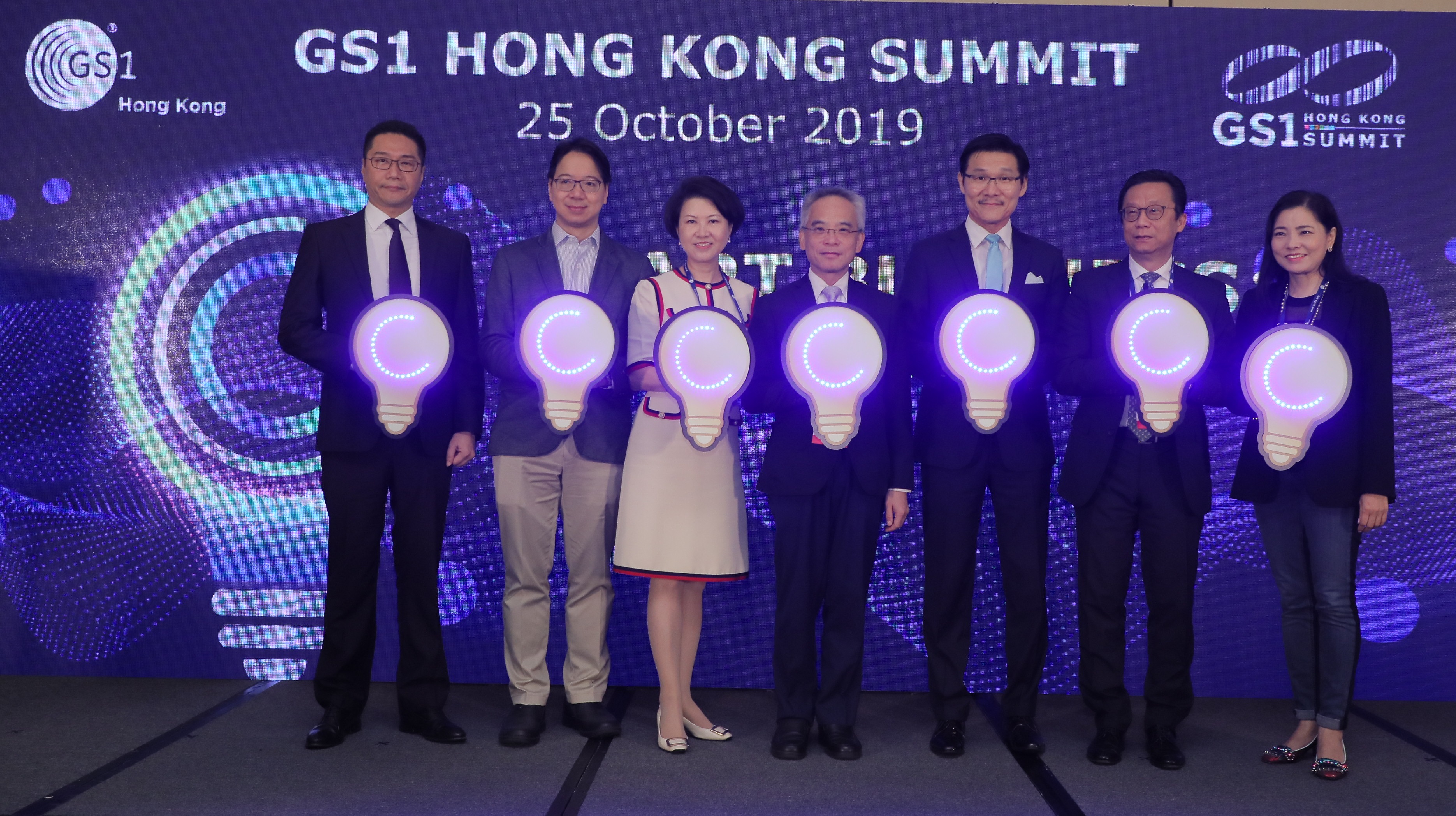 Dr. Raymond So, BBS, JP, Under Secretary for Transport and Housing, inaugurated the Summit as the Guest of Honour and delivered the opening address. Legislative Councillors Mr. Charles Mok, JP and Mr. Peter Shiu, JP, keynote speakers Mr. Ricky Wong, Co-founder and Chairman of Hong Kong Television Network Ltd and Ms. Rebecca Woo, Senior Director of Operation (Hong Kong) of K11 Concepts Limited joined the opening ceremony, together with Mr. Joseph Phi, Chairman of GS1 Hong Kong, and Ms Anna Lin, Chief Executive of GS1 Hong Kong as officiating guests.
Amidst the technological disruption and increasing trade friction, supply chain connectivity is crucial to advancing trade facilitation, and Dr. So echoed the idea, "To maintain Hong Kong's position as Asia's premium logistics hub, and to drive for excellence in logistics, information connectivity along the supply chain is as important as physical connectivity. Supply chain companies, whether long-established or newly-formed, have to face the quick-changing market landscape arising from the advent of e-commerce and omni-business model."
In Mr. Phi's welcome remarks, he pointed out that as the combination of innovation and collaboration will create radical advancement in the Greater Bay Area, Hong Kong's role as a connector will grow stronger. Data and standards will be the driving force behind this connectivity.
Ms. Anna Lin also emphasised the importance of data, "Data is the oil and foundation of success in businesses across industries. GS1 provides businesses with accurate, sharable, searchable and linkable data for data analysis and intelligence, generating insights that reinvent consumer touchpoints and maximise business potentials. GS1 Hong Kong is dedicated to paving the way for data-driven business transformation for our members that lead them stand apart from competition."
Speakers also acknowledged that by harvesting data, companies can obtain better market knowledge, in turn enabling them to improve their supply chains, make smart decisions and refine their sales methods.
At the CEO Panel, change-agile leaders explored various omni-channel innovations through collecting, managing and analysing data, and embracing new technologies that consumers are ready to adopt. Considering the digitally native Gen-Z consumers as the next growth powerhouse, the speakers believed that a data-driven approach will become the heart of customer experience.
The above insights were also reflected in the GS1 Hong Kong and KPMG's forth CEO Pulse Report (2019 edition) in the Summit, which compiled the collective insights of more than 300 CEOs across Hong Kong, as well as a consumer survey collecting feedback from more than 1,500 consumers in Hong Kong and across nine mainland cities of Greater Bay Area. Please read the press release "Majority of Greater Bay Area consumers identify as 'tech-savvy'", for more details.
Concluded by a highlighted and brand new sessions "Board Forum: Innovating, Transforming, Sustaining", Board of Directors from long-standing and new brands discussed about how they win the heart of consumers by fusing innovations with customer engagement strategies.

- End -
Media Contacts
Corinna Fung
Telephone: +852 2863 2787
Email: corinnafung@gs1hk.org
Will Ip
Telephone: +852 2863 2763
Email: willip@gs1hk.org
About GS1 Hong Kong
Founded by the Hong Kong General Chamber of Commerce in 1989, GS1 Hong Kong is the local chapter of GS1®, a not-for-profit, standards organisation that develops and drives adoption of global standards for business to uniquely identify, accurately capture and automatically share vital information about products, locations and assets. Headquartered in Brussels, Belgium, GS1 has over 110 national chapters in 150 countries.
GS1 Hong Kong's mission is to empower business to grow and to improve efficiency, safety, authenticity and sustainability across multiple sectors and facilitates commerce connectivity through the provision of a full spectrum of platforms, solutions and services based on our global standards. We provide a trusted foundation for accurate, sharable, searchable and linkable data. Our EPC standard lays the foundation for IoT, powering a range of IoT-based services and applications. We are helping industry to meet the challenges of omni-channel commerce and create a seamless customer experience. By engaging with communities of trading partners, industry organisations, government, and technology providers, we are fostering a collaborative ecosystem and aiming for "Smarter Business, Better Life".
Currently, GS1 Hong Kong has around 8,000 corporate members covering close to 20 industries including food and food services, retail consumer goods, apparel, healthcare, transport and logistics as well as information and communication technology.
For more information, please visit www.gs1hk.org.