Majority of Greater Bay Area consumers identify as 'tech-savvy', KPMG and GS1 Hong Kong survey finds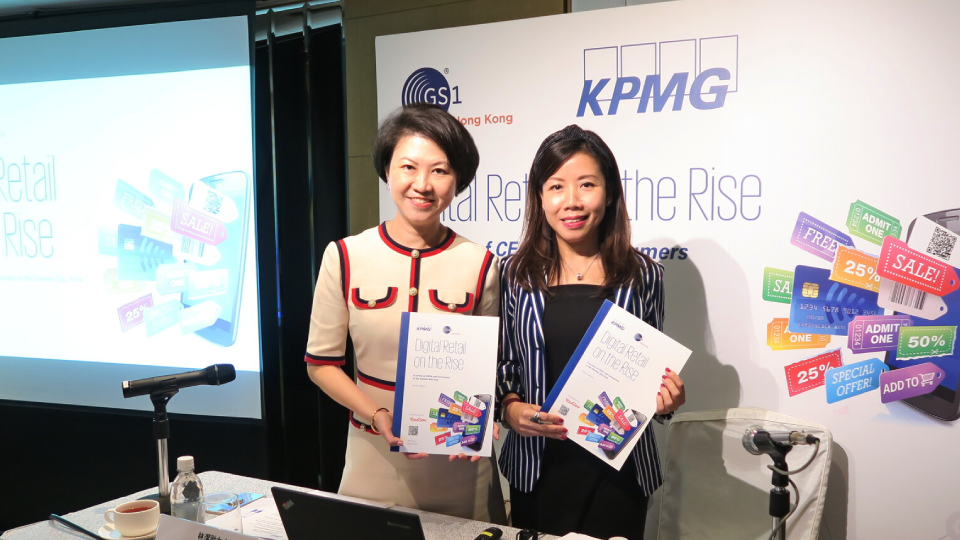 Majority of Greater Bay Area consumers identify as 'tech-savvy', KPMG and GS1 Hong Kong survey finds
C-level executives seek to become more data-driven, apply innovative technologies in next two years
24 October 2019, Hong Kong – In the wake of fast-emerging digital technologies transforming how customers behave, more consumers are identifying themselves as "tech-savvy", according to a joint survey by KPMG China and GS1 Hong Kong.
KPMG China and GS1 Hong Kong's fourth annual report titled Digital Retail on the Rise provides an overview of digitalisation and technology trends in retail sectors in the Greater Bay Area (GBA). YouGov was commissioned to conduct two surveys, the first one of more than 1,500 consumers in Hong Kong and across nine GBA cities*, and the second one polling more than 300 Hong Kong-based C-level executives.
Of the respondents in the nine GBA cities, 77 percent identified themselves as 'tech-savvy', with fast-emerging digital technologies appearing to be responsible for the transformation in the ways consumers behave.
Alice Yip, Partner, Head of Consumer & Industrial Markets, Hong Kong, KPMG China, said: "Digital technology is transforming the retail industry. As data analytics drives growth for companies and consumers become more tech-savvy, expectations for faster and better ways of doing business are rising."
The findings reveal that Hong Kong consumers are far more likely than their mainland counterparts to manage their finances online (77 percent versus 56 percent) or make payments by mobile (73 percent versus 59 percent). This indicates a more conventional mode of digital engagement in Hong Kong. A majority of the consumers across all areas reported having consumed online media, free and paid channels, within the past year, with the rate among Hong Kong consumers standing at 74 percent – slightly higher than the 69 percent of mainland respondents who answered this question affirmatively.
The survey also measured consumer habits across the GBA in researching and selecting products online. Brand websites were revealed to be one of the most common resources that consumers in Hong Kong (54 percent) and the nine mainland cities (58 percent) look at for product details. Hong Kong consumers also prefer to browse price-comparison websites (55 percent) for their research, while comparable numbers of mainland consumers search online for user reviews (54 percent).
As data is considered essential to business, companies across the GBA are becoming more receptive to new technologies, strengthening their customer connection and service delivery. This is driving a digital transformation across sourcing, logistics, customer interaction and product sales both offline and online, the report found. Asked to select the technologies and solutions being used, C-level executives put barcodes and QR codes on top, at 57 percent. Core analytics and cloud computing are coming into sharper focus as firms try to think and act smarter to gain a competitive edge, with 41 percent of company respondents saying they use core analytics and 27 percent utilising cloud computing.
The most significant year-on-year change in executives' responses about the challenges their organisations face was a drop from 42 percent to just 23 percent in developing a multichannel strategy. It appears companies have overcome the perceived barriers and implemented at least some form of working solution to omni-channel retailing.
Data powering growth
In terms of growth strategies in the coming two years, 37 percent of surveyed C-level executives said they want to become more data-driven to generate more real-time insights, and 34 percent seek to develop and apply innovative technologies to increase one's competitive edge, just ahead of the 32 percent who selected launching online campaigns to engage customers.
Anna Lin, Chief Executive, GS1 Hong Kong, said: "Data is the foundation for business success today. Accurate, sharable, searchable and linkable information is critical to redefine the customer experience, while data analysis and intelligence that generate insights can help retailers and brands stand apart."
Analysing data is the most important business priority for the coming two years when it comes to digital technology. However, while 77 percent of polled executives said they are collecting data, only one-third are currently analysing the information. A further 38 percent say they are planning to implement data analytics in the future, but seven percent have no plans to do so.
The absence of imminent plans appears to be related to another key finding. A lack of expertise in how to process consumer data efficiently was cited by 45 percent of the surveyed C-level executives as the top challenge companies face in this digital age. Integration of data followed (38 percent), then came measuring the return on investment (34 percent). The demand for talent across the GBA indicates a need for investment in training and recruitment in digital and data sciences.
Furthermore, Generation Z is driving unprecedented change in the retail business as brands adjust strategies for the group's unique attitudes. Most surveyed C-level executives stating they are adopting strategies targeting Generation Z are focusing on providing a personalised and interactive experience (32 percent) as well as convenience (29 percent) and optimising the mobile experience (25 percent). These results are largely aligned with the expectations of Generation Z.
As a connected cities strategy gains traction, both consumers and businesses are paying more attention to how existing infrastructure may evolve. The surveyed C-level executives from the nine GBA cities think that smart logistics and warehousing is the most important smart-city driver in the coming two years, while Hong Kong and mainland consumers think that new payment methods and smart environmental issues are the smart-city priorities for their markets respectively.
Anson Bailey, Partner, Head of Consumer & Retail, ASPAC, Head of Technology, Media & Telecoms, Hong Kong, KPMG China, concludes: "As consumers across the Greater Bay Area adopt technology at an exponential pace, businesses must respond by creating new digital roles, embracing the rise of digital ecosystems with smarter predictive analytics and developing the workforce of the future."
-ENDS-
*Note: The nine GBA cities include Dongguan, Foshan, Guangzhou, Huizhou, Jiangmen, Shenzhen, Zhaoqing, Zhongshan and Zhuhai. Data for Macau consumers was excluded due to insufficient sample size.
About KPMG China
KPMG China is based in 23 offices across 21 cities with around 12,000 partners and staff in Beijing, Changsha, Chengdu, Chongqing, Foshan, Fuzhou, Guangzhou, Haikou, Hangzhou, Nanjing, Qingdao, Shanghai, Shenyang, Shenzhen, Tianjin, Wuhan, Xiamen, Xi'an, Zhengzhou, Hong Kong SAR and Macau SAR. Working collaboratively across all these offices, KPMG China can deploy experienced professionals efficiently, wherever our client is located.
KPMG is a global network of professional services firms providing Audit, Tax and Advisory services. We operate in 153 countries and territories and have 207,000 people working in member firms around the world. The independent member firms of the KPMG network are affiliated with KPMG International Cooperative ("KPMG International"), a Swiss entity. Each KPMG firm is a legally distinct and separate entity and describes itself as such.
In 1992, KPMG became the first international accounting network to be granted a joint venture licence in mainland China. KPMG was also the first among the Big Four in mainland China to convert from a joint venture to a special general partnership, as of 1 August 2012. Additionally, the Hong Kong firm can trace its origins to 1945. This early commitment to this market, together with an unwavering focus on quality, has been the foundation for accumulated industry experience, and is reflected in KPMG's appointment for multidisciplinary services (including audit, tax and advisory) by some of China's most prestigious companies.
About GS1 Hong Kong
Founded by the Hong Kong General Chamber of Commerce in 1989, GS1 Hong Kong is the local chapter of GS1®, a not-for-profit, standards organisation that develops and drives adoption of global standards for business to uniquely identify, accurately capture and automatically share vital information about products, locations and assets. Headquartered in Brussels, Belgium, GS1 has over 110 national chapters in 150 countries.
GS1 Hong Kong's mission is to empower business to grow and to improve efficiency, safety, authenticity and sustainability across multiple sectors and facilitates commerce connectivity through the provision of a full spectrum of platforms, solutions and services based on its global standards. GS1 Hong Kong provides a trusted foundation for accurate, sharable, searchable and linkable data. GS1 Hong Kong's EPC standard lays the foundation for IoT, powering a range of IoT-based services and applications. GS1 Hong Kong is helping industry to meet the challenges of omni-channel commerce and create a seamless customer experience. By engaging with communities of trading partners, industry organisations, government, and technology providers, it is fostering a collaborative ecosystem and aiming for "Smarter Business, Better Life".
Currently, GS1 Hong Kong has around 8,000 corporate members covering close to 20 industries including retail consumer goods, food and food services, healthcare, apparel, logistics as well as information and technology.
For more information, please visit www.gs1hk.org.
Media enquiries:
KPMG China
Nina Mehra
KPMG China
+852 2140 2824
Linda Pui / Isabel Kwok
Citigate Dewe Rogerson
+852 3103 0108 / +852 3103 0123
GS1 Hong Kong
Corinna Fung
Head of Corporate Marketing
+852 2863 9787