Hong Kong ICT Awards 2018 Promote Cross Industries Creativity Achieve Collaboration Among Industries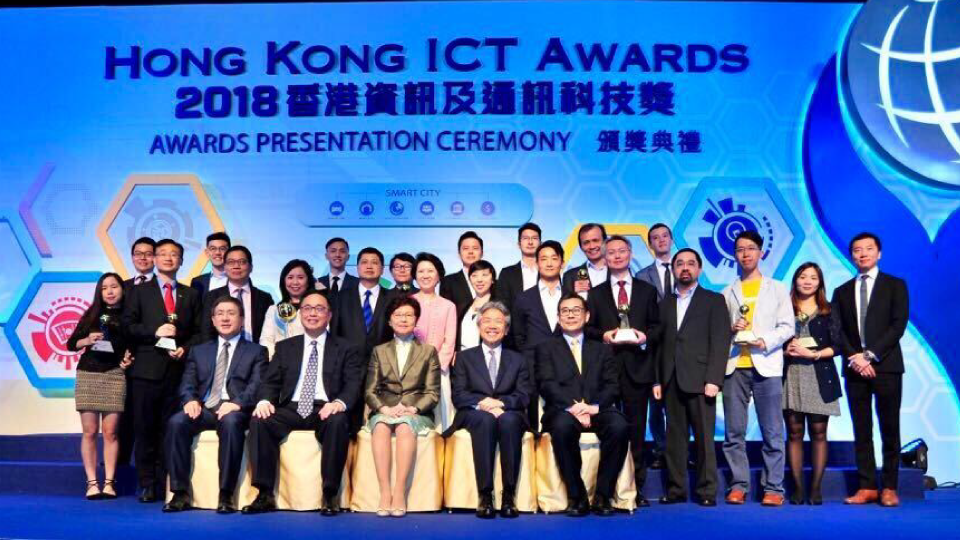 Hong Kong ICT Awards 2018
Smart Living Award  Smart People Award  Smart Mobility Award
Promote Cross Industries Creativity
Achieve Collaboration Among Industries
 
(Hong Kong – 29 March 2018) Co-organised by the Hong Kong Information Technology Federation, The Hong Kong Council of Social Service and GS1 Hong Kong, and steered by the Office of the Government Chief Information Officer, the Hong Kong ICT Awards 2018 – Smart Living Award, Smart People Award & Smart Mobility Award Presentation Ceremony was successfully held today at Cyberport. 
Category awards presentation ceremony organized jointly in concerted effort to promote innovation and outstanding solutions
In a bid to strengthen industry communication, the 3 leading industry and professional associations have joined hands to organise this 3-category award presentation ceremony. The award not only recognises and promotes outstanding ICT invention and applications, it also provides a platform for the exchange of professional knowledge and insights, further strengthening the connection among various sectors of the industry.
Excellent ICT inventions can strengthen users' confidence on ICT application
Smart Living Award aims atrecognising outstanding products and solutions that promote and facilitate a smart mode of enjoyable and convenient living through capitalising on ICT advancements. Ms. Irene Leung, President, Hong Kong Information Technology Federation stated, "We strive to inject new vitality into the campaign to promote the concept of digital lifestyle. "Smart Home" stream demonstrates the use of smart technologies to create smart home and living for a better lifestyle. "Smart Healthcare" improves personal health and well-being and encourages more healthy and eco-friendly lifestyle. And"Smart Lifestyle" stream promotes easy andcomfortable indulgence of the appetites forthe finer things in lifeand can facilitate learning in new, innovative and interactive style."
In an effort to promote the rights of the disadvantaged groups to participate and contribute to the development of information society, Smart People Award recognises the ICT innovations that address the challenges facing the ageing society and promote the open data / big data applications that contribute to improving the quality of life of people. Mr. Chua Hoi Wai, Chief Executive, The Hong Kong Council of Social Service stated, "We thank the tremendous support from our partners and the community in this meaningful endeavour. We are impressed by a large number of entries, showcasing many tailor-made and purpose-built solutions and applications for citizens with various needs. We firmly believe that as technology further develops, its potential to empower people would also grow. We are prepared to meet the many challenges ahead, and are at the same time excited in looking forward to realizing the infinite potential such inventions are to introduce."
Smart Mobility Award encourages people to build a Smart Hong Kong with novice Smart Mobility applications and champion Hong Kong as a hub for ICT talents, creativity and innovation. "The applicants' creative innovation and business acumen generated marvelous value to us all. The winning applications attest to successful implementation, helping users in Transport, Logistics and Tourism realise the value of smart business applications, encouraging further industry adoption, thus creating a mutually beneficial interaction between technology and business sectors, which ultimatelyleads to a sustainable ecosystem of technology-driven business paradigm,"noted Ms. Anna Lin, JP, Chief Executive of GS1 Hong Kong.
Each of the Smart Living Award, Smart People Award & Smart Mobility Award features Gold, Silver, Bronze and Certificate of Merit in 3streams.
| | | |
| --- | --- | --- |
| Smart Living Award | Smart People Award | Smart Mobility Award |
| Smart Healthcare | Smart Inclusion | Smart Transport  |
| Smart Home | Smart Ageing | Smart Logistics  |
| Smart Lifestyle | Citizens Data Applications  | Smart Tourism  |
The Grand Award and Smart Healthcare Gold Award of Smart Living Award was presented to Belun Technology Company Limited for their "BelunTM Ring".Belun™ Ring is a medical-grade wearable platform utilising ICTtechnologies, bio-sensing, signal processing techniques and deeplearning algorithm to pre-screen potential obstructive sleep apnea(OSA) sufferers conveniently at home and provide sleep healthincluding mental stress in relationship with daytime activities.Combining the innovative and patented ring design and opticaldesign, Belun™ Ring is light-weighted, comfortable to be worncontinuously and nonintrusively during sleep. With the uploadof the accurate and high sensitivity data through network,respiratory disorders during sleep will be identified by Belun™'scloud-based proprietary artificial intelligence (AI) system. Allphysiological data, analysis and reports can be viewed byauthentic people from clinics, health-check centres, respiratorymachine vendors and elderly centres which provides additionalinsights to physicians. For further details, please refer to http://www.hkitf.org.hk/awards/smartliving
The Grand Award and Smart Ageing Gold Award of Smart People Award went to Caritas Information Technology Advancement Centre/ Caritas Hong Kong – Services for the Elderly for their "eCare® – Wireless Elderly Care Management System". eCare® – Wireless Elderly Care Management System is a web-based system that runs under the ASP model, serving over 100 residential care homes in Hong Kong. It aims to reduce administrative workload of frontline caregivers and enhance data accuracy. It  reduces errors and thus providing caregivers more time to focus on caring for the residents in the care homes. eCare® is designed to facilitate routine operations, data centralizations, management, statistics and analysis. It contains assessment tools (MDS-HC standard), Individual Care Plans (ICPs), reports, statistics and drug lists etc. Thesystem has open interface to connect with outside systems such as community pharmacies, CRMs, accounting systems, etc. It can connect with wireless mobile healthcare devices to enable mobile care management.For further details, please refer to http://ictaward.hkcss.org.hk.
The Grand Award and Smart Logistics Gold Awardof Smart Mobility Awardwent toBPS Global Holdings Ltd, for its DKSH Hong Kong Smart Automated Warehouse Solution. BPS Global developed a smart automated warehouse solution for DKSH Hong Kong, a leading Market Expansion Services provider. Thesolution is an innovative breakthrough that enables all-in-one automated warehouse. It integrates a five-metre-high carousel storage system, mobile robot technology, drop-to-light panel and conveying system for goods-to-person order fulfillment. The new warehouse facility addresses DKSH Hong Kong's challenges of tight manpower, rising operational costs and increasingly stringent regulatory requirements. For further details, please refer to https://www.gs1hk.org/SmartMobilityAward.
About the Hong Kong Information Technology Federation
The Hong Kong Information Technology Federation (HKITF) was founded in 1980 as a non-profit, nonpolitical trade association to provide a forum in which the IT-related business in Hong Kong can work together for the benefit of the industry and to maintain a high level of business practice amongst the members. HKITF acts as the bridge for international IT companies looking for local partners and works with trade commissions to host trade promotion events. It supports and sponsors various IT sectors to develop focus groups; promotes local IT business through various activities; and also helps keeping members abreast of local IT developments and business opportunities. In the public sector, HKITF works closely with government to promote the development of the local IT industry. HKITF represents the industry on many government committees for policy and regulatory issues. For more information about HKITF, please visit www.hkitf.org.hk.
About The Hong Kong Council of Social Service
The Hong Kong Council of Social Service (HKCSS) works to promote a just and inclusive society by promoting collaborative efforts among NGOs in service planning and development, facilitating cross-sectoral partnership, advocating equality, justice, social integration and a caring community. The Council has now become an umbrella organisation of over 460 Agency Members, that provide over 90% of the social welfare services for those in need through 3,000 service units all over Hong Kong. For more information about HKCSS, please refer to http://www.hkcss.org.hk.
About GS1 Hong Kong
Founded by the Hong Kong General Chamber of Commerce in 1989, GS1 Hong Kong is the local chapter of GS1®, a not-for-profit, standards organisation that develops and drives adoption of easy-to-implement global standards for business to uniquely identify, accurately capture and automatically share vital information about products, locations and assets. Headquartered in Brussels, Belgium, GS1 has over 110 national chapters in 150 countries. GS1 Hong Kong's mission is to enable Hong Kong enterprises to improve the efficiency, safety, and visibility of supply chains across multiple sectors and facilitates commerce connectivity through the provision of global standards and a full spectrum of standards-based solutions and services. GS1 Hong Kong engages with communities of trading partners, industry organisations, government, and technology providers to understand and respond to their business needs through the adoption and implementation of global standards. Currently, GS1 Hong Kong has over 7,500 corporate members covering close to 20 industries including retail consumer goods, food and food services, healthcare, apparel, logistics as well as information and technology. 

For more information about GS1 Hong Kong, please visit www.gs1hk.org.
 
Media Contacts

Corinna Fung
Telephone: +852 2863 2787
Email: corinnafung@gs1hk.org
Will Ip
Telephone: +852 2863 2763
Email: willip@gs1hk.org
Appendix
Hong Kong ICT Awards 2018 – Smart Living Award winners list
Category

Award

Organisation/ Winner

Title of Entry

Smart Living

Grand

Belun Technology Company Limited

BelunTM Ring

Smart Healthcare

Gold

Belun Technology Company Limited

BelunTM Ring

Silver

Imsight Medical Technology Company Ltd.

LungSight

Bronze

The Hong Kong Society for Rehabilitation / Hong Kong Productivity Council

e2Care

Smart Home

Gold

Computime Ltd.

Smart Comfort System

Silver

Hawkeyes Solutions Ltd.

Landslide Detection System

Certificate of Merit

Lincogn Technology Co. Ltd.

Cantonese Enabled Smart Voice Control System

Smart Lifestyle

Gold

Find Solution Artificial Intelligence Ltd.

4 Little Trees- AI Driven Emotion Sensitive Smart Learning Application

Silver

Avatech Innovation Limited

Augmented Reality Learning Sandscape (ARGEO)

Bronze

ANTwave Technology Ltd.

Fully Transparent Display Antenna

Certificate of Merit

GOXD Technology Ltd.

GOXD MemtoTM Live Picture Frame    

Certificate of Merit

Social Career Ltd.

Social Career
Hong Kong ICT Awards 2018 – Smart People Award winners list
Category

Award

Organisation/ Winner

Title of Entry

Smart People

Grand

Caritas Information Technology Advancement Centre / Caritas Hong Kong – Services for the Elderly

eCare® - Wireless Elderly Care Management System

Smart Inclusion

Gold

The Brightly Project Ltd.

"Know My Students" Suicide Prevention for Secondary Schools — A chatbot that analyses symptoms of mental health, stress, and digital behavior to identify students at-risk of suicide.

Silver

Stanley Ho Big Data Decision Analytics Research Centre, The Chinese University of Hong Kong / Human-Computer Communications Laboratory, Department of Systems Engineering and Engineering Management, The Chinese University of Hong Kong

E-Commu-Book: An Assistive Technology for Users with Speech Impairments

Bronze

Playto (Hong Kong) Ltd.

GlowMaster

Certificate of Merit

Faculty of Education, The Chinese University of Hong Kong

Our hands speak

Certificate of Merit

Lau Shiu Fung

Wheelman

Smart Ageing

Gold

Caritas Information Technology Advancement Centre / Caritas Hong Kong – Services for the Elderly

eCare® - Wireless Elderly Care Management System

Silver

Hong Kong Pharmaceutical Care Foundation Ltd. / Chuk Lam Ming Tong C&A Home for the Aged / Information Processing Consultants Ltd.

SafeMed Medication Management Matrix

Bronze

Eldage Ltd.

Eldage

Certificate of Merit

Koln 3D Technology (Medical) Ltd.

Metal Bio-printing of Orthopaedic Implant

Certificate of Merit

The Hong Kong Society for the Aged

e72 website and App

Citizens Data Applications

Silver

Gogolook Co., Ltd.

HKJunkCall

Bronze

The Chinese University of Hong Kong

TouchAir
Hong Kong ICT Awards 2018 –Smart Mobility Award winners list
Category

Award

Organisation/ Winner

Title of Entry

Smart Mobility

Grand

BPS GLOBAL HOLDINGS Ltd.

DKSH Hong Kong Smart Automated Warehouse Solution

Smart Transport

Gold

Airport Authority / MTel Ltd. / Cherrypicks Ltd.

"HKG My Flight" mobile app

Silver

GreenSafety Technology Ltd.

The 4S Solution

Bronze

God Taxi App Ltd.

God Taxi App

Certificate of Merit

MTR Corporation Ltd.

Rail Gen 2.0 - New Customer Experience

Smart Logistics

Gold

BPS GLOBAL HOLDINGS Ltd.

DKSH Hong Kong Smart Automated Warehouse Solution

Silver

Airport Authority / E-Business Solutions Ltd.

Intelligent RFID-embedded Baggage Loading Robotics for Automated Baggage Reconciliation

Bronze

HK Pick-up Ltd.

Pickupp

Smart Tourism

Gold

Pokeguide Ltd.

Pokeguide

Gold

TravelFlan by freeD Group Limited

TravelFlan AI Travel Concierge

Bronze

MotherApp Ltd.

PowerArena – Smart Crowd Management and Analytics Solution

Certificate of Merit

Openrice Ltd.

OpenRice

Certificate of Merit

Harbour City Estates Ltd./ Compathnion Technology Ltd.

Harbour City Navigation App