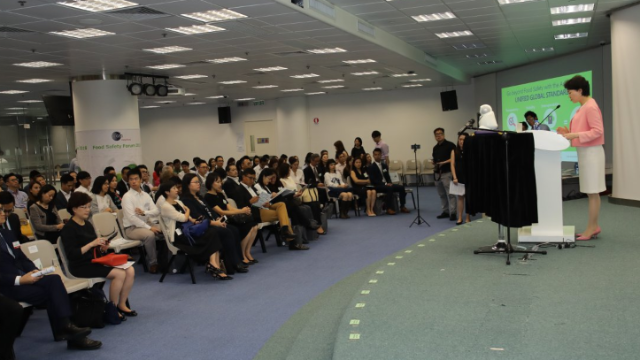 10 & 17 August 2016
Food Traceability Training (August 2016)
09:30 - 17:00
VTC Tower, 27 Wood Road, Wanchai, Hong Kong
--
Cantonese (with English materials)
Summary
Member price: HK$ 4,800 per head for 2 days (up to HK$2,000 subsidy from VTC NTTS funding)
Non member price: HK$ 4,800 per head for 2 days (up to HK$2,000 subsidy from VTC NTTS funding)
A 2-day training co-organised by VTC PEAK and GS1 Hong Kong to walk you through from the basics - fundamental theory of global traceability standards, strategic roadmap to success case sharing and hand-in-hand implementation in-class activities to enhance food safety and traceability.
Special Package! Any company send 5 representatives to join the training, a FREE assessment upon its food supply chain management system will be given (original cost HKD 15,000)
*An accredited course by VTC NTTS (Click here to learn more). Successful candidate can receive a subsidy up to HKD 2,000.
*Certificate will be given to participants with 100% attendance.
Enquiry: 
Mr. Matt CHAN
Institute of Professional Education And Knowledge (PEAK)
Address:         9/F, VTC Tower, 27 Wood Road, Wanchai, HK
Email:             hin14@vtc.edu.hk
Website:        www.peak.edu.hk
Register:        www.peak.edu.hk/tc/course.php?id=62267812
Overview
Standardising your food chain operation to enhance product safety, quality and traceability
Theory + Implementation + Strategy : Develop Your Trusted Food Brand!
Food safety incidents or crises negatively impact both government and industries. They can have a significant economic impact on an entire product category, industry, or even country. Governments face loses in trade, trade embargo, increases in healthcare costs, and reduced consumer confidence. Industry may face collapse, litigation and loses of brand and business. The negative effects may even spill over to other products not actually implicated. Thus, an effective, traceable food system is one of the core factors in driving you to provide a safe and quality food product and service to the consumers.
Global Traceability Standard (GTS) is jointly developed by over hundred of major industry practitioners worldwide, with cross reference to ISO 22005, ISO 9001, HACCP (ISO 22000:2005), BRC Global Standard, IFS, SQF and Global GAP, to provide a practical implementation guideline and KNOW-HOW tactics in assisting the food and food-related companies to adopt end-to-end traceability from farm to fork, in order to strengthen the monitoring process, ensure food quality and safety, thereby retain customer loyalty.
This 2 day training is designed to demonstrate stakeholders the importance and best practices of food safety and traceability​:
Understanding the concept of traceability and its regulatory framework, global standards and industry requirements
Benefits of interoperable traceability solution with global and local case sharing 
Implementation methodology and tactics for compiling multi-requirements in food supply chain management system 

Special Bonus: 
1.    FREE take-away – Best Practices Case Book
2.    Buy 5 seats and get 1 free assessment on food traceability supply chain management system, with one day on-site assessment, one assessment report and a recommendation report
 
Cafe Deco, Circle K, Danny Catering, Hop Hing, Lee Kum Kee, Maxim's, Pure Kitchen, Rich Harvest, Saint Honore, Swire Coca Cola, Tsit Wing, Wyeth Nutrition, and more, have improved their food system after this hands-on workshop. ACT NOW to be one of leading gurus in food safety and traceabiliy! 
Training partner:
Who is it for
Food manufacturers & processors
Logistics service providers
Retailers, distributors, importers & exporters
Food service providers
Agenda
Day 1 (9:30am - 5pm)

Day 2 (9:30am - 5pm)

1. What is "Traceability"?
   - Laws and regulations
   - Global standards and best practices
   - Industry and business requirement

1. How to implement "Global Traceability Standards & Solutions" in the food supply chain management system within the company?

2. Roles and responsibilities througout the traceability process

2. Relationship between traceability and technology

3. Data and information management of traceability system

3. Traceability assessment

4. How to develop a thorough traceability system

4. Case studies and in-class activities