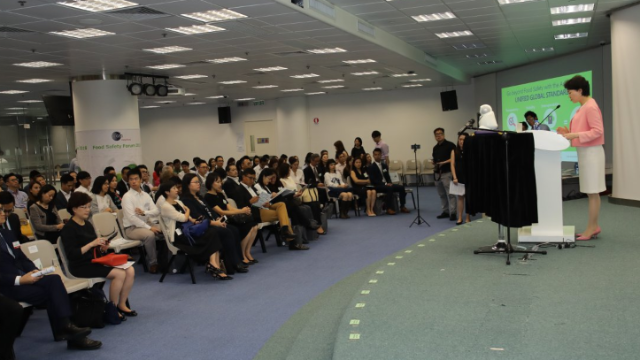 17 Mar & 24 Mar 2017
Global Food Traceability Training (Mar 2017)
09:30 - 17:00
OTB Building, 160 Gloucester Road, Wanchai, Hong Kong
--
Global Food Traceability Training
Summary
Member price: HK$ 4,800 per head for 2 days (Up to 50% subsidy from VTC NTTS funding)
Non member price: HK$ 4,800 per head for 2 days (Up to 50% subsidy from VTC NTTS funding)
A 2-day training to walk you through from the basics - fundamental theory of global traceability standards, strategic roadmap to success case sharing and hand-in-hand implementation in-class activities to enhance food safety and traceability.
Special Package! Any company send 4 representatives to join the training, a FREE assessment upon its food supply chain management system will be given (original cost HKD 16,000)
*An accredited course by VTC NTTS (Click here to learn more). Successful candidate can receive a subsidy up to 50%.
*Certificate will be given to participants with 100% attendance.
Interested parties can register online here on or before 10 Mar 2017. Confirmation email will be sent to successful candidates 3 days prior to the event. Please settle your payment by cheque payable to "GS1 Hong Kong Ltd" with remarks "Food Traceability Training" as well as contact information (company name, name of registrant, tel. no. and email) at the back and mail to: GS1 Hong Kong, 22/F, OTB Building, 160 Gloucester Road, Wan Chai, Hong Kong
Enquiry: Miss Ting | Tel: +852 2863 9753 | training@gs1hk.org
Website: www.gs1hk.org
Overview
Standardising your food chain operation to enhance production quality and increase customer loyalty
With rapid development of omni-channel retailing in recent years, other than consumer products, fresh produce and food products are also added to the customer's shopping wish list. Different from the conventional e-commerce products, such as electronic goods and domestic products, the shelf life of fresh produce is comparatively short as well as easily deteriorated. Thus, the quality control requirement throughout the entire food industry operation is highly increased - from supply, distribution to retailing. Standardising food product information and value chain operation is the only key to achieve an effective and traceable food system so as to enhance production quality and increase customer loyalty.
Theory + Implementation + Strategy : Develop Your Trusted Food Brand!
To demonstrate industry stakeholders the importance and best practices of food safety and traceability. GS1 Hong Kong organises a  2-day "Food Traceability Training" to provide you a step-by-step guidance in implementing global traceability standards in food supply chain and operation management system, in order to help strengthen the monitoring process, enhance food quality and safety, thereby retain consumers' confidence as well as achieve a healthy industry competition and development.
Benefits
1. Risk Mitigation and Crisis Management
Improve recall process
Reduce recall cost: Making Recalls and/or Withdrawals faster, and reduces the scope of a recall
Return to business as usual: faster recovery after a significant recall
Provide an additional Anti-counterfeiting tool
Identify expired Product
2. Meeting regulatory requirements
The EU's general food law entered into force in 2002 and makes traceability compulsory for all food and feed business. It requires that all food and feed operators implement special traceability systems. Better understand related regulatory, global standards and commercial requirements. Understand the implementation methodology for compiling multi-requirements
3. Improve Operational Efficiency
Increase inventory accuracy
More timely and accurate upstream and downstream data
Process improvement includes decreasing error rates, increasing product selection accuracy and streamlined document management
Decrease spoilage/waste and shrinkage in delivery
4. Brand Image Upgrade
Improve brand protection
Improve consumer confidence
Build trust between supply chain partners and end users
Enhance consumer experience
Differentiate product in the market
Past Participants
         Cafe Deco, Circle K, Danny Catering, Hop Hing, Lee Kum Kee, Maxim's, Pure Kitchen, Rich Harvest, Saint Honore, Swire Coca Cola, Tsit Wing, Wyeth Nutrition, and more, have improved their food system after this hands-on workshop. ACT NOW to be one of leading gurus in food safety and traceability! 
Who is it for
Manufacturers & processors
Logistics service providers
Retailers, distributors, importers & exporters
Quality assurance party
Service providers in food and related industry
Agenda
Day 1 (9:30am – 5:00pm)

Day 2 (9:30am – 5:00pm)

1. Understanding Traceability in General
    -   Legal and Regulatory Framework
    -   Standards and Practices
    -   Business Requirements

1. Implementing Global Traceability Standard Step by Step
    -   Determine how to assign, collect, share and keep traceability data
    -   Determine how to manage links between inputs, internal processes and outputs

2. Understanding Traceability Parties and Roles
    -   Internal and external benefits

2. Traceability and Technology Relationship
    -   Technology implementation on traceability

3.  Understanding Traceability Data and Links Management
    -   Definition, principles & aims

3. Traceability Assessment
    -   Enable track and trace

4.  Building a Comprehensive Traceability System
    -   Process & flow

4. Traceability Case Studies

5.  Traceability in Supplier Sourcing
    -   Requirement of a qualified supplier in food traceability