Body
A barcode (technically called "GTIN" or "Global Trade Item Number") is a number represented in vertical lines of varying widths printed on labels to uniquely identify items enabling the rapid and un-ambiguous identification of products, assets, documents to people using a scanner.
It is very important to buy barcode.  It plays a key role in supply chains, enabling parties like retailers, manufacturers, transport providers and hospitals to automatically identify and track products as they move through the supply chain.It is not only the identity for the object, but also the key to global trade and the digital commerce.
Hong Kong brands and products have long been renowned for their high quality and safety. Buy barcode from GS1 HK, you'll receive an official GS1 certificate, giving you the peace of mind that your barcode numbers are uniquely yours, internationally recognised and of authentic source.
A barcode starting with the prefix 489 means that it is issued by GS1 Hong Kong, and that this product is operated by a Hong Kong-registered company. It will more easily facilitate companies to win the consumers' heart, boost brand value and consumer confidence.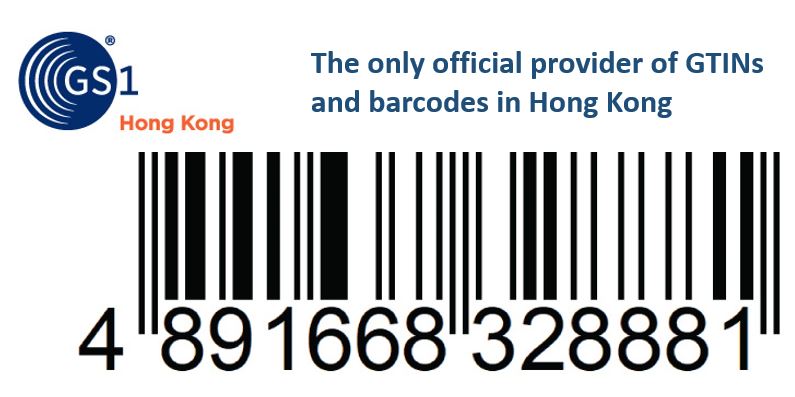 The Key to Global Trade and eCommerce
Over two million companies globally use GS1 barcodes, including all major retailers and online marketplaces, such as Amazon, Alibaba, eBay, Google, Tmall, Taobao, or even conversational commerce enabling platform like WeChat, which has all adopted the GTINs for products that are listed on their platforms. Such product identifier standard helps ensure trusted product information being put online, and enable product information consistency.
By using GTINs, e-commerce owners can boost their performance by adding valuable details about the product and providing more accurate and relevant information to users. Consumers are more efficient in searching and buying their desired products with excellent online shopping experience.
For owners, GS1 standards improves efficiency, enhance supplier and product management, facilitate trusted data source and empower informed decision with big data analytics.
With the growth in the diversification of on-line sales channels and platforms, consumers or even search engines are challenged to determine whether two web pages about a product are actually referring to the same one, due to the frequent verifications of product naming on different on-line sales platforms.  
GS1 SmartSearch standard is intended to lay a foundation to make it easier to discover products and understand information about them on the Web.
GS1 barcode can also fulfill a wide spectrum of functions for companies, including: 
 Automate work process
 Enhance information accuracy
 Optimise inventory management
 Achieve accurate and efficient procurement
 Authenticate products
 Suppliers management
 Brand management 
 Anti-counterfeiting

How you apply and set up barcodes through GS1 HK:
Obtain a unique company identification number called a GS1 Company Prefix. It will identify your company to businesses all over the world
 
Using that prefix, you add a number that specifically identifies your product. Combined with a check digit, this creates a GTIN® (Global Trade Item Number®) that identifies both your company and that product
 
You take this GTIN and create a barcode from it that can be scanned
 
Experience the power of barcode, join us now and buy barcode!