A New Era of Food Safety with the Adoption of Technology 22 Winners Recognised for Remarkable Efforts in Food Traceability @GS1 HK Food Safety Forum 2018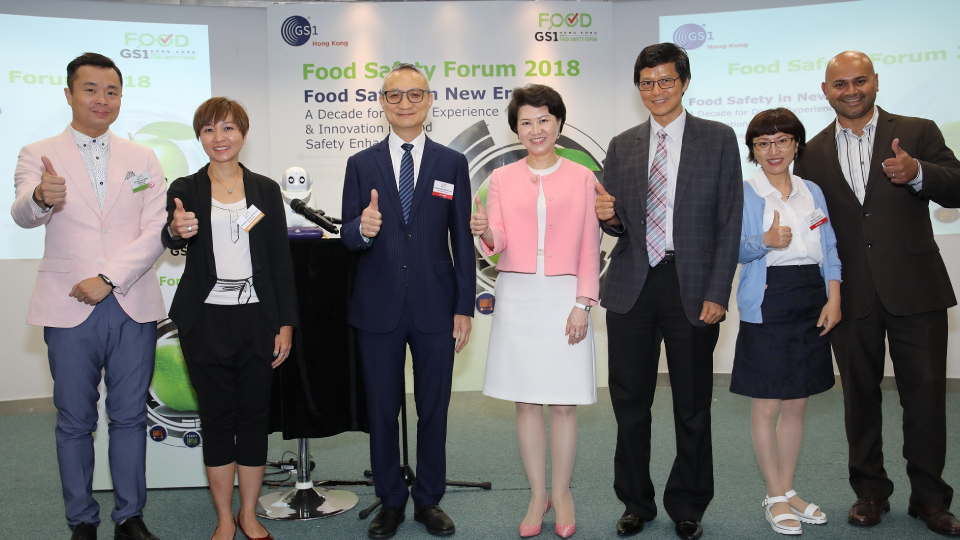 A New Era of Food Safety with the Adoption of Technology
22 Winners Recognised for Remarkable Efforts in Food Traceability @GS1 HK Food Safety Forum 2018
Hong Kong, 30 August 2018 – With the increasing technologies deployment in food supply chain, GS1 Hong Kong presented this year's Food Safety Forum with the theme "Food Safety in New Era - A Decade for Digital Experience & Innovation in Food Safety Enhancement" today, gathering more than 300 food industry stakeholders to share on how new innovations strengthen food traceability and ensure food safety. The Award Presentation Ceremony for Quality Food Traceability Scheme 2018 was also held, where 22 companies were recognized for demonstrating excellence in food safety and traceability practices.
Enabling Food Supply Chain Transparency with Technology
According to the World Health Organization, every year approximately 600 million people—a full one-tenth of the world's population—become ill after food incidents, and 420,000 of them die.
In Hong Kong, it is found that a lot of citizens are concerned about the credibility of the food product source, its information and the transparency of food supply chain. The results came from a street survey of 1,505 respondents conducted by GS1 Hong Kong, which shows the importance of food traceability that enables supply chain transparency to consumers. As a result, food safety and traceability along the food chain are receiving increasing focus by suppliers, retailers, consumers and governments.
Addressing the Food Safety Forum 2018, the Under Secretary for Food and Health, Dr Chui Tak-yi, said, "Information technology is enhancing supply chain efficiency and food traceability from all perspectives. Not only do food producers, traders and logistics providers apply technology to enhance their competitive edges, food safety regulators are also capitalising on technology to enhance their regulatory efficiency."
"The Centre of Food Safety of the Food and Environmental Hygiene Department is embarking on a challenging project to revamp its IT systems to enhance its data management capability to facilitate its gate keeping work. Also, it is building up an E-portal to interface with food traders on matters ranging from the handling of applications on food import to issuing instructions on food inspection and sample collection arrangements electronically. The E-portal will become part of the HKSAR Government's Trade Single Window system, which will be the Government-wide one-stop online kiosk for trade declaration and customs clearance."
Thanks to the advancement of technologies like IoT, artificial intelligence and blockchain, food companies are able to manage an integrated, round-the-clock approach to food safety. "Digital transformation is revolutionizing businesses, helping companies provide a new kind of consumer experience, boosting transparency and organizational efficiency." Ms. Anna Lin, JP, FCILT, Chief Executive of GS1 Hong Kong said in her welcome remarks. "Yet it requires a common set of standards to help scale across the complex, global supply chain, and maintain a clear, unbroken record. With global standards, each product and process are uniquely identified and automatically captured by RFID or scanning the barcode, end-to-end traceability and visibility are made possible with information uploaded and exchanged through the IoT platform."
Hong Kong Food & Beverage Industry Advisory Board
Ms. Lin also announced the inauguration of the Hong Kong Food & Beverage Industry Advisory Board, which aims to promote the importance of traceability and transparency in the food and beverage supply chain to enhance food safety. The Board is also dedicated to fostering dialogue with the Government, advancing effective online and offline (O2O) channels that facilitate trade, and strengthening the F&B industry supply chain ecosystem by advocating the adoption of global standards and driving innovation and technology development.
Ms. Grace Ho, General Manager of Nestle Hong Kong Limited and Mr. Keith Wu, Executive Group Director and COO of Tsit Wing Group, are the Chairperson and Vice Chairperson of the first term of the Advisory Board. Other members include senior executives and experts from leading companies, academic circle and associations in F&B industry. (See Appendix I for the full Advisory Board members list)
Increasing Number of Companies on Food Safety
22 outstanding food-related enterprises are being awarded in the Quality Food Traceability Scheme 2018, which all demonstrated their vigorous efforts in upholding food traceability. The majority of the awardees have joined since the inception of the Scheme, showing that companies are putting more emphasis on food traceability to ensures safety for consumers. (See Appendix II for full winner list)
Initiated in 2015, the Scheme is designed to help local food and food services companies to enhance their track and trace capabilities along the supply chain, and effectively adopt international standards for their food management systems.
Participating companies will undergo a structural, all-round assessment based on Global Traceability Standard, with cross reference to GFSI recognized food safety scheme. It defines a comprehensive set of traceability requirements suitable for local food businesses to achieve full chain traceability. Diamond, Gold and Silver awards are presented to recognised companies based on the audit results.
- End -
Appendix I –
Hong Kong Food & Beverage Industry Advisory Board Members
Chairperson
Ms. Grace Ho, General Manager of Nestlé Hong Kong Limited
Vice Chairperson
Mr. Keith Wu, Executive Group Director and COO of Tsit Wing International Holdings Ltd.
Members
Mr. Ivan Ng, General Manager – Supply Chain of Café De Coral Holdings Limited
Ms. Margaret Lau, General Manager of DCH Food Mart
Mr. Brian Lo, General Manager of Deliveroo Hong Kong
Ms. Helena He, Managing Director of Friesland Campina (HK)
Ms. Anna Lin, Chief Executive of GS1 Hong Kong
Mr. Kenneth Chan, CEO of Rich Harvest Agricultural Produce Limited
Mr. Neil Waters, Director and General Manager of Swire Coca-Cola HK
Dr. Terence Lau, Director of Innovation and Technology Development of The Hong Kong Polytechnic University
Mr. Kenneth Chan, Chairman of The Hong Kong Food Council
Ms. Dorcas Lau, CEO of Vitasoy International Holdings Limited
Mr. Andy Heung, Deputy Managing Director of Yamato Logistics (HK) Limited
Mr. Danny Shum, CEO & Co-founder of Ztore
Appendix II –
Quality Food Traceability Scheme 2018 Winner List (in alphabetical order)
Diamond Enterprise Winners
Café de Coral Holdings Ltd.
FrieslandCampina (Hong Kong) Limited (New Join)
Hop Hing Oils and Fats (HK) Ltd.
Maxim's Caterers Limited
Swire Coca-Cola HK Ltd.
Tsit Wing International Holdings Ltd.
Vitasoy International Holdings Ltd.
Wyeth Nutrition Hong Kong
Gold Enterprise Winners
Aeon Stores (Hong Kong) Co. Limited
CAFE DECO GROUP
DCH Food Mart
DCH Logistics Co. Ltd.
Forewide Company (HK) Limited (New Join)
Getz Bros. & Co. (Hong Kong) Limited
Infinitus Overseas Market (New Join)
Lorence & Co. Ltd.

Sims Trading Co. Ltd.
Sun Fat Heung Food Products Limited
The Kowloon Dairy Ltd.

Tong Shun Hing Poultry (HK) Co. Ltd. (New Join)
Silver Enterprise Winners
Aquaculture Technologies Asia Ltd.
Rich Harvest Agricultural Produce Limited
Media Contacts
Corinna Fung
Telephone: +852 2863 2787
Email: corinnafung@gs1hk.org
Will Ip
Telephone: +852 2863 2763
Email: willip@gs1hk.org
Media Contacts
Corinna Fung
Telephone: +852 2863 2787
Email: corinnafung@gs1hk.org
Will Ip
Telephone: +852 2863 2763
Email: willip@gs1hk.org
About GS1 Hong Kong
Founded by the Hong Kong General Chamber of Commerce in 1989, GS1 Hong Kong is the local chapter of GS1®, a not-for-profit, standards organisation that develops and drives adoption of easy-to-implement global standards for business to uniquely identify, accurately capture and automatically share vital information about products, locations and assets. Headquartered in Brussels, Belgium, GS1 has over 110 national chapters in 150 countries.
GS1 Hong Kong's mission is to enable Hong Kong enterprises to improve the efficiency, safety, and visibility of supply chains across multiple sectors and facilitates commerce connectivity through the provision of global standards and a full spectrum of standards-based solutions and services. GS1 Hong Kong engages with communities of trading partners, industry organisations, government, and technology providers to understand and respond to their business needs through the adoption and implementation of global standards.
Currently, GS1 Hong Kong has around 8,000 corporate members covering close to 20 industries including retail consumer goods, food and food services, healthcare, apparel, logistics as well as information and technology. GS1 Hong Kong continually enhances and rolls out new services and solutions to help our corporate members to embrace new realities, new challenges, and new opportunities.
For more information about GS1 Hong Kong, please visit www.gs1hk.org.