GS1 Hong Kong Summit 2018 – Digital Business Transformation: Connecting the Dots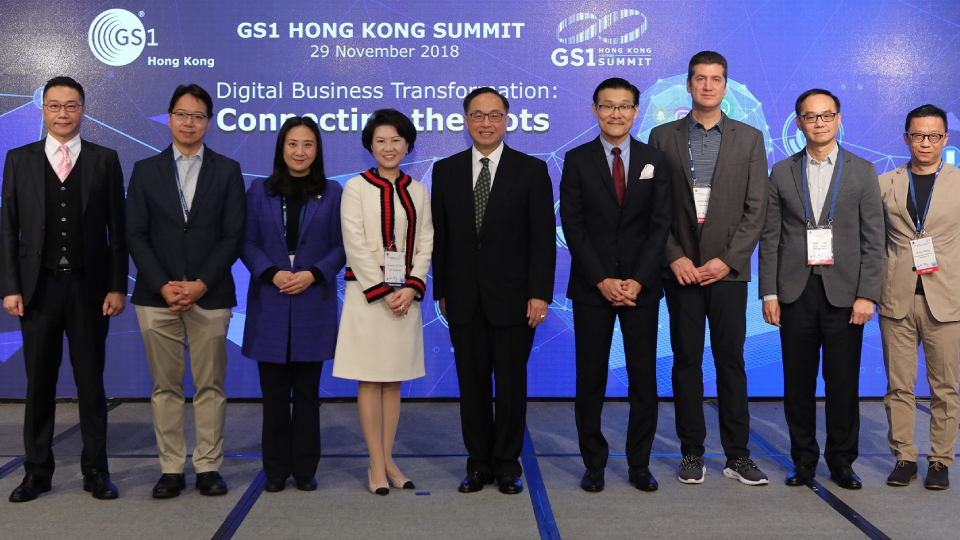 GS1 Hong Kong Summit 2018 –
Digital Business Transformation: Connecting the Dots
 
Hong Kong, 29 November 2018 – GS1 Hong Kong today organises the GS1 Hong Kong Summit 2018 ("the Summit") themed "Digital Business Transformation: Connecting the Dots" in Hong Kong Convention and Exhibition Centre, marking the eighteenth year of the annual event. Nearly 600 brand owners, retailers, distributors, influencers across industries attended and exchanged insights on various topics, such as omni-channel business strategies, product authenticity, customer engagement technique, last mile delivery, and many more.
 
Mr. Nicholas W. Yang, GBS, JP, Secretary for Innovation and Technology, inaugurates the Summit as the Guest of Honour and delivers the opening address. Legislative Councillors Mr. Charles Mok, JP, Ms. Elizabeth Quat, BBS, JP and Mr. Peter Shiu, joined the opening ceremony, together with Mr. Joseph Phi, Chairman of GS1 Hong Kong, and Ms Anna Lin, Chief Executive of GS1 Hong Kong present as officiating guests.
 
"Digitisation and technology play a crucial role in transforming business processes and opening up new business opportunities.  The "ABC" of innovative technologies, i.e. Artificial Intelligence, Big Data Analytics and Blockchain, and Cloud Computing, are most relevant to the retail business, especially in e-commerce and supply chain management.  Companies which can innovate continuously are better equipped to face disruptive forces, outlast competitors and thrive in the digital era. " said Mr. Yang in his remarks.
 
In Mr. Phi's welcome remarks, he pointed out that in the digital world, it is a level playing field for everyone, and there is only one version of truth which is determined basically by data. The data come from digitalisation, and the driver behind digitalization is a lot of technologies, such as blockchain, IoT, analytics and so on.
"To manage data properly, there needs a standard of engagement. This is where GS1 comes in. Through our barcode, RFID and QR code solution, we are able to provide product authentication capability, track-and-trace function, and bridging the physical and digital world for businesses." said Mr. Phi.
 
Echoing Mr. Phi's opinion, Ms Anna Lin reaffirms the importance of data and the role that GS1 Hong Kong plays, "GS1 provides a trusted foundation for accurate, sharable, searchable and linkable data, which allows businesses to develop an integrated O2O strategy to connect and engage the consumers."
In the Executive Panel Discussion, when talking about the use of data, the parties agreed that companies need a clear strategy and guideline in how the data are used, as well as the right technology to identify, combine and analyse those data. It is also acknowledged that the key to successful digital transformation means the perfect orchestration of leadership, people, process and technologies.
One of the highlights of the Summit is the unveiling of GS1 Hong Kong and KMPG's third CEO Pulse Report (2018 edition), which compiled the collective insights nearly 300 CEOs across Hong Kong about the key business challenges, opportunities they faced with digital transformation and their omni-commerce business strategies, plus a consumer survey collecting feedback from 500 Hong Kong and 900 respondents from Greater Bay Area, on their shopping attitudes and expectations. Please read the press release titled "Consumers in the Greater Bay Area set to spend more online than offline next year, finds joint KPMG and GS1 Hong Kong survey" for more information.
 
-Ends-
Media Contacts
Corinna Fung
Telephone: +852 2863 2787
Email: corinnafung@gs1hk.org
Will Ip
Telephone: +852 2863 2763
Email: willip@gs1hk.org
About GS1 Hong Kong
Founded by the Hong Kong General Chamber of Commerce in 1989, GS1 Hong Kong is the local chapter of GS1®, a not-for-profit, standards organisation that develops and drives adoption of easy-to-implement global standards for business to uniquely identify, accurately capture and automatically share vital information about products, locations and assets. Headquartered in Brussels, Belgium, GS1 has over 110 national chapters in 150 countries.
GS1 Hong Kong's mission is to empower business to grow and to improve efficiency, safety, authenticity and sustainability across multiple sectors and facilitates commerce connectivity through the provision of a full spectrum of platforms, solutions and services based on our global standards. We provide a trusted foundation for accurate, sharable, searchable and linkable data and for the responsible use of the technologies behind its standards. We also engage with communities of trading partners, industry organisations, government, and technology providers to understand and respond to their business needs through the adoption and implementation of global standards.
Currently, GS1 Hong Kong has around 8,000 corporate members covering close to 20 industries including retail consumer goods, food and food services, healthcare, apparel, logistics as well as information and technology.
For more information about GS1 Hong Kong, please visit www.gs1hk.org.