Consumers in the Greater Bay Area set to spend more online than offline next year, finds joint KPMG and GS1 Hong Kong survey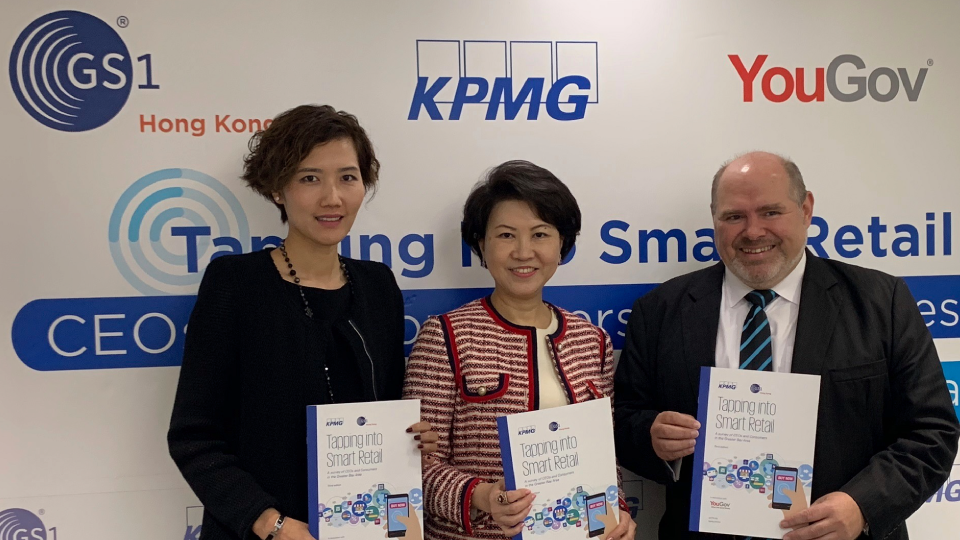 Consumers in the Greater Bay Area set to spend more online than offline next year,
finds joint KPMG and GS1 Hong Kong survey
Hong Kong, 23 November 2018
More than half (52 percent) of surveyed consumers in ten cities* in the Greater Bay Area (GBA) expect their online spending next year will exceed the amount they spend offline, illustrating the increased opportunities available to smart retailers, finds a joint survey by KPMG China and GS1 Hong Kong.
 
KPMG China and GS1 Hong Kong's third annual report, titled "Tapping into Smart Retail", provides an overview of the latest omni-channel commerce trends and developments in the GBA, both from a business and consumer perspective. YouGov was commissioned to conduct two surveys, the first one of 1,400 consumers across ten cities in the GBA, and second one of nearly 300 Hong Kong-based CEOs, assessing the current and future consumers' habits as well as opportunities and challenges for adopting omni-channel business models.
 
The consumer survey finds that 96 percent of respondents in mainland China and 82 percent in Hong Kong plan to spend more online next year. Online shopping platforms are set to benefit from this increased spend. Taobao, Tmall and JD.com are among the top online shopping channels for GBA consumers. The survey also finds that a number of local and international integrated shopping platforms, including Amazon, HKTVmall, Rakuten, Pinduoduo and Yihaodian have secured considerable market share.
 
Meanwhile, 27 percent of surveyed CEOs said they only sell products and/or services via their own website/platform, while one-fifth highlighted e-commerce platforms are not applicable to their business. This indicates that potential opportunities exist for businesses that can offer goods and services on a wider variety of platforms.
 
Anson Bailey, Head of Consumer and Retail, ASPAC, KPMG China, says: "As we continue to see customer needs changing and digital platforms emerging, CEOs need to better understand the consumers across the GBA since they are more tech savvy than ever before and are looking for a better and more streamlined customer experience."
 
The consumer survey also highlights a number of different drivers for smart city initiatives within the GBA. Almost half of mainland China respondents indicated smart environment (such as energy saving and sustainability), service robots (such as use of artificial intelligence, smart sensors, IoT devices) and smart transport (including autonomous vehicles/drones) as important drivers. In Hong Kong, 43 percent of surveyed consumers identified new payment methods; 53 percent of surveyed CEOs share the same view.
 
Among preferred growth strategies identified, 46 percent of surveyed CEOs highlighted "developing and applying innovative technologies to increase competitive edge". This was followed by "developing more integrated O2O strategies" (28 percent), developing social media platforms (31 percent) and developing more mobile first strategies (20 percent).
 
Anna Lin, Chief Executive of GS1 Hong Kong, says: "Everything in the physical world has a digital twin. Technology like IoT bridges the gap between 'online' and 'offline', yet a common language is needed for different devices and systems to be able to communicate in an automated way and to understand data in the same way. Leveraging global standards, even 'dumb' products can be tracked by their unique identifiers, and it allows businesses to develop an integrated O2O strategy to engage consumers."
 
In terms of challenges for implementing or enhancing omni-channel, 57 percent of surveyed CEOs highlighted the lack of talent, followed by integration of data (47 percent), and uncertainties regarding which technologies will deliver the greatest returns (45 percent). The survey also points to increased challenges from digitisation. A third of surveyed CEOs highlighted "consumers' concerns over data privacy" as the main challenge for e-commerce in Hong Kong. From a consumer perspective, 11 percent of Hong Kong respondents believe companies offer a high level of data security. In contrast, consumers in the nine mainland cities surveyed in the GBA are relatively confident; 49 percent said the same.
 
The survey findings suggest that both CEOs and consumers agree that ensuring full traceability/origin of products and raw materials, authentication of products, and certification of products can help build consumer trust in brands. "It is important to give every product a unique identity which not only allows consumers to search, track and authenticate products, but also helps build consumer trust," says Lin.
 
Bailey concludes: "Consumers in both mainland China and Hong Kong, especially Millennials and their successors, are looking for a more seamless and transparent shopping experience. They want payment to be fully integrated and delivery to be immediate. Companies in the GBA should consider combining newly available cost-effective technology with new ways of working. This is particularly important, considering the rapid economic growth and further collaboration across the cities within the GBA."
-Ends-
*Note: The ten cities include Shenzhen, Guangzhou, Zhuhai, Foshan, Jiangmen, Zhaoqing, Huizhou, Dongguan, Zhongshan and Hong Kong. Data for Macau consumers is not available due to insufficient sample size.
About the survey:
KPMG China and GS1 Hong Kong commissioned YouGov to conduct two surveys.
The first was a survey of 1,400 consumers* in ten cities across the Greater Bay Area**.The aim was to understand Greater Bay Area consumers' level of self-identification as 'smart consumers' and their attitudes towards using 'smart' platforms and payment methods to make purchases. Furthermore, the survey aims to understand current challenges to wider 'smart retail' adoption and the benefits that advanced technology could bring to consumers.  The findings strive to pinpoint opportunities for Greater Bay Area retailers to improve their e-commerce and omni-channel businesses. The data was collected from 22 to 25 October 2018.
The second was a survey of 286 CEOs in Hong Kong to better understand their views on the challenges and opportunities in adopting 'smart retail' and omni-channel business models. It also examined the development of more customer-centric approaches, corporate growth strategies and the latest trends in leveraging digital technology.  The data was collected from 30 July to 24 September 2018.
Notes:
* Includes 500 consumers in Hong Kong and 100 consumers in each of nine cities in Mainland China: Shenzhen, Guangzhou, Zhuhai, Foshan, Jiangmen, Zhaoqing, Huizhou, Dongguan, and Zhongshan.
**Data for Macau consumers is not available due to insufficient sample size

About GS1 Hong Kong

Founded by the Hong Kong General Chamber of Commerce in 1989, GS1 Hong Kong is the local chapter of GS1®, a not-for-profit, standards organisation that develops and drives adoption of easy-to-implement global standards for business to uniquely identify, accurately capture and automatically share vital information about products, locations and assets. Headquartered in Brussels, Belgium, GS1 has over 110 national chapters in 150 countries.

GS1 Hong Kong's mission is to empower business to grow and to improve efficiency, safety, authenticity and sustainability across multiple sectors and facilitates commerce connectivity through the provision of a full spectrum of platforms, solutions and services based on our global standards. We provide a trusted foundation for accurate, sharable, searchable and linkable data. We also engage with communities of trading partners, industry organisations, government, and technology providers to understand and respond to their business needs through the adoption and implementation of global standards.

Currently, GS1 Hong Kong has around 8,000 corporate members covering close to 20 industries including retail consumer goods, food and food services, healthcare, apparel, logistics as well as information and technology.

For more information about GS1 Hong Kong, please visit www.gs1hk.org.


About KPMG China

KPMG member firms and its affiliates operating in Mainland China, Hong Kong and Macau are collectively referred to as "KPMG China".

KPMG China is based in 21 offices across 19 cities with around 12,000 partners and staff in Beijing, Changsha, Chengdu, Chongqing, Foshan, Fuzhou, Guangzhou, Hangzhou, Nanjing, Qingdao, Shanghai, Shenyang, Shenzhen, Tianjin, Wuhan, Xiamen, Xi'an, Hong Kong SAR and Macau SAR. Working collaboratively across all these offices, KPMG China can deploy experienced professionals efficiently, wherever our client is located.

KPMG is a global network of professional services firms providing Audit, Tax and Advisory services. We operate in 154 countries and territories and have 200,000 people working in member firms around the world. The independent member firms of the KPMG network are affiliated with KPMG International Cooperative ("KPMG International"), a Swiss entity. Each KPMG firm is a legally distinct and separate entity and describes itself as such.

In 1992, KPMG became the first international accounting network to be granted a joint venture licence in mainland China. KPMG was also the first among the Big Four in mainland China to convert from a joint venture to a special general partnership, as of 1 August 2012. Additionally, the Hong Kong firm can trace its origins to 1945. This early commitment to this market, together with an unwavering focus on quality, has been the foundation for accumulated industry experience, and is reflected in KPMG's appointment for multi-disciplinary services (including audit, tax and advisory) by some of China's most prestigious companies.

Media contacts:

KPMG China 

Nina Mehra
Director, External Communications
Direct: +852 2140 2824
Mobile: +852 9724 6092
Email: nina.mehra@kpmg.com

Fulton Mak
Media Manager
Direct: +852 3927 5595
Mobile: +852 9840 4575
Email: fulton.mak@kpmg.com

GS1 Hong Kong

Corinna Fung
Head of Corporate Marketing
Direct: +852 2863 9787
Mobile: +852 9037 2013
E-mail: corinnafung@gs1hk.org

- End -