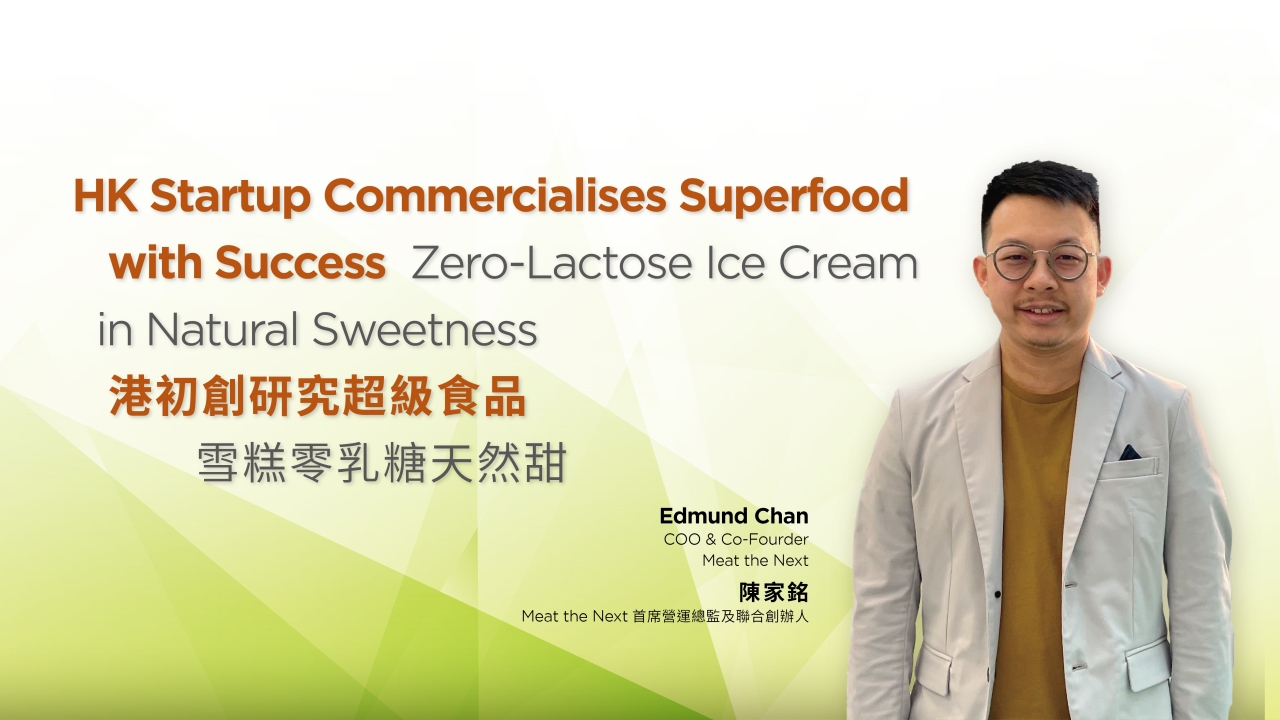 HK Startup Commercializes Superfood with Success Zero-Lactose Ice Cream in Natural Sweetness
Body
The global food crisis is expected to escalate as multiple factors weigh in: The Ukraine war is making the price of agricultural products like wheat, corn, and sunflower seed spike as the country's exports may be slashed by 40%. Rice production is plummeting as China and Southeast Asia are facing extreme rainfall and typhoons, respectively. As such, F&B veteran Edmund Chan, COO & Co-Founder of Meat the Next, aims to use FoodTech to hopefully change the local people's eating habits by introducing tasty, healthy, and inexpensive "green food", cultivating a new generation of sustainable food culture and economy.
Start-up with a Purpose
A report from the United Nations revealed the food system today has contributed to 80% of deforestation and 29% of greenhouse gas emissions, which needs to be changed. Edmund accused livestock farming of being the main "culprit", causing one-third of emissions. When he was conducting some in-depth research on vegetarian menus for his old company, he came across tigernut, a tiger-patterned superfood with rich nutrients like dietary fiber and Omega-9 monounsaturated fatty acids. Being able to grow in the desert, it helps to improve the quality of farmland and water, holding desertification in check.
He thus partnered with a biotech fellow scholar and set up a new firm in 2020, dedicated to research on non-GMO crops like tigernut, soy bean, and oat. Using scientific techniques like enzyme catalysis, they are able to produce plant-based milk and other dairy products and are in the process of filing a patent application for their scientific research results.
 "We had tried different formulas with the mix of tigernut, soy bean, and oat extracts, and found that the blend can release natural sweetness without adding sugar, while keeping the thick texture and smoothness. It meets the dietary needs of lactose-intolerant and health-conscious people well."

Good "Food" Needs No Bush
Meat the Next premiered 4 types of GROWSOME O vegan ice cream in Hong Kong, already selling tens of thousands of cups each month, with tofu flavor topping the charts. "People love ice cream but usually feel concerned about the high level of fat and sugar, and some are even allergic to milk; for that, we made vegan ice cream with only 2% sugar, minimizing their health concerns."
"The tigernut oat milk-based ice cream is made locally; we tested the water before serving it as dessert at a social enterprise banquet and received excellent feedback. The on-going comments we heard have kept us improving and facilitated our listing onto the shelves of UNY, APITA, and Green dot dot fairly quickly."
From Seed to Table Transparency
With limited resources, Edmund makes the most of every event and word-of-mouth opportunity to raise awareness of the brand. Knowing that GS1 GTIN (barcode) can generate a QR code with "1QR", he modified the product packaging to add the QR code.
"1QR fits perfectly the tiny space on our tigernut ice cream package, helping us to provide additional information like the latest offers and point of sales, ingredient source, research result certification, sustainable production process, etc. It is important to new brands like us, which secure not only customers' confidence and trust with the info, but also match with today's consumers' 'search and buy' shopping behavior."

The company's R&D lab is ideally located at CMA Testing and Certification Laboratories to facilitate acquiring the "1+7" nutrition label. As Edmund heard about the "Salt / Sugar" Label Scheme for Prepackaged Food Products by the Food Safety Centre, which 1QR can display, he promised to apply soon for additional certification that can reinforce buyers' confidence.
Say 'No' to Greenwashing
Seeing the rising demands for vegan products, plant-based meat, and superfoods, Edmund hopes to introduce non-dairy cheese, plant-based luncheon meat, dumplings, and dim-sum, after a solid market base is built. Besides locally developed Foodtech, Edmund stressed that the premium plant-based food source and the sustainable approach are the company's advantages. "Our tigernuts are grown in the barren Inner Mongolia desert, so the local farmers benefit from the initiative, enjoying new value. By extracting the balanced nutrients from the yield to create non-dairy products, we are in a unique position to advance sustainability."
Tasty and healthy, inexpensive, low-carbon, and sustainable profitability are some of the guiding principles of Meat the Next. From calling on every single university for collaboration to finding support from venture capital, Edmund knows the journey of commercialization is tough and requires keen attention to the balance of research results and market needs.
 
He advised other fellow start-ups in addition to staying passionate, finding collaborators in different stages of development and listening to the market voices are also key to grow steadily.