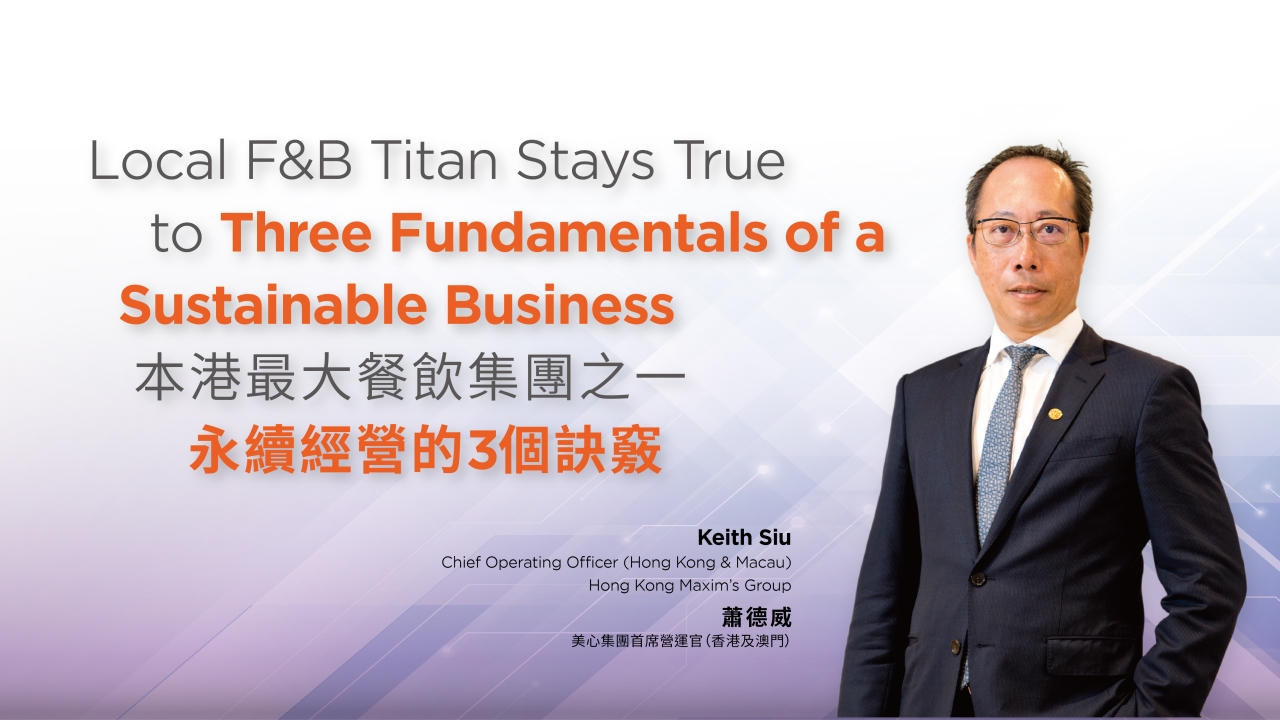 Local F&B Titan Stays True to Three Fundamentals of a Sustainable Business
Body
The renovation project of the Maxim's Centre, which once served as a food manufacturing and processing plant, is the brainchild of a 4-person team led by Keith Siu, Chief Operating Officer (Hong Kong & Macau) of the Maxim's Group. Awarded a "Platinum" grade in the BEAM Plus Certification by the Hong Kong Green Building Council for its multiple green features for energy conservation, the building is equipped with an employee canteen and training facilities, which in total span over 10,000 sq. ft. One may easily tell the building's design philosophies to be "Learning with an Open Mind, Striving to Innovate" and "Assess and Change, Aspire to Lead" by reading the banners in the meeting rooms. Keith noted that the key to the Group's sustainable growth is a people-centric and customer-focused approach, pushing boundaries with innovation, and a dedication to quality.
Innovation through Technology
Maxim's IT department is like a sizeable tech firm with a team of 100 employees. The Group's insistence on digital transformation in difficult times has made it well prepared for the dynamic market environment. Keith said, "We felt the power of technology long ago; for example, the Enterprise Resource Planning (ERP) system installed more than a decade ago has streamlined the workflow of the front and back offices and connected various departments such as production, procurement, logistics, sales, and finance, helping to improve efficiency, expand business, and strengthen our advantages."

Facing keen competition in the local F&B sector, the Group banks on its digital capabilities to surprise its customers. "Customers can use mobile apps to reserve our restaurants' seats or order foods in just a few clicks. Our app has also been seamlessly connected to the takeaway platforms, improving speed and efficiency from orders to the kitchen. Many of our elderly customers are smart enough to order food on our app already." The Group has also introduced robots in the outlets to help with food delivery and clearing tables, freeing up staff for other value-added services.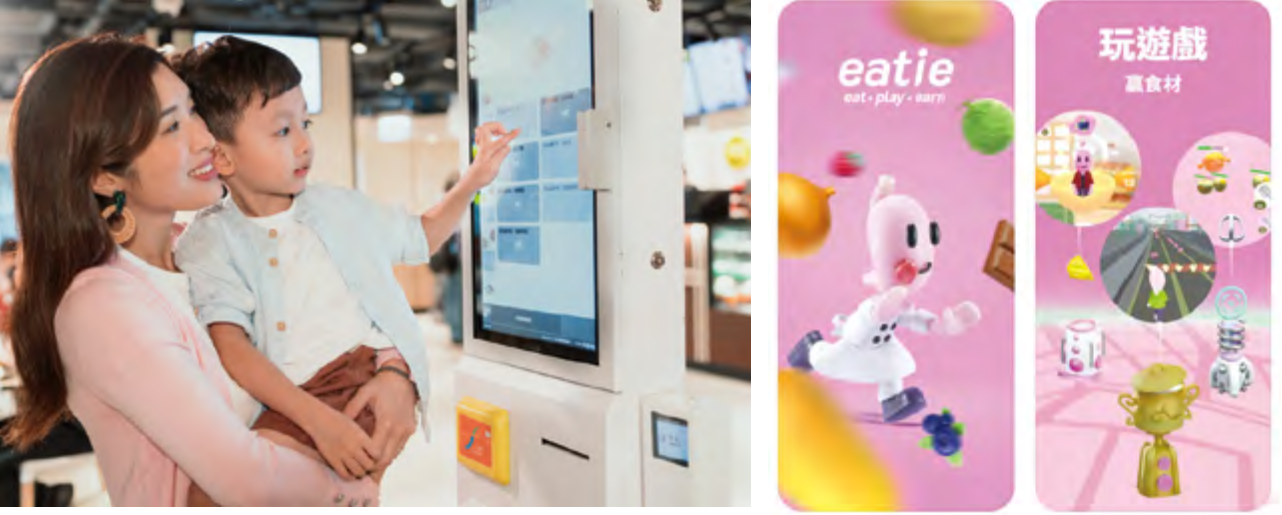 With the emergence of new technologies such as ChatGPT generative AI, and Web3, some staff have initiated self-study and proposed new projects for better customer interactions. Keith gave the example that the Group has just launched a Web3-based mobile gaming app called "eatie", which is the first app in Hong Kong themed around both food and gaming. Customers can win points and rewards in the real world through the virtual gaming experience. This online-and-offline gamification allows users to "eat, play, earn" and aims to increase engagement with customers, particularly the young.
The Group's other mobile app, "Eatizen", helps save customers' waiting time by allowing them to make reservations online and pre-order food before arrival, in addition to offering personalized incentives.
Automated Processes and Data Management
Maxim's Group announced earlier an investment of HK$49 million in Tai Po InnoPark to establish a real-time data-driven smart production line for mooncakes using advanced technologies such as the Internet of Things (IoT), automated robotics, and computer vision. "The Group's F&B businesses process over 600,000 transactions and millions of data records every day. We manage all this data through a robust management and analysis system efficiently to facilitate making business decisions quickly," Keith explained.
As a digital pioneer in the F&B industry, the company became a GS1 HK member in 1993 and has been using GS1's ezTRADE platform since 2005. Keith said the GS1 HK's standards and systems have ignited a new era of digitalization, helping Maxim streamline procurement processes, handle tens of thousands of documents easily every day, reduce labor costs, and improve supply chain management extensively.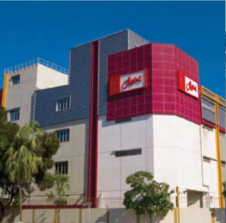 "We have also adopted GS1 HK's supplier portal to strengthen collaboration and communication between procurement and our suppliers, hence simplifying the
workflow between them."
Body
Talent Management Strategy: Listening, Empowerment, Providing Resources
Steered by the principle "Where there's a will, along with clear responsibility and solidarity, there's a way", Maxim's Group hires over 30,000 staff globally and manages 1,900 restaurants and plants in Hong Kong and Macau, Mainland China, and Southeast Asia. Keith spends 70–80% of his daily work time listening to staff reports, opinions, and new ideas. "I occasionally have lunch at the staff canteen to chat with different colleagues in the hope of creating an open culture where colleagues can speak their minds and unleash their creativity and expertise."
The million- sq. ft. smart food manufacturing and processing centre located in Jiangmen, Guangdong, had commenced production during COVID despite the obstacles. Keith attributed this to the relentless efforts by his staff: "The biggest challenge at that time was that after the arrival of gigantic machinery imported from abroad, the overseas experts couldn't come in person for installation and configuration due to COVID restrictions and could only instruct the local technicians via video conferencing. Yet with the concerted effort of our colleagues, we were able to complete the installation within the deadline. The current production capacity not only fulfills local market demands but also allows us to export globally."

Maxim's Mooncakes has been the best-selling household name in Hong Kong for 25 years*. They are made in Hong Kong and widely available in 18 countries, including Europe, Americas, Australia, and Japan. "Our 4 factories in Tai Po that span across over 500,000 sq. ft. supply the HK market with cakes, bread, and seasonal foods, while also producing food for other brands. They are the best evidence of Hong Kong's golden standard." The Group has earned the Diamond Enterprise Award of the "Quality Food Scheme" for 9 consecutive years from GS1 HK, indicating that it holds a world-class level of food safety and traceability standards, assuring their customers the best quality and safety while enjoying the culinary delights.

With Great Scale comes Great Responsibility
Sustainable development has been a hot topic in recent years. Maxim's Group has incorporated the idea into its business and operations with 5 focus: "More choices on healthy and sustainable food", "Waste reduction", "Plastic reduction", "Carbon reduction" and "Care". The Group launched the "Maxim's Love Bread Programme" for volunteers to help collect and deliver unsold bread from Maxim's stores to people in need. Since its inception in 2009, nearly 100 social welfare organisations have participated and a total of more than 5.8 million bread have been donated. Keith said, "We have collaborated with a local start-up to upcycle the Group's surplus bread, bread crust and coffee grounds to produce local craft beer 'BOB', and the 'Original BOB' has recently received the Certificate of Bronze (Pale Ale) at the Hong Kong International Beer Awards. We have even introduced 'Coffee BOB' by utilising coffee grounds."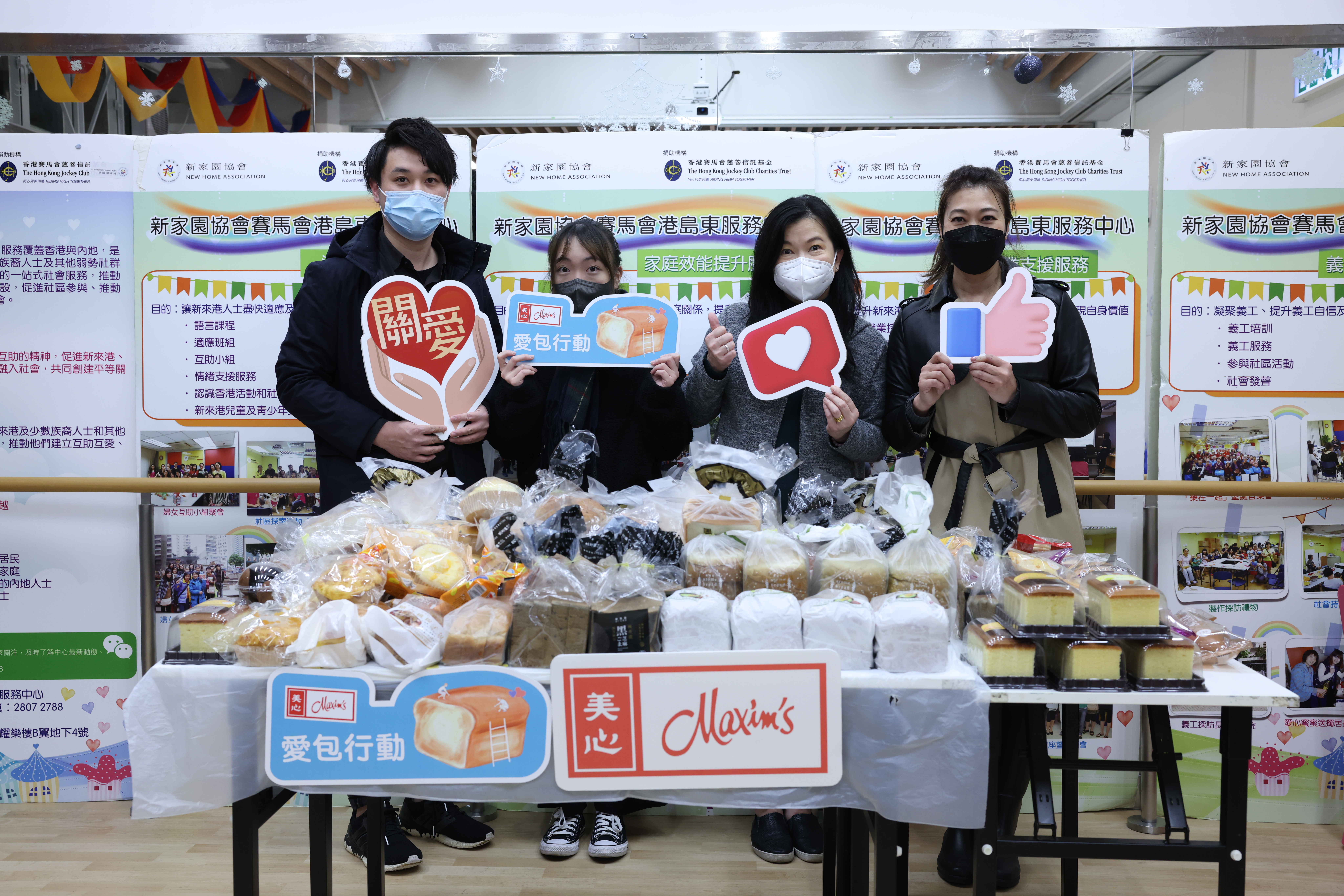 The Group has also launched a pilot programme for regenerative agriculture with Hong Yat Farm. By collecting kitchen waste from factories, such as mango peel and fish bones, the farm converts them into natural enzymes to replace fertilizers and chemical pesticides used to grow crops. The Group then buys all related agricultural products to supply its restaurants, reducing waste and promoting the circular economy at the same time.

"We have introduced a trial programme for kitchen waste classification and recycling. 'Education, peer influence, and habit change' are the 3 steps that all our teams follow to reduce waste together. For example, by collaborating with CHOMP, a food-saving app, our bakery Homebake will sell its surplus of the day at a discounted price in real-time to reduce waste. In addition, we strived to make full use of resources by using recycled plastic bottle materials for our staff uniforms and equipment. In fact, we used the equivalent of about 67,000 recycled plastic bottles to produce things like t-shirts for our Maxim's MX's staff in all shops." Keith illustrated
 

"We will continue to commit to sustainable development, drive innovations through technology, and advance the development of the local F&B industry and the society, with our customer and employee-oriented management philosophy."
* Nielsen Hong Kong Mooncake Market Survey Report 1988 - 2022
尼爾森香港月餅市場調查報告1988 - 2022