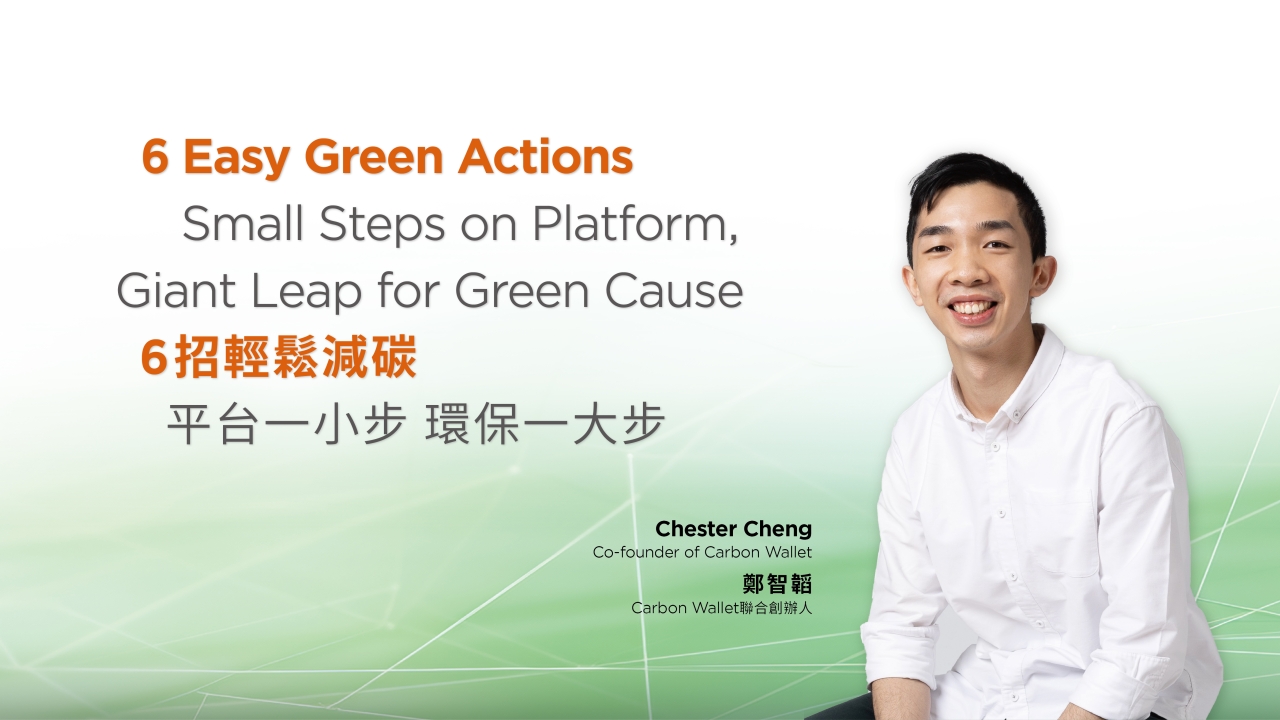 6 Easy Green Actions Small Steps on Platform, Giant Leap for Green Cause
Body
As a consumer, have you thought about recycling plastic bottles and aluminum cans but eventually gave up just because you need to clean them properly, or the recycling stations being too far away? Or do you believe that, "Climate change seems inevitable, my efforts to go green won't really make a difference at all"? 
Chester Cheng, Co-founder of Carbon Wallet, said he can relate to these perspectives, "People in Hong Kong are generally conscious of green causes, but there's a disconnect when it comes to taking actions. We wish for easy, rewarding ways that can cut carbon emissions and benefit all. With this in mind, he launched the Carbon Wallet App to reward individuals for their green efforts and help them calculate the carbon emissions they reduce through completing an activity, so everyone can understand their personal contribution to the planet through their eco-friendly actions."

The Butterfly Effects of Low-Carbon Lifestyle 
Carbon Wallet (CW) is a one-stop green lifestyle reward platform, a wholly-owned subsidiary of MTR Lab. Today, the App platform has recorded more than 100,000 installs and accumulated over 40,000 registered users. Users can track the carbon emissions they reduce and get rewarded for taking 6 green actions including travelling on MTR transport, walking, recycling, having vegetarian meals, choosing plant-based milk beverages and supporting green shopping. The CW Points earned through the App can be used to redeem "green" rewards, like organic skincare products, vegetarian meals, eco tours, or free MTR rides, to achieve its "Green In, Green Out" principle.
"By simply linking their Octopus Cards to Carbon Wallet, users can earn CW Points for every MTR ride, and by allowing the App to track the number of steps the users walk they can also earn points when they have walked a certain distance every week. Users can earn CW Points by taking photos of recyclables or capturing green consumption receipts in the App. They will receive CW Points after verification. While users are commonly drawn to the free MTR rides, some of them join Carbon Wallet's programmes not purely for rewards, instead they wish to play their parts in the green evolution and want to know how much carbon saving progress they have made collectively with the rest of the Carbon Wallet user community." 
Since the App came out more than 2 years ago, its users have collectively reduced 1,140 tons of carbon emissions, which is equivalent to the carbon emissions of roughly 4,200 one-way flights from Hong Kong to Tokyo, Chester said. It shows that every individual can make a difference, because together they are creating a force of good, with substantial impact and change to society.


Scan to Recycle 
To further digitalise recycling records, Carbon Wallet has been working on improving its App with new functions. It has recently partnered with FRISO, Listerine and Aveeno to introduce a barcode scanning feature in the Carbon Wallet App. When users scan the packaging barcodes and follow the instructions to submit the recycling records as they recycle packages of designated products, they will be able to earn CW points and instantly obtain discount coupons from the relevant brands. Additionally, by doing so they can also help brands better understand packaging recycling data. The barcode scanning function for recycling recognition is currently only applicable to designated products. Carbon Wallet is collaborating with GS1 HK and hopes to expand the new function to cover packaging of more products and brands once the technical development is completed. 
"One of our missions is also to educate the public of the green living practices. This includes addressing common mistakes like recycling uncleaned plastic bottles, or putting beverage carton packaging into paper recycling bins. We would reject these recycling records when we review the photos, and explain why to the users. We also update the App regularly to show the latest recycling points, vegetarian restaurants, eco-friendly shops in our all-in-one Go Green Map, as well as other green lifestyle tips, etc., designed to nurture public awareness of the importance of environmentally friendly measures."


Circularity-driven Green Platform Catalyses Low-carbon Transformation  
As consumers become more environment and sustainability conscious, collaborating with Carbon Wallet in sustainable marketing can help brands expand their customer base to appeal to these green-conscious customers, creating real value for brands, Chester said. Brands can collaborate with Carbon Wallet through a number of ways: Organisations without its own reward programmes can purchase CW Points from Carbon Wallet to provide rewards to their customers and encourage eco-friendly actions, such as choosing e-statements over paper ones. Some companies may establish recycling points within their premises, collecting recycled product containers from customers and offering discounts or rewards through the Carbon Wallet App. Other businesses may promote their ESG initiatives through the App and use it as a marketing channel. 
Chester stressed the platform's role as a bridge connecting the government, businesses, and green groups, offering a "Plug-and-Play" green reward solution for all parties. It also strives to convene a wide variety of green rewards, such as discounts at vegetarian restaurants, eco-tour coupons, etc., for users to support sustainable consumption and go green "inside out".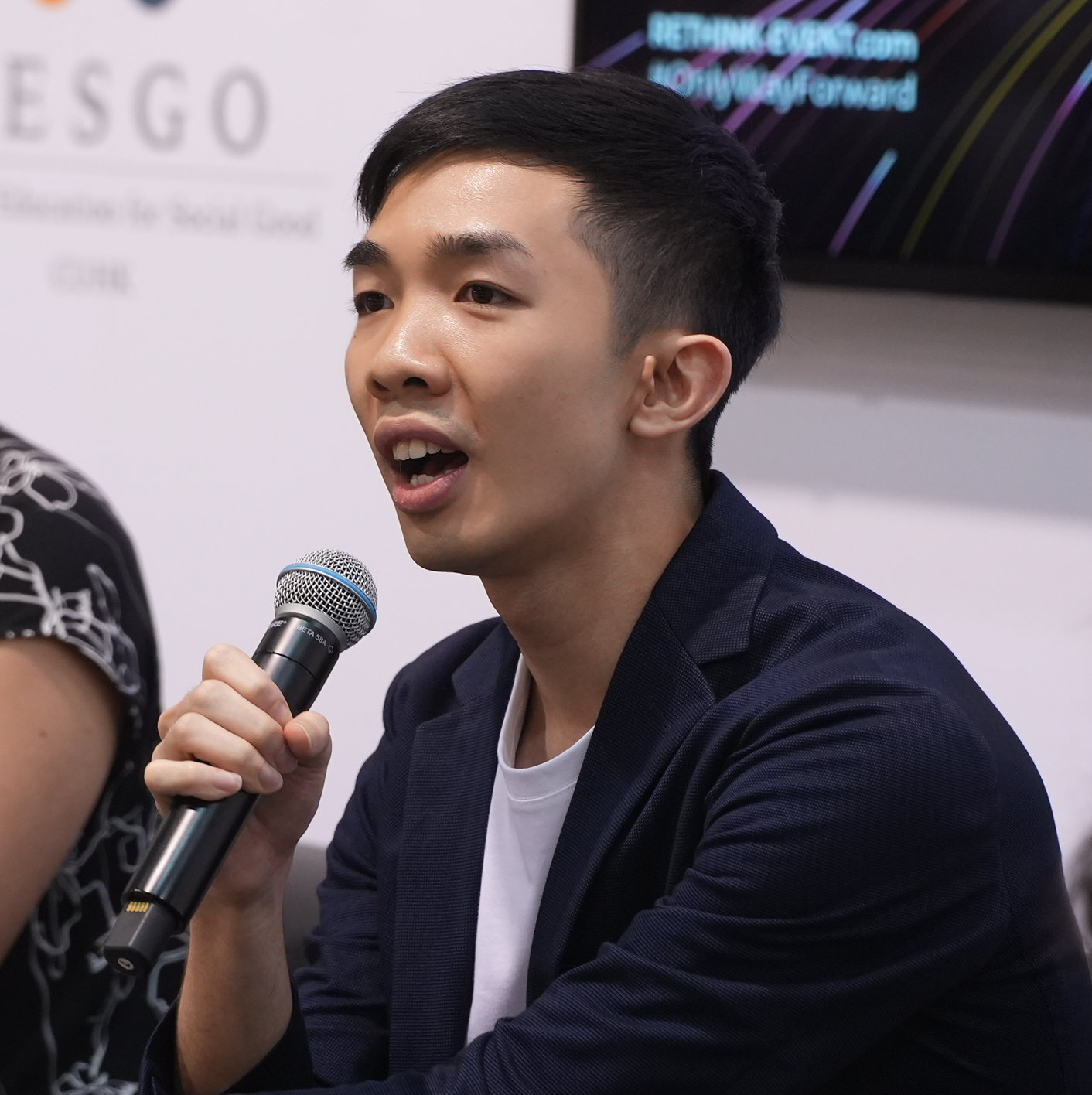 "While Municipal Solid Waste Charging Scheme, phase-out of disposable plastic tablewares, and producer responsibility scheme on plastic beverage containers are on the horizon, the locals will gradually change their habits and get used to sort their waste and recycle. Hongkongers are keen on social innovation, and he foresees Carbon Wallet App will help users build a habit of checking their daily carbon savings and develop a "low-carbon intuition", truly achieving low-carbon lifestyle transformation among individuals."