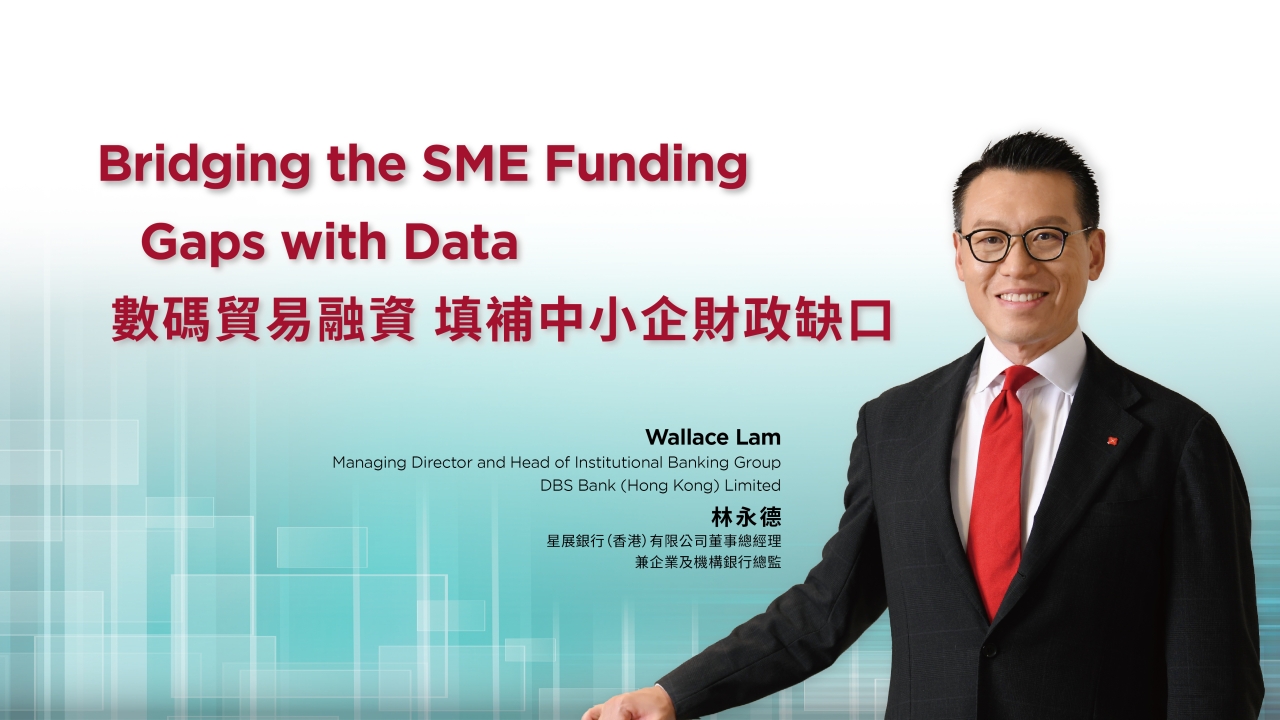 Bridging the SME Funding Gaps with Data
Body
In a recent DBS survey, we discovered that a striking 93% of Hong Kong SMEs believe going digital as essential for their businesses to survive and thrive, but lack sufficient capital to adopt new technologies or compete in the digital talent war. In response, DBS has been harnessing its digital prowess to ensure smoother and seamless banking experience for SMEs. 
Wallace Lam, Managing Director and Head of Institutional Banking Group of DBS Bank (Hong Kong) Ltd., recognises the importance of easing SMEs' pain points using technologies. "As a leader in SME banking, we are deeply rooted in leveraging data-driven approaches to support SMEs' digital transformation, helping to improve their day-to-day operations, tap into growth opportunities, and lay the foundation for long-term success."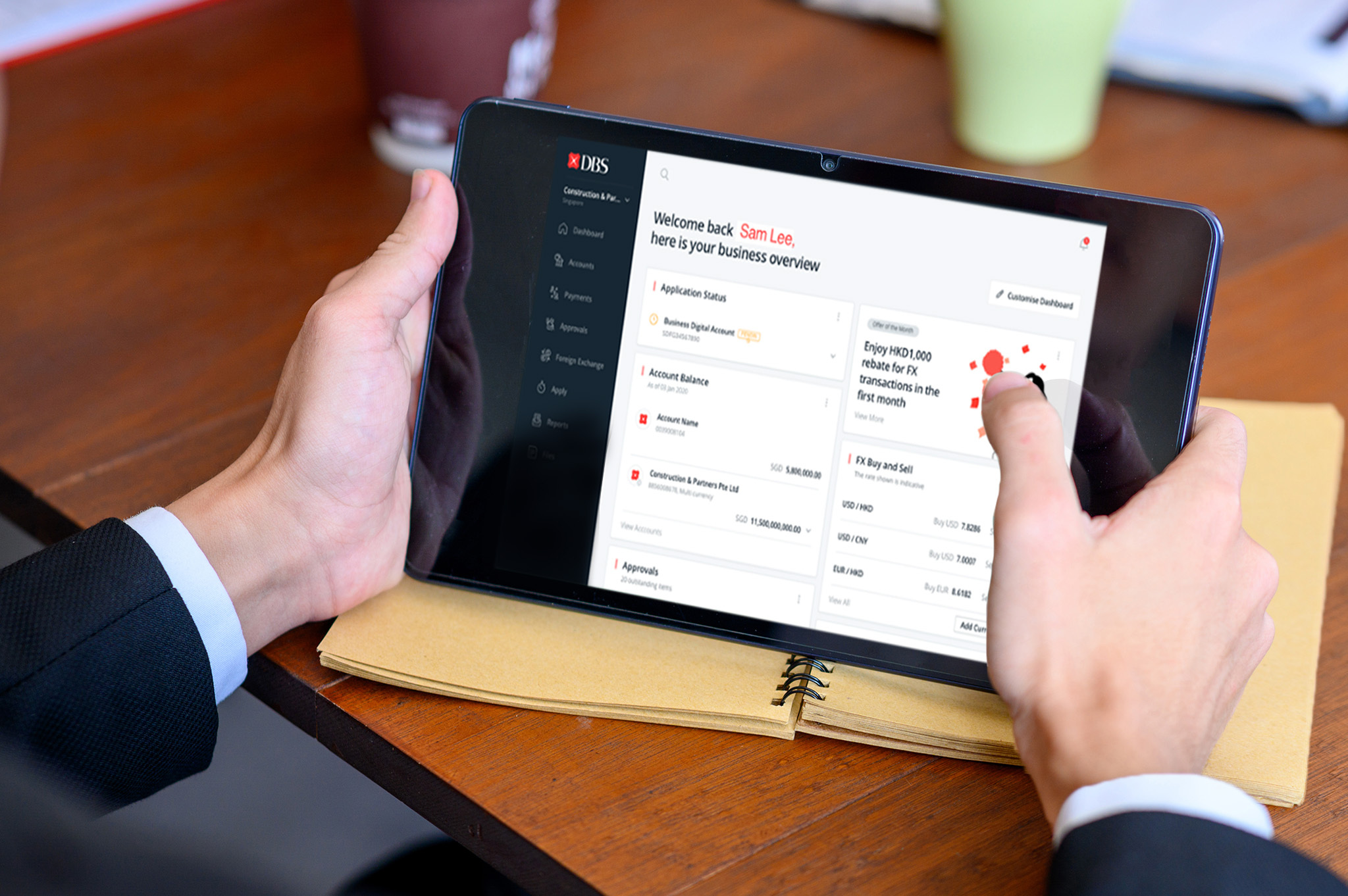 At the core of its commitment is the partnership with GS1 Hong Kong, together they co-create a trade financing solution, aimed to bridge the financing gaps for SMEs on their digitalisation journey.
Body
Labour- and Time-saving 
Powered by alternative data and data analytic technologies, the solution enables SME users to turn their own trade data into working capital in a digital and straight-through manner. 
An SME client can now provide consent for the bank to access its trade data conveniently from GS1 HK's ezTRADE platform for credit assessments, saving it lots of time and manual work from gathering and organising physical documents, which was a huge burden in the past to clients in the short-staffed FMCG and F&B sectors.
"This streamlined, paperless approach to trade financing not only frees SMEs from repetitive document submission, but also paves the way for more digital and sustainable business practices," said Wallace.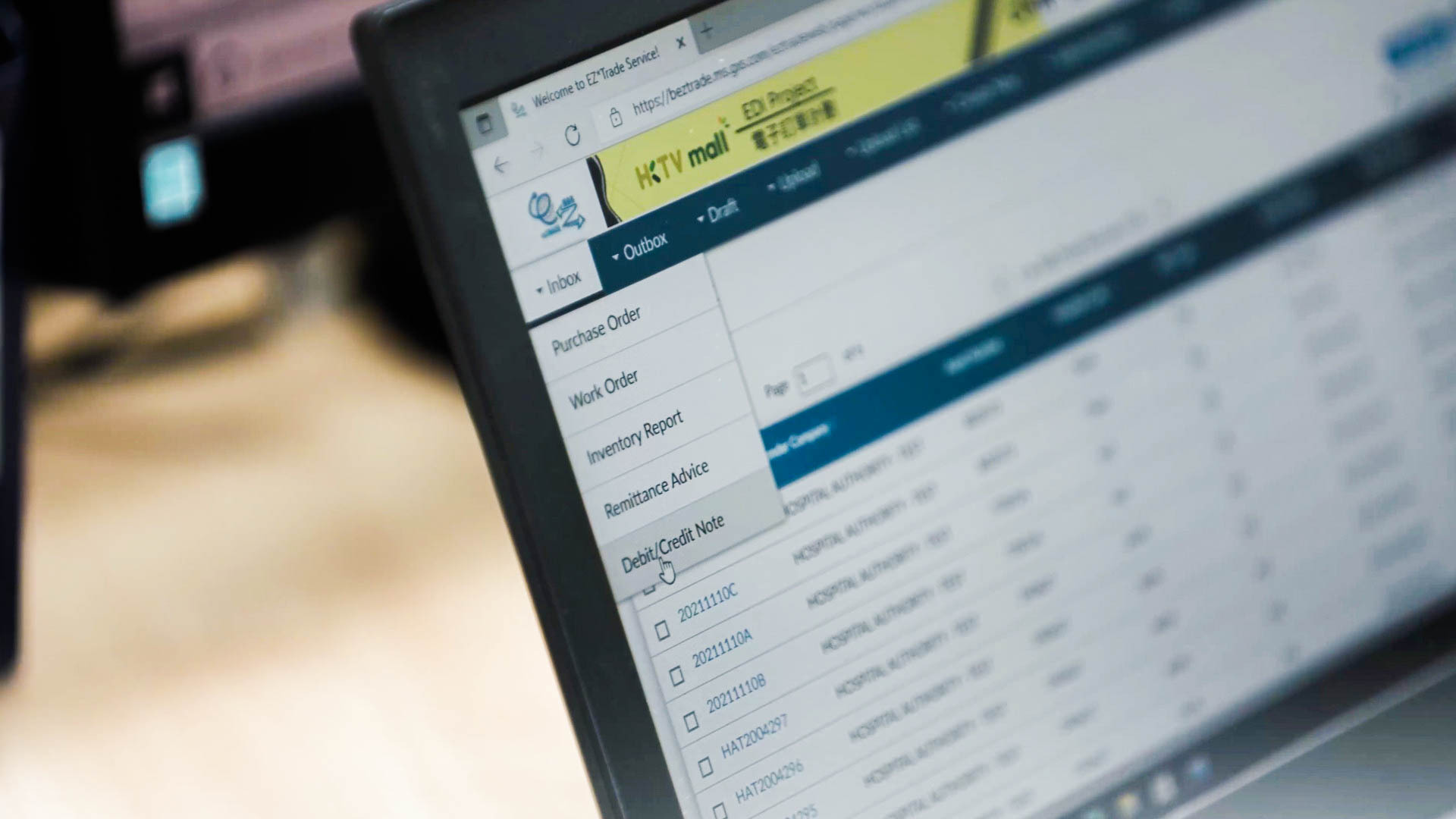 GS1 HK's ezTRADE Platform
A B2B e-com community platform used by close to 2,000 companies in China and Hong Kong, the platform processes 24 million electronic messages annually, such as purchase orders and invoices.
Body
Supported by a host-to-host structure that transfers data securely between DBS and GS1 HK systems, DBS gains real-time visibility on an SME's financial health for credit assessment and speed up the funding process to SME, with potentially more competitive interest rate.

One-click Drawdown, Minimal Hassle & Expense 
Users can simply log into the DBS website and submit requests for financing with just 'one click', and receive the approved funds in their banking accounts within the same day. 
They can get financing anytime they need without submitting extra supporting documents. "The beauty of the digital trade financing solution lies in its on-demand nature." Wallace explained that, unlike traditional term loans, SMEs receiving the digital trade financing have the freedom to make a draw down only when they need to. Consequently, SMEs can avoid incurring interest expenses unless they utilise the approved credit capital.

Dynamic & Risk-averse
Through DBS' predictive analytics capabilities, the amount of financing SMEs can enjoy is updated daily on a dynamic basis. From the bank's perspective, it gains real-time visibility of operating and financial data to monitor the underwritten credit risk more closely. With better risk control, it is also able to benefit clients with more preferential interest terms. 
"We have been able to create a robust and pre-emptive credit model, thanks to ezTRADE's rich dataset – supporting greater transaction processing and risk monitoring while enhancing our customer journey," Wallace commented.

Users Testified
The solution has drawn a lot of interests from business of all sizes: Infotech Rice is a registered rice stockholder with 20 years of history and about 25% of its sales are completed on ezTRADE. With the abundance of trade records, it acquired the trade financing from DBS to fund its plan for diversifying its procurement network globally. 
The company commended that, in addition to financial benefits such as the low interest and fee waiver, the DBS-GS1 HK joint team was committed to ironing out wrinkles in the loan application process like changing receiving banks, minimising troubles for them. 
Established retailers like Matsumoto Kiyoshi have recognised the benefits of fintech innovation for their SME suppliers, and joined efforts with DBS and GS1 HK to digitise and streamline operations with its supply chain partners.
Read the case here: Infotech Rice

An "all-win" for Buyers, Suppliers, the Bank and Data Provider
Matsumoto Kiyoshi (HK) Co. Ltd. (MK), the HK branch of the largest drugstore chain in Japan, has adopted GS1 HK's ezTRADE platform to facilitate trade with local suppliers since its HK operations debut in 2022. To reinforce suppliers' relationship, the company teamed up with DBS and GS1 HK to run an interactive workshop with the local suppliers in order to better understand their business conditions and financing needs. 
The collaboration has created an 'all-win' situation synergizing all parties: 
• To MK suppliers, they can understand how B2B electronic data interchange streamlines trade processes while leveraging the trade data for financing; 
• To MK, it enjoys networking and further business opportunities with partners, like brand cross-over; 
• To DBS, it can offer better interest rates and help address capital needs of SMEs; 
• To GS1 HK, it gains better understanding of challenges faced by the industry and SMEs, so as to provide better support to them.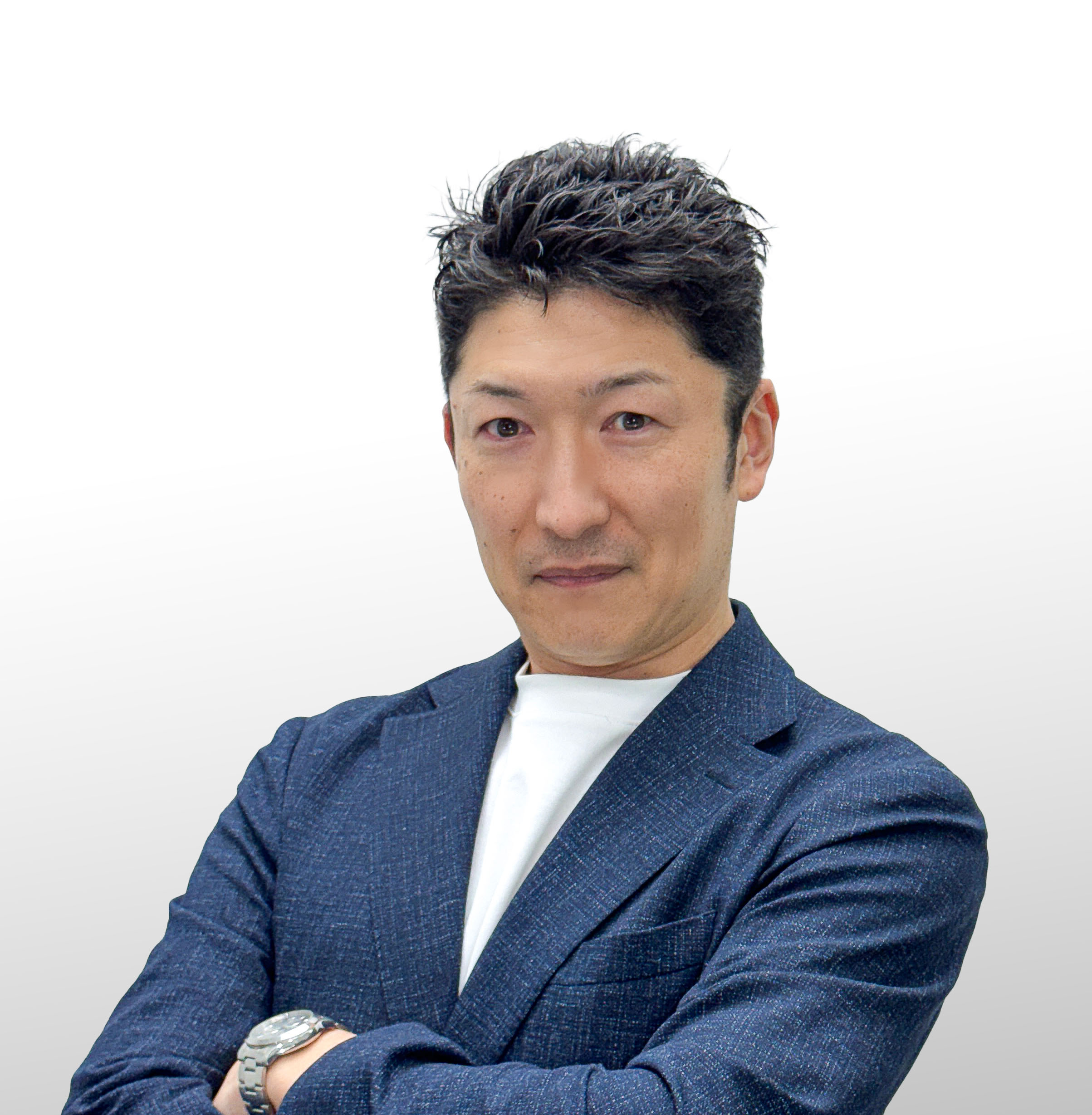 "We are delighted to work with DBS & GS1 HK to assist our new suppliers' on-boarding, which has demonstrated multiple benefits like manpower and cost savings by digitising the way we work, marking a symbolic move in our digitalisation progress."
*Kazuyuki Tamaoka, Purchasing Manager of Matsumoto Kiyoshi (HK) Co., Ltd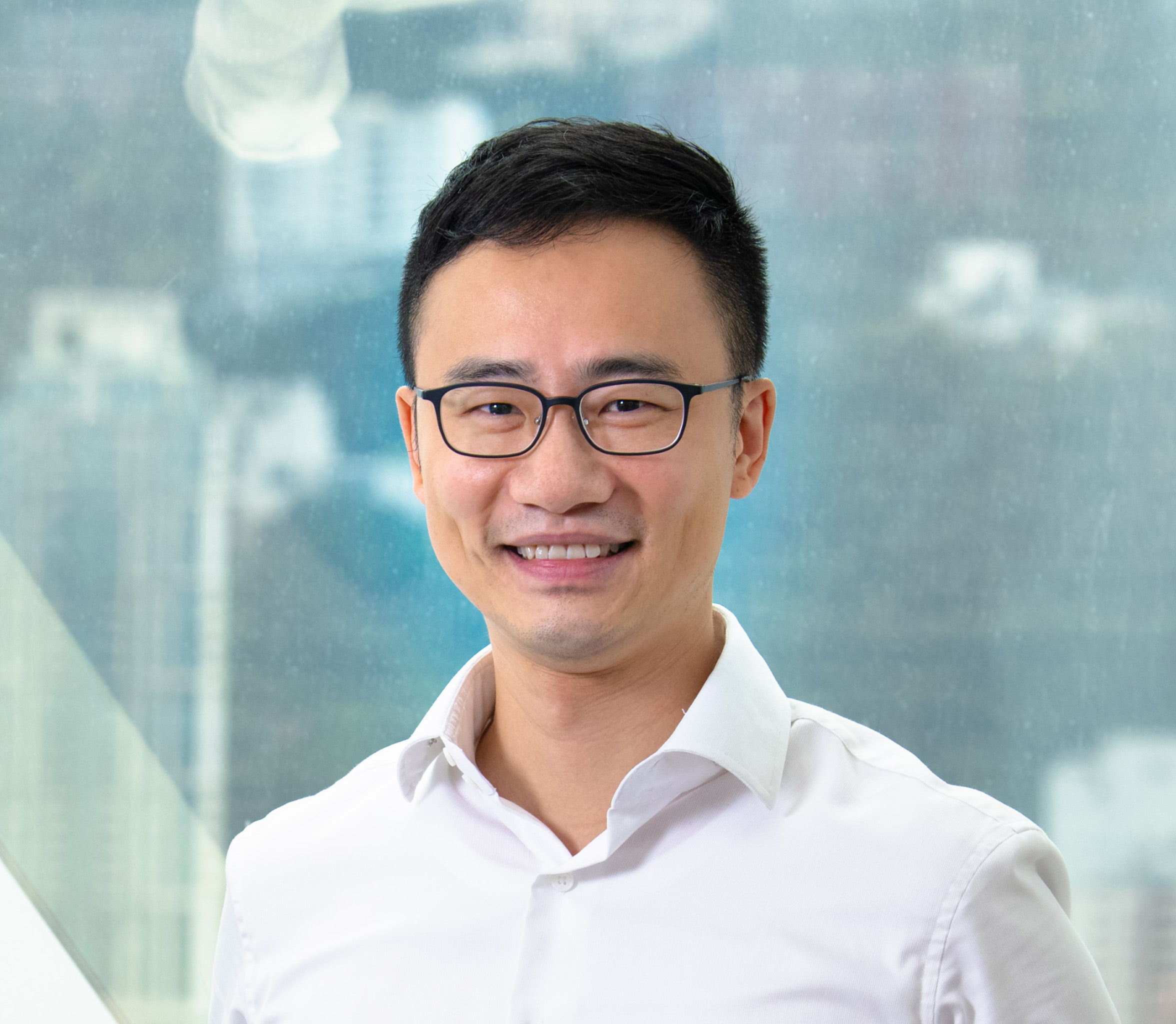 "The on-demand digital trade financing solution was born out of DBS's ongoing commitment to meeting our SME customers' needs. In addition, we have implemented a series of initiatives, including a mobile-first strategy, an IDEAL platform upgrade, enhancements to our payment solutions, and payroll services for merchants. These efforts are aimed at streamlining operations and enhancing client experience.
*Boris Chan, Managing Director and Head of Global Transaction Services, Institutional Banking Group, DBS Bank (Hong Kong) Limited
Body

Much More than Financing 
DBS takes a "Banking-as-a-Service" approach, offering more than just account openings and loans, it also serves as a strategic partner in driving digitalisation of its clients' businesses. From on-the-go payment solutions, digital signage, DBS IDEAL online banking platform, to being the first bank in Asia to launch real-time tracking of cross-border collections, all these efforts are made to support SMEs' growth and transformation in the digital era. 
The most recent product is the Digital Payroll solution. DBS partners with an HR and payroll platform and co-creates a 'one click' payroll management service. What's more, DBS offers this as a free value-added service to DBS clients, which helps to save SME time on handling payroll, MPF and tax reporting. 

Collaborative Digital Financing Ecosystem 
Wallace emphasises the importance of ecosystem partnerships, which is key to grow the economic pie. "To provide comprehensive support for businesses' digitalization needs, DBS leverages our partnerships to co-create diverse products with strong and sustainable impact, fostering the growth of a local digital economy."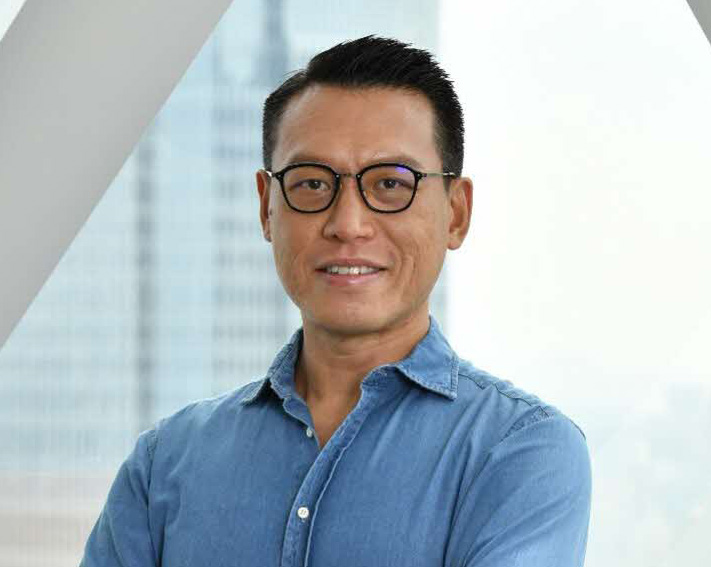 We will continue to explore further solutions and services, and rally supports from different collaborators, raising the bar for the Hong Kong banking industry.
*Wallace Lam, Managing Director and Head of Institutional Banking Group
DBS Bank (Hong Kong) Limited