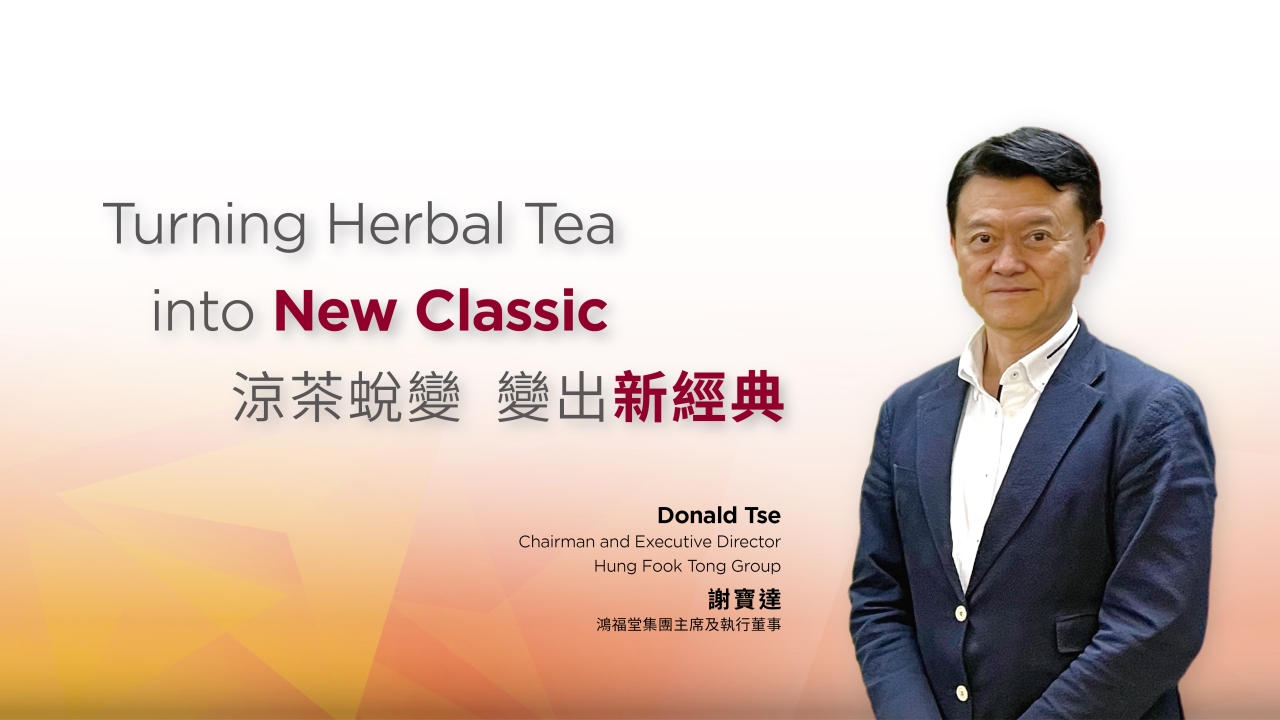 Turning Herbal Tea into New Classic
Body
Enveloped within factory buildings, Hung Fook Tong (HFT) office is like a hidden recreation ground: At the lobby are billiard table, claw machine, fitness equipment and more, which leads to the staff sitting area adorned with a range of personal ornaments and souvenirs. The place suggests a family culture and relationship between the staff and the company.
Donald Tse, Chairman and Executive Director of Hung Fook Tong Group, noted with pride that quite some number of his staff have worked for him for more than 20 years. He recalled an employee had volunteered to venture back to the production line in extremely bad weather, in order to finish works before deadline. He believes that nurturing talents is hugely rewarding, so he is keen to invest in people and share the results with the team.
No Pain, No Gain
Hung Fook Tong's road to success is like "Journey to the West", as Donald reminisces about the bumpy yet gratifying ride. Before managing HFT, Donald has demonstrated leadership qualities in breaking boundaries and rolling up his own sleeves: With no prior experience, he worked 3 days and nights to produce a perfect blend of tortoise herbal jelly just to impress the HFT founder to agree on partnership, where he found his calling and life-long commitment: Chinese herbal tea business. 
"I once worked for 4 jobs at a time to support my family, that experience taught me how to run a good business, like you need to get down and dirty, go extra miles, keep a great partner network, etc. So after I tried a number of trades and professions, I started concentrating on one single business."

Fully Prepared to Turn Crisis into Opportunities
From the first branch in Kwai Chung to more than 120 stores today, HFT went through the ups and downs of our time, including the National Macroeconomic Control in 1990s that triggered cash-flow issue caused by tightening credit facility; The Asian financial crisis in 1997, SARS pandemic in 2003 and the global financial crisis in 2008 that plunged the consumer market.
"As COVID struck, our team is fully ready to navigate through the storms. Product quality, service level, work process, costing, staff training and so on, are either enhanced or streamlined to shield from external shock. Our Kaiping factory, for example, has put in place both land and sea transport systems since its inception, so when the pandemic hit, we can still ship through the national water network, ensuring on-shelf availability in retail."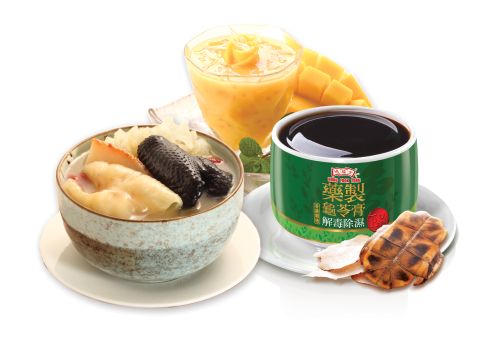 "Your brand, product, customer service and staff are the building blocks for your enterprise to grow big and grow strong."
Body
4 Breakthroughs to Stay Relevant and Desirable
HFT had opened up new avenues under Donald's leadership, by reviving a sunset industry, introducing franchise system, making bottled herbal tea and takeaway soup pack. "The traditional herbal tea shops used to nestle at the back of alley and give out a musky and old feeling; so to change people's perception, I opened stores on the main roads in popular districts, furnished with cozy and well-illuminated shop front. We are also hiring younger staff these days to give people a vibrant and relaxed vibe." 
With the renewed perception, the traditional herbal tea industry showed new business opportunities and drew the attention of competitors and investors. "In the early 90s, I studied the franchise experience of convenience stores and took a leap of faith to introduce licensing into my business. At a 3–day Franchising Show, I was able to secure 9 investors. I guess that was a groundbreaking move for the trade."
The franchising system has expanded the scale of HFT rapidly, but the financial crisis had sunk its plan. HFT decided to take back all licensing rights by late 90s. "We needed a new growth engine as the store expansion plan crashed. So making herbal tea available in retail chains seemed to be the answer. We want to show customers the excellent tea ingredients, so transparent glass bottles were used, which was the first-of-its-kind in HK to make portable herbal tea in such a large scale. But the costly transport fee involving shipment of the heavy bottles, and the fact that they froze and broke during transport under cold weather in the overseas markets had us changed to use plastic bottles, which successfully nurtured a mass consumer market."
Going through failures, Donald realised the key to the group's resilience is diversifying its business. "My business partner shared the book 'Chicken Soup for the Soul' to cheer me up in hard times, which inspired us to develop new soup products like 'Ginseng Lingzhi Chicken Soup', giving the working class a healthy boost amid their busy lives.  Served in a bowl in shops at the beginning, the soup became an instant hit, so we designed soup packs to promote takeaways, allowing people to enjoy the nourishing dose simply by reheating."By innovating the ready-to-drink soup pack, HFT again ushered in a new "blue ocean" market for the industry as a whole.

Succeeding the Herbal Tea Legacy
The prevalence of the heat-clearing, appetite-whetting drinks by HFT among local households, is partly attributed to barcode. The company became GS1 HK member and ezTRADE member in 1999, instrumental to product listings at retail chains and convenience stores; same for product listings onto digital stores as e-commerce booms. Barcode has also helped expand HFT products out of HK and sell globally, from Mainland China, South East Asia, Canada to the US, across the physical retails and cross-border e-commerce sites.
The Group launched a new concept store, "HFT Life" café a couple years ago, which adopts a simplistic design and brings together Western and Eastern food cultures with homemade bakery and specialty drinks like Hemp coffee, aiming to deliver a healthy lifestyle to the youth market.

Sustainable Profitability and Social Responsibility
Crowned "Consumer Caring Company" by GS1 HK for 11 years in a row, Donald insisted its business to stay true to sustainable business practices. Besides grooming staff expertise, the group is committed to enhancing customers' shopping experience with quality services, like by promoting its member APP to encourage electronic spending. To ensure food safety, HFT has obtained international standards like ISO 22000 food safety management system and HACCP for its Tai Po and mainland production plants. "Our production site in Kaiping is often presented as the sample unit by the Mainland Chinese authority for our first-class management."

As a pledge to environmental sustainability, the group's factories have installed solar panels, always strives for zero food waste disposal at local landfills by recycling, and follows robust sewage treatment mandates. To support the environment, HFT gradually switches to paper or wooden tableware across all branches this year, and puts up plastic bottle recycling machines and collection bins, aiming to raise the community awareness for environmental protection that supports net-zero.
Recommendations and Insights to the Industry
As the trade expert in many public offices, like GS1 HK's F&B Industry Advisory Council member, Chairman of the HKFORT1, member of FHKI2 and so on, Donald has offered recommendations years ago to resolve the food waste issue: The Government to provide domestic food waste decomposer to families which can help collect food waste and get points and rewards in return. This helps alleviate the pressure of landfill on one hand, while turning food waste into energy and fertilizer on the other. He is excited to see such advocacy was put into a pilot scheme by the
Environmental Protection Department, which installed smart recycling bins to collect food waste in public housing estates.
Donald advised companies to adopt environmental friendly measures and look for "big health" business opportunities as they are evolving into megatrend. On transformation, he shared his experience from the book 《歸零達人》3, "Think pure, work hard, watch keenly, change nobly".
"Leaders must be bold and cautious, collaborative and inclusive, hands-on and steadfast, forward thinking with hindsight. These entrepreneurial spirits are what the management needs to create a company that last."
1 HKFORT: Hong Kong Federation of Restaurants & Related Trades 
2 FHKI: Federation of Hong Kong Industries 
3《 歸零達人 ‒ 謝寶達的5落5起創業人生》作者:鄭栢禮(香港:企理 ‒ 企業管理顧問有限公司,2019年4月修訂版)