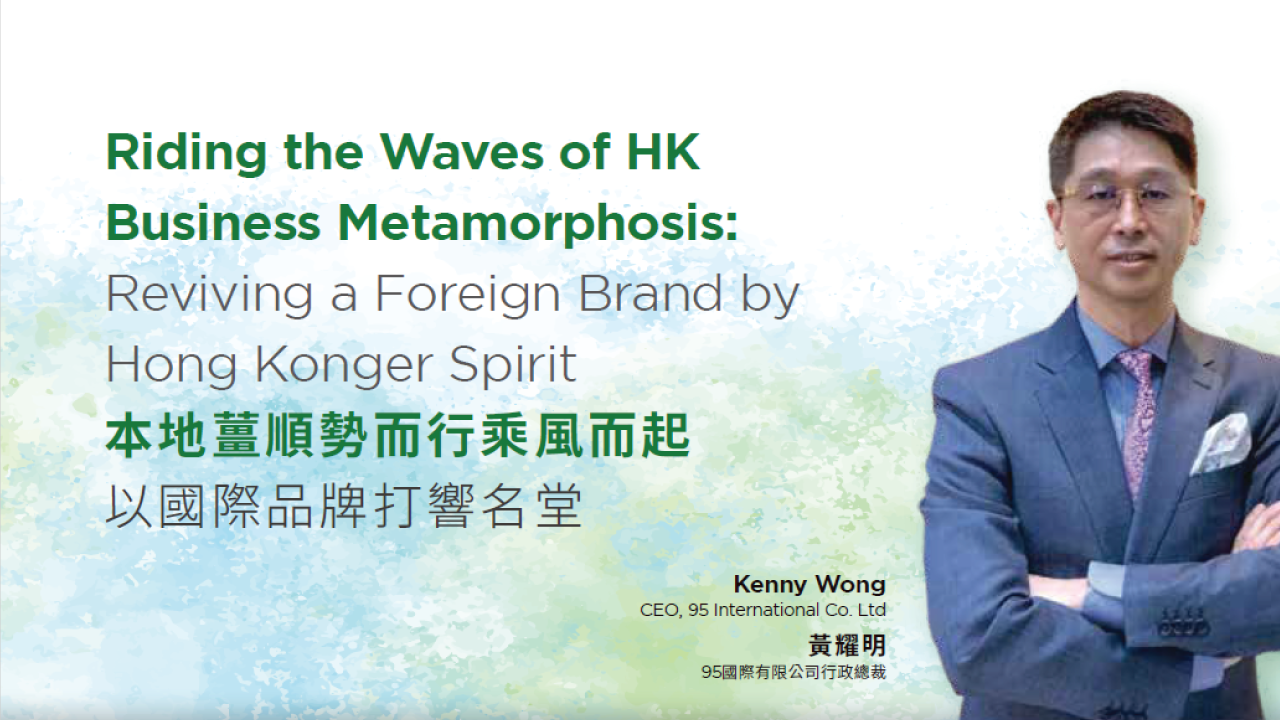 Riding the Waves of HK Business Metamorphosis: Reviving a Foreign Brand by Hong Konger Spirit
Body
Kenny Wong, CEO of 95 International Co. Ltd., can be described as a typical Hongkonger – hardworking, diplomatic, quick-wit and bearing multiple roles. Over the years, he heeds firmly to the belief "Be bold, cautious and thick-skinned", which opens up for him many doors of opportunities, taking advantage of the golden age of Hong Kong's development.
Social Connection is King
Back in his youth, Kenny failed to get into a local university. Still, he worked his way to Canada as a part-time student major in manufacturing engineering in the 1980s. After graduation, he worked as production supervisor in a factory for a time, but he refused to be confined in such environment because his university lecturer once told him, "Success is not what you know, it's who you know", so he took a leap of faith and quitted his high-paying job to become a salesperson.
"As a computer printer salesperson back in the days, the income was meager with little commission. Yet my job provided me the opportunity to change my career and allowed me to expand my social connections a lot, which paved the way to my starting my own
business in tele-communications, cell phone distribution and accessory manufacturing. Later I started my own vehicle parts and repair plant in Liaoning, all thanks to my connections in the past."
He earned his first pot of gold from manufacturing charging devices for mobile phone. Later, it turned out that mobile phone manufacturers were starting to make their own charging devices. Sensing the change, Kenny decided to transform his business and set up a factory in Dalian for auto repair/ equipment parts trading. Riding the wave of China's Economic Reform, the company joined in China's pioneering exporter army and enjoyed some decades of prosperity from China's status as the "world's factory".
Seizing Opportunities and Change forthe Better
His hard-working attitude and vision, coinciding with market opportunities, gave birth to La Raine in Hong Kong – another brand owned by Kenny. The story started 10 years ago: Kenny identified much business potential in organic skincare market. After years of due diligence and market research, he decided to collaborate with La Raine, an organic skincare brand from Canada. Though it is a lesser-known brand, Kenny believes it can stand strong in the middle-class market for its exceptional quality.
"Canada has been widely known for its ginseng, maple leaves and salmon, yet organic skincare products are in fact the 'hidden gem'. We can find lots of skincare product brands in Hong Kong, but only a few of them are organic. There is a huge demand for skincare products ranged from HKD900-1200 in Greater China market, so I truly believe
the potential for La Raine rings loud in China and Hong Kong."
La Raine now has 5 store counters and 11 sales locations. In order to collect market data and enhance consumer experience, the brand adopted GS1 HK's Smart Kiosk solution to offer a seamless online and offline experience. When the sensors in Smart Kiosk detect the interaction between consumers and the products, the Kiosk will instantly display the product details on screen, pop up discount coupons, show recommended products, also allowing consumer to share on social media, facilitating a more interactive shopping
experience and stimulating sales.
In addition, La Raine also joined HKCTS Bus WeChat Store via GS1 HK, reaching out to 4 million active users in Mainland China. The platform provides one-stop services to members including product listing, marketing, customer service, cross-border logistics and customs clearance, aiding the brand to effectively gain exposure in China.
"As Hong Kong consumers prefer to try the product before purchase, they are more keen to trust brands with brick-and-mortar stores. So we use new technology to provide consumers a more personalised and interactive experience. Since China covers a lot of cities and grounds, I think the best way to penetrate into the market is through online platform."
Body
Consumer Care is the Key
Kenny emphasised on consumer experience, and he believes employee training is fundamental to consumer care. Qualified as an assessor at Hong Kong Mediation Centre, Kenny integrates his mediation skills into employee trainings. Therefore, their staff are not only acquired with product knowledge, but also with consultative selling skills, ability to manage expectations, as well as dealing with customer complaints and feedbacks. That is why La Raine was awarded "Consumer Caring Company" for two consecutive years, recognising the brand's high-quality products and services provided to consumers, which are essential for brands to navigate through retail slump.
"No experience is required for our new-join staff, as we offer comprehensive trainings to help them quickly grasp the key points after trying the products. I also coach our staff to observe customers' closely and sense what they are interested in, matching them with the right product."
Currently sold in ASEAN countries like Vietnam and Cambodia, Kenny will put extra focus on Middle East and Africa in future, capitalising on the China's Belt & Road Initiative development. As a Canadian brand, the Canadian Trade Commissioner Service also promotes the product on its website keenly.
A Message to SMEs: Be Bold, Cautious and Thick-skinned
As the Vice Chairman of GS1 HK SMEs Advisory Board, Kenny believes SMEs should be "bold, cautious and thick-skinned" to stand out from competition, especially during economic downturn. A living example: Triggered by a "bold" decision, Kenny decided to invest into skincare industry, and "cautiously" examine the "why, what, when" in the market to identify business opportunities and come up with hero products. The thoughtful service to consumers, underpinned by all-round employee training is what make La Raine's story today.