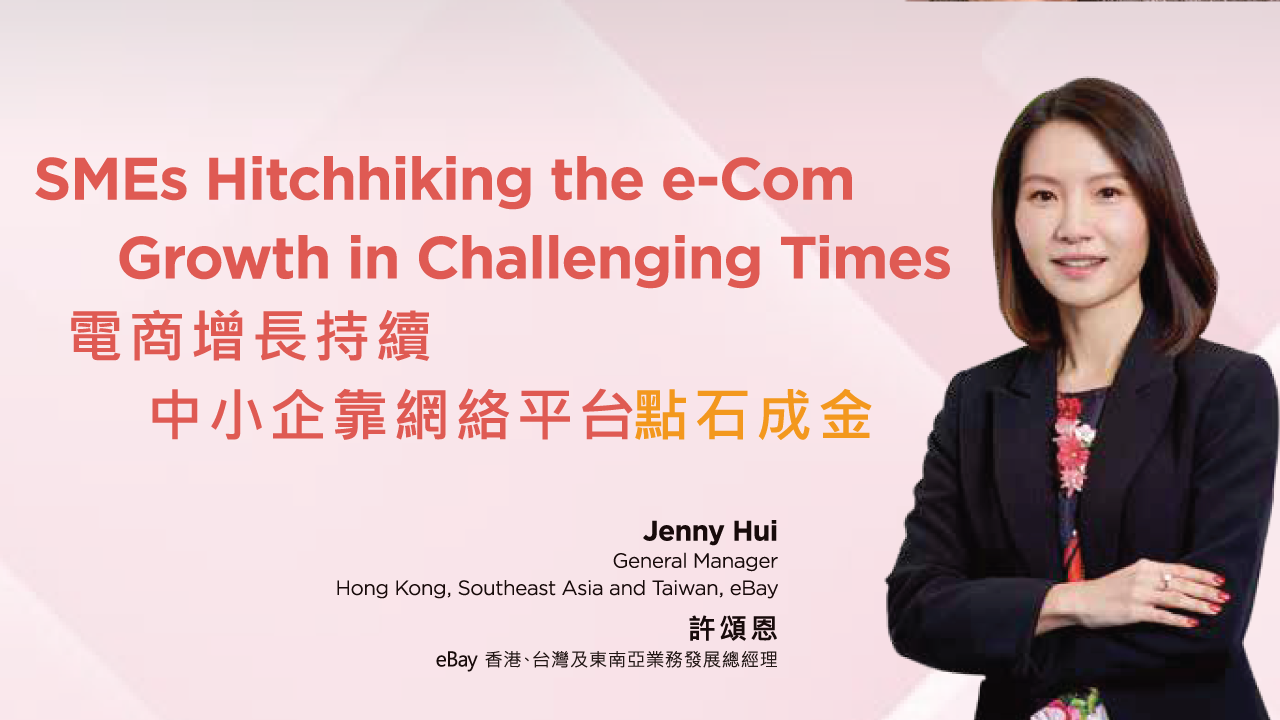 SMEs Hitchhiking the e-Com Growth in Challenging Times
Body
eBay's gross merchandise volume surged to a record high in 2019. Jenny Hui, General Manager of eBay Hong Kong, Southeast Asia and Taiwan, sees a strong momentum from sellers in the region as they reported double-digit growth annually. For merchants selling electronic products to markets like England, France, Italy and Spain, their performance excelled their peers by doubling their growth compared with the previous year.
Tackling uncertainty with e-Com business
Despite the phase one US-China trade deal was sealed, the market is still full of uncertainties and fears, it is inevitable that Hong Kong economy will continue to tumble downwards. Jenny believes Hong Kong's cross-border e-commerce (e-com) market can be shielded from the downturn and continue to surpass Southeast Asia and Taiwan, for its proximity to Mainland China market, tax-free system and international logistics hub. She also noticed the deteriorating economic situation has driven businesses of all sizes, whether they are giant retail chains, SMEs or sole proprietor, to jump onto the e-com platform bandwagon to unlock the global market.
"Retail chains like Milan Station, Brand Off and Sasa not only sell on their own e-com site, but also collaborate with us to sell globally. With up-to-date intelligence on worldwide market trends and needs, our global team can help sellers open up new market easily."
ecHome, a local home and kitchen appliance brand in Hong Kong, started its cross-border e-com journey on eBay in 2017. Aiming for the Chinese market in Southeast Asia for their similar culinary culture, the company's kitchen appliances, like rice cookers and steamers, gained an unexpected popularity in Australian market, achieving incredible growth in e-com channels. This is contributed to eBay's category management team and its big data analytics tool, which has helped sellers identify opportunities in potential markets.
Strategic back-up for businesses
Around 60% of eBay's business comes from cross-border trade, so its team tried hard to help suppliers and sellers boost their sales. As many of the suppliers are not familiar selling on e-com platforms, eBay and SoldEazy joined forces to launch a sourcing matching platform that facilitates suppliers matching with top-rated eBay sellers, opening up overseas market with ease. GS1 HK members can enjoy exclusive offer to join the programme, and benefit from the easy-to-use orders and delivery management solution, easily tapping into cross-border trade business. GS1 HK also provides solutions like SmartSearch to help brands enhance their search ranking and improve online sales.
GS1 HK Members Upload product information
SoldEazy's Sourcing Platform/eBay Sellers Select products to sell on eBay shops
eBay Buyers Place orders
eBay Sellers place orders to members
Courier pickup and deliver the products
Body
Sourcing Matching Platform
"The platform helps us identify new suppliers, and on the other hand, eBay sellers take advantage of it to explore new products because some sellers may not have resources and logistics system to stock up inventory from suppliers before the transaction, or in
need of new products. By matching suppliers and sellers creates a win-win situation."
Besides, eBay also collaborates with the regional e-com platforms in different countries like Gmarket in Korea, Ruten in Japan and Taiwan, GittiGidiyor in Turkey and MercadoLibre in South America. Sellers from Hong Kong, Taiwan or Southeast Asia only need to join a programme to expand their businesses to those regions.
"Once sellers join the programme, a dedicated team will help to direct the products to those platforms, providing support on translation, website design, overseas marketing strategy etc. For those first-time participants, they may enjoy subsidies to help them reduce risk in expanding new markets."
eBay offers SpeedPAK shipping services for cross-border delivery. Partnered with logistics solution providers, one-stop service is provided to sellers including receiving, warehousing, customs clearance, last mile delivery etc, enabling them to sell their products to 41 countries worldwide. Sellers can also provide better after-sales service as eBay offers return service in 6 markets in Europe and the United States.
Body
Success Tips for e-Commerce
When asked about the tips for brands to stand out among the 10,000 active sellers on eBay, Jenny revealed two keys to success – product uniqueness and having market demand or competitive advantage. "I know of a seller whose father is a professor with expertise in semiconductors. They like to hunt for old treasures in scrap market, then repair and enhance those semiconductor components, sell them for 10 or dozen times of the cost and earn a handsome profit. They are one-of-a-kind in the market with this unique business model."
"There's another fishing enthusiast who has been selling fishing lures, rods, and others on eBay for 20 years. Even though fishing equipment market is niche, his expertise in the market, high quality products made in Japan or Taiwan, together with active promotion like KOL endorsement has brought him great success in markets like Australia and Korea."
Jenny believed Hong Kong sellers have great potential ahead as Hong Kong has competitive advantage in pricing, and people are quick-wit with sharp business acumen. "Seeing more competitors in the mobile refurbishing service market, the existing service providers changed its business strategy by obtaining official certification from mobile manufacturers or certification bodies, sealing its official status to sustain their businesses." If there is a winning formula for sellers, it is to always assess the landscape, conduct due diligence, and respond quickly to the market changes.