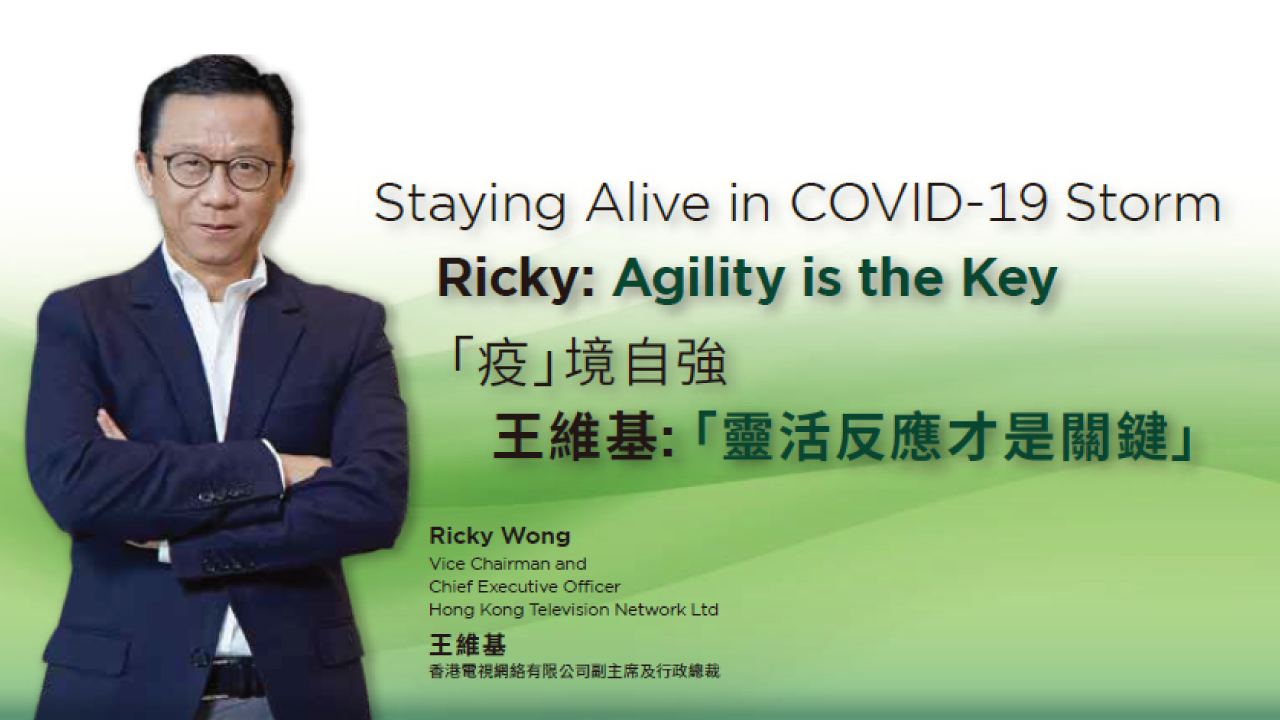 Staying Alive in COVID-19 Storm Ricky: Agility is the Key
Body
The scramble for masks and protective gears amid the coronavirus outbreak has brought HKTVmall under the media and public spotlight, not only for the masks sold on the online platform, but more for the company's high sensitivity to consumer sentiments and responsive actions taken at this critical time. Ricky Wong, Co-founder, Vice Chairman and Chief Executive Officer of HKTVmall, believes SMEs should demonstrate integrity and step up marketing efforts to weather the economic storm and triumph in future.
Advice from the Entrepreneur to Turn Crises into Opportunities
While the Hong Kong retail and tourism sector has entered a harsh winter, HKTVmall remains one of the few impervious to the downturn. The company saw a significant increase in sales volume in February, receiving an average of 32,600 orders per day in the month which represents a year-on-year growth of 165%. "The demand for e-commerce has always been here, especially among the youngsters. The only reason that Hong Kong was often perceived as falling behind others in this aspect is because we lack quality online shopping platforms all these years."
HKTVmall is now arguably the largest "shopping mall" in Hong Kong, with over 300 online stores offering close to 320,000 items contributing to a bulk of its revenue through "rental fee" and sales commissions. The "landlord" would obviously hope to drive more traffic to the platform and help its merchants boost sales, which is why, HKTVmall is planning to launch the e-Com Academy, a 6-day e-commerce course for merchants to equip them with better e-commerce skills. These courses come in addition to a series of Merchant Day co-organised with Google, which Ricky said have been well-attended by hundreds of SMEs merchants who realised they are short of e-commerce skills and expertise.
"While the brick-and-mortar retail sector is taking a downturn, SMEs should act fast and transform their businesses by putting the O2O retail strategy into practice, lest being eliminated by the market sooner or later."
However, it is also uneasy for businesses to stand out in the ultra-competitive online business environment. On that end, Ricky reiterated the importance of quality and integrity.
"Building trust is crucial for e-commerce businesses to succeed, so the bottom line is never to think about pulling tricks on your customers. Whenever there is a quality issue with your products or services, rectify the situation immediately, otherwise you are risking to lose your consumers, reputation and long-term income stream."
Another piece of advice is to invest in marketing and uplifting the brand name. "I got to know a group of graduates from the Shue Yan University operating a store in HKTVmall that sells novel snacks from Japan, they are now making close to HKD30 million a year. In just half a year after the store was launched, their sales skyrocketed with the appropriate use of SEO, SEM and eDM tools that helped capitalise the unique value of their niche products." Ricky emphasised that 75% of consumers would search for a product by keywords, so the more precise and detail your product descriptions are, the easier you could stand out from the crowd.
"We have now collected a large amount of consumption data from our customers, and such data can be categorised by more than 2,000 attributes. Merchants can tap into this data to market their products or services in a more targeted manner."
HKTVmall recently announced to expand its total number of pick-up points from 75 to 100, covering partner stores such as Baleno, CATALO, Foodwise and Hung Fook Tong. "The plan will not only drive up traffic and potential sales of those merchants' outlets, but also expand our network of pick-up points and free up some of our delivery capacity, as well as provide convenience to customers by allowing them to collect their purchased items at a nearby location. Altogether, this will create synergy between all the three parties."
Body
Agility is Key to Success When Things Don't Go as Planned
The size of the consumer staples market in Hong Kong, according to Ricky, approximates to HKD500 billion of annual spending, of which more than HKD400 billion goes to brick-and-mortar stores. In the coming 2-3 years, he believes online retail sales can grow to HKD100 billion, accounting for 20% of the entire market. "HKTVmall now only contributes to HKD2.8 billion of merchandise transaction value in the market, even being Hong Kong's largest online shopping platform. There are certainly huge potentials for us and the e-commerce sector to grow."
Despite the enormous business opportunities, order fulfilment is yet a challenge for HKTVmall as it has constantly been overloaded by orders these two years. To cope with that, HKTVmall introduced a robotic pick & pack system from Germany to its business. "To be honest, had it not been for this system, it would be impossible for us to handle such a huge amount MAR 2020 Executive Connect of orders. This is even beyond the talks of cost saving or efficiency. Before that, we were so overwhelmed by the massive workload that required 200 warehouse staff to handle 3,000 orders a day, but now we can easily handle over 20,000 orders a day with just a handful of staff." "We basically do not make marketing plans that look beyond the next six months - such plans won't be able to catch up with the rapidly changing online shopping trends. Instead, we rely on a nimble and sharp team to react on market changes and adjust our execution strategies spontaneously.
Body
Changing Times, Changing Tides
HKTVmall has just celebrated its 5th anniversary. Looking ahead to the next five years, Ricky sees three major shifts in the local online shopping business landscape: In the past, online consumers were mainly from the younger generations aged under 35 years old; but the widespread use of mobile phones and tablets has now led more senior citizens, aged 60 or above to become active online shoppers. Online shopping is no longer exclusive to the younger generations. "We noticed many silver-hair consumers like to visit our physical store in the afternoon and have hence launched a O2O campaign to get this group of consumers on board to our app during their visit. Subsequently, this has driven up both the online and offline sales."
A wider age range of online consumers means the products offered on the shopping platform can no longer be limited to tech gadgets, Japanese and Korean fashion, sneakers, accessories or other products favoured mostly by youngsters, but should also include groceries, beauty and health products, or even mattresses and other furniture items to cater for the more mature group. At the same time, online shoppers are becoming smarter and are more aware of common online shopping pitfalls. They have learnt to read the product reviews before making a purchase, and will only buy from reliable merchants.
Ricky looks to ride on these changes in consumption pattern to fuel his business growth. "As the largest online shopping mall in Hong Kong, we have over 600 choices just for potato chips, so I'm sure everyone can find their favourite products here. With the less tech-savvy consumers in mind, we have earlier released a new version of our mobile app, HKTVmall Lite, which comes with a simplified interface to provide easier navigation and payment process for all consumers."
Hong Kong could use more people like Ricky – a person with foresight, always rising to the challenges - to maintain our reputation as the international business hub.
Body
Money-saving Tips for Business Trading
HKTVmall is planning to adopt ezTRADE, a standard-based B2B e-commerce platform, through which its merchants and trading partners can make electronic purchase orders and send invoices for better communication and business efficiency.
Currently, ezTRADE is helping around 2,000 China and Hong Kong enterprises from industries ranging from retail, packaged consumer goods, healthcare to food and food services to improve their business efficiency and accuracy, cost-saving and customer service quality enhancement.
If you are one of the merchants of HKTVmall, or seeking improvements in efficiency, please email us at: services-web@gs1hk.org
Body
Data is the New Currency
As Ricky mentioned, comprehensive product descriptions give your products better chances to stand out from crowd in an online market environment. GS1's barcode standards has laid the foundation of the world of e-commerce, where e-commerce giants like Alibaba, Amazon, eBay and others have been recommending their merchants to use the barcode standards for better search results, product identification and big data analytics. GS1 HK also offers other omni-channel business solutions and services, such as GS1 SmartSearch, e-commerce partnership programmes like sourcing matching platform and CTS Bus WeChat Stores and Barcode Scan @WeChat solution.
Body
Paddling Ahead in Pandemic With e-Commerce Skills
SMEs must equip themselves with e-commerce skills to turn around their businesses. GS1 HK works hand-in-hand with leading international e-commerce enterprises to organise various training courses and workshops on wide-ranging topics, including digital marketing strategies, retail strategic planning and supply chain management. Some of these programmes are government funded. We have recently launched a course on smart retail supply chain and big data analytics with the one and only official CPFA-certified organisation (Certified Professional for Apache projects) in Hong Kong. The course focuses on ways to leverage big data analytics in order to help companies transform into the future smart retail business model.