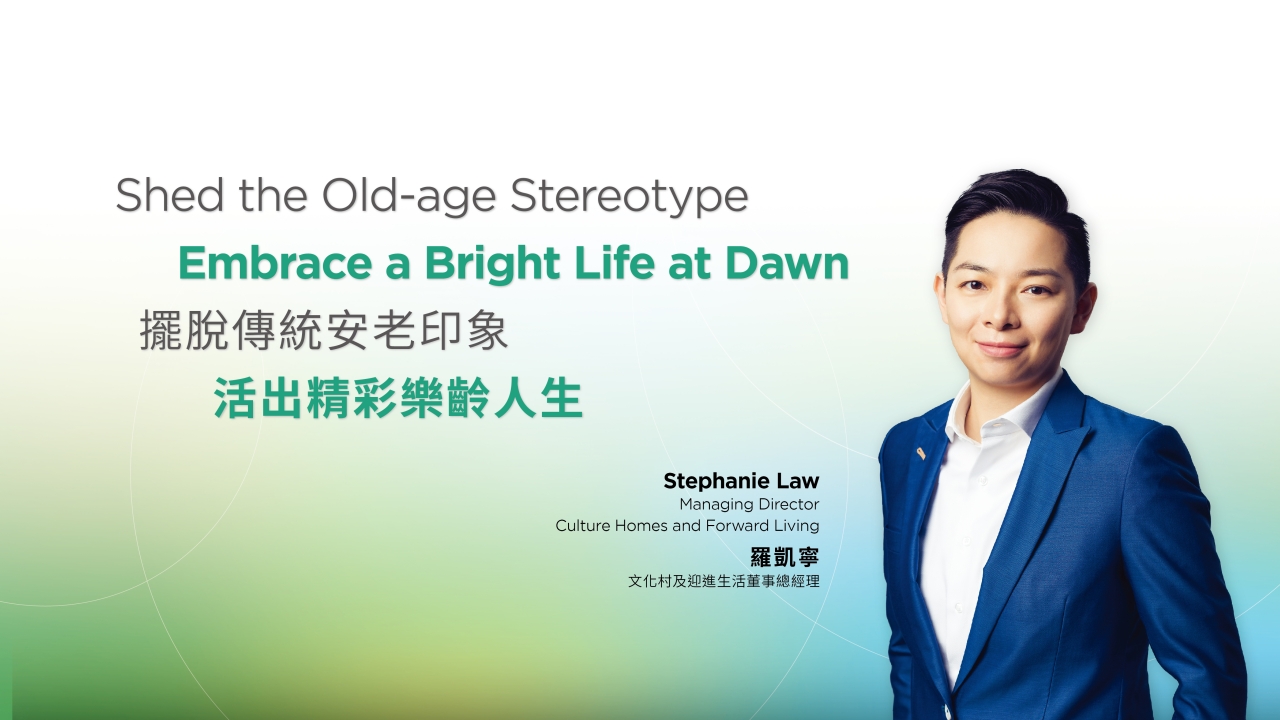 Shed the Old-age Stereotype Embrace a Bright Life at Dawn
Body
The Census and Statistics Department released the latest population projections in August, expecting the number of elderly persons aged 65 and over to nearly double in a 25-year period from 2021 to 2046 in Hong Kong, meaning more than 1 in 3 people will be elderly.
Stephanie Law, Managing Director of Culture Homes and Forward Living, believes that the silver market will grow significantly, and the company is in a unique position to evolve from selling elderly care products 22 years ago, to having their e-shop, and extending to include rehabilitation equipment rental, professional consultation and home improvement service, as well as a 13-year building project - the elderly living community, which completes its holistic elderly care service ecosystem.

Culture as the Core of Care
The elderly living concept store "The Living Gallery" located opposite of Sanatorium Hospital in Happy Valley looks like a show flat, boasting a series of assisted living facilities in sitting room and toilet, along with a made-in-Japan electric wheelchair. Resembling an exercise bike, the futuristic-looking wheelchair can be folded into compact size, enabling not only mobility but also innovation and style, contrary to the typical fragile and helpless image. "Aging and rehabilitation are natural stages of life. Built on this belief, we are integrating the care culture, the relevant products and services into everyday life, offering not some cold and unpleasant medical devices, but a quality and engaging experience with dignity and delight for the seniors and people-in-recovery."
Having conducted studies in Japan and Europe, Stephanie found stark differences in the elderly and nursing care culture across the regions: For example, aged care furniture in Europe emphasises user independence and autonomy, with distinctive color designs. The company has curated a selection of over 50 premium brands globally and localised to cater to the local needs, available in its 8 stores and online shop.
She illustrated with an example, "We made efforts to bring the special diet of the cared to Hong Kong, promoting soft meals culture over the years. This helps people with swallowing difficulties to enjoy eating again, drawing industry attention to their specific dietary needs." 
Upon knowing GS1 HK's "1QR" capability to let users scan for diverse information like discount, certifications, she thinks this can uplift users' trust.
 
"Most senior people and their caregivers are smart enough to use mobile scanning function today. As our website's product sales rising to about 30% of the total, we look forward to trying the 2D barcode on our products to bridge offline to online experience and drive further growth."
Focusing on the mental well-being of the elderly, Stephanie derived the ideas from the Eden Alternative, an organisation found by US geriatrician Dr. Bill Thomas, who calls for eliminating loneliness, helplessness and boredom for the senior group living in care homes. Built on this idea, she is committed to enabling a socially-engaged and independent living for the elderly to pursue their passion, continuing growth with a purpose. The 60,000-square-feet, 9-storey-tall building, or what Stephanie called a senior living community named "Forward Living", is the brainchild of such belief.
"We see the residents of 'Forward Living' our living partners. Together, we steer various committees such as those for meal planning and social activities. Our elderly associates are actively involved in the decision-making process for daily meals and community events, which cultivates a deeper sense of engagement and empowerment. This helps them continue to manifest creativity, broaden social circles, and pursue personal goal, even in their twilight years."

Building Independent & Inclusive Society
Boasting a comprehensive range of facilities including a hair salon, library, gym, restaurant, and park, "Forward Living" also plays host to a myriad of activities, such as weekly visits from the students of the neighboring Lingnan University, who engage the residents in rural excursions or coaching on interesting smartphone functions. These initiatives not only promote integration between generations, but also strengthen ties with the local community and social inclusion.
Harnessing technologies such as electronic medical records and big data analytics, Culture Homes is able to gain insight into the needs of the elderly and inspire industry innovations. Along with its pledge to quality service, the company consistently delivers reliable products and services that surpasses user expectations. These align with the four pillars of GS1 HK's "Consumer Caring Scheme", namely "Consumer/User-Centric", "Strive for Quality", "Conforming to Commitment" and "Caring for Staff". In hindsight, the company is contemplating joining the Scheme as a testament to its service excellence.
Minor Shifts, Major Lifts
In addition to using website as an information portal and e-shop, the 40,000-members company also provides practical advice through multiple hotlines and elder care workshops. "We organise seminars on diverse topics like better ways to treat wound, pain relief, and reducing home accidents. The seminars are always full, whereas we receive an average of 600 phone calls per month, inquiring about product information."
Doing Good through Business
Elder care often extends beyond the realm of experts like doctors and nurses, that involves well-trained caregivers to provide empathetic services. Culture Homes is steadfast in its mission to reshape the stereotype by driving professional qualifications into the sector.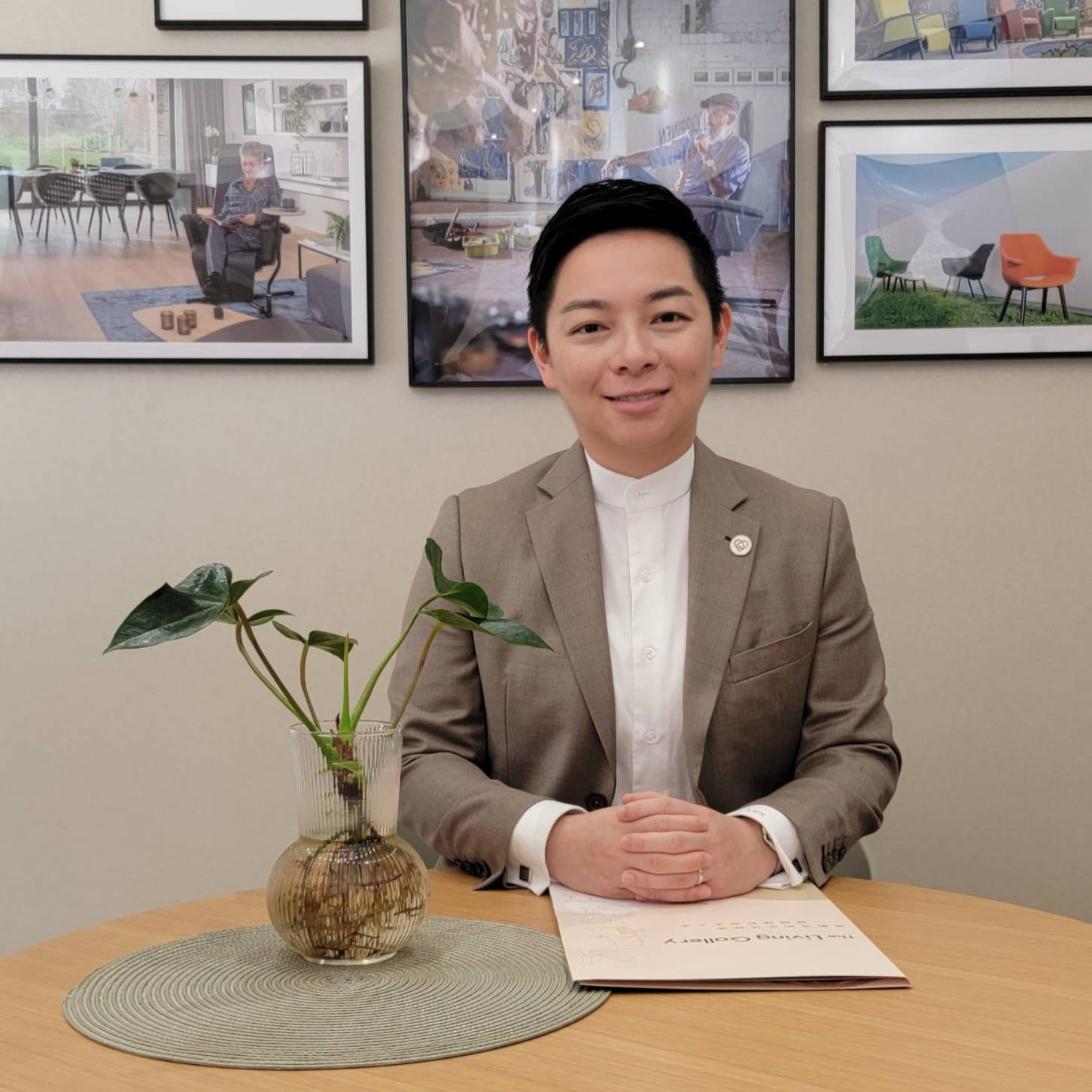 "The interns at our place would have their perception upside down, who realise that the caregiver and the cared relationship can transcend rom the traditional roles, to become collaborative partners in the community. Some of them chose to work with us after graduation, wanting to change the society's stereotypes. We are not just a platform for training and career development, but a space where the young can find passion and fulfillment in the profession, rewriting the old perceptions. This is the societal change I am most eager to achieve."