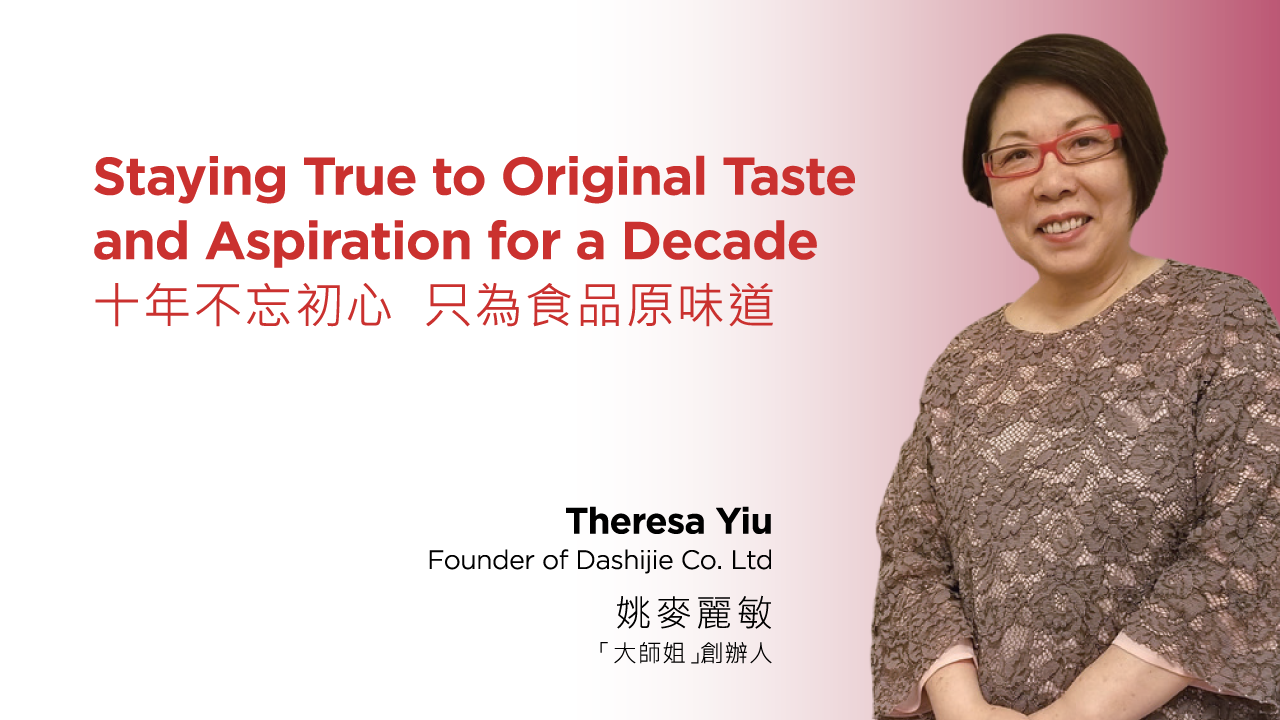 Staying True to Original Taste and Aspiration for a Decade
Body
"Will you add food additives like colorings, preservatives and MSG when you cook for your family? The answer is definitely a 'no'." said Theresa Yiu, who is also known as "Dashijie" (a title that apprentices address their senior counterpart). Making and selling safe, quality food that can only be served on her family dinner table, is the principle and resolution that Dashijie never compromises, for the packaged food business of the same name titled "Dashijie" since its launch 10 years ago.
Quality Guaranteed - Say No to Food Additives
"Despite the relatively high cost of one of the ingredients for our Shanghainese Imperial Rice Dumpling, the Yuan's Royal soy sauce, I insisted using it because only it can enhance the taste of our dumpling. I've basically tried all the ingredients of the food that I sell, so all of our products have designated ingredient suppliers. I called one of the suppliers this morning, just to ensure the manufacturer has placed order for the ingredient I specified," Theresa smiled with conviction, emphasizing her commitment towards uncompromising quality.
Such kind of persistence have brought "Dashijie" rave reviews, highly recognised by the connoisseur for its genuine and superb ingredients. In order to fulfill the needs of consumers from around the world, the brand has attained trademarks in 10 overseas market already. "We will be selling mooncakes in Mainland China this year, and will expand to other markets soon."
Expanding Domestic and Overseas Markets Driven by Barcode
Theresa also highlighted the importance of GS1 barcodes in "Dashijie's" journey in expanding to the globe. "Product barcode has been a pre-requisite at the time we collaborated with our first retailer City'super. As there are tens of thousands of products inside a retail store, there is no doubt that a standard is required to identify the products and automatically input into the retailer's system." Having rich experience in information technology, Theresa used to help suppliers of all sizes to streamline their commerce connectivity, via the use of technologies like barcode and electronic data interchange.
"No matter if we wish to export our products overseas, or to sell online, barcodes are needed for product identification and get connected to global sellers."
Theresa also noted the pivotal role of food traceability in food safety. She believes that ingredient suppliers, manufacturers, distributors and retailers need to collaborate and adopt a common set of standard to safeguard consumer safety. "For 'Dashijie', in addition to ensuring the safety of our food products, we also examine whether there are plasticisers in our plastic containers, or whether our factory is HACCP and ISO certified, and detect whether there is metal in our packaging etc. We ensure a first-class production process is in place."
Body
Adding Value to Food Transforming the Brand into a Classic
As a tech-savvy person, Theresa always welcomes innovation. She also insists adding her own values to the food that she sells before launching in market. "I aspire 'Dashijie' to be a long-standing brand and not an instant food culture. In August, we will launch some new products like Chicken Essence and Brown Sugar Bentong Ginger Tea, which are healthy and long-lasting products,"
"I'll select Taiwanese cage-free chicken of more than 1 year old as ingredient. This range of chicken is one of the best, as they are low in fat and rich in protein because of their exercise and premium feed. As for Bentong ginger from Malaysia, they are selected because they have stronger ginger flavour, spicier, thinner than other gingers, also without residue." Bentong ginger is said to contain richer nutrients than ordinary gingers in the market, because they are grown in mountainous area irrigated with natural water from the mountain and surrounded by un-polluted, pristine fresh air.
"My daughter used to live a hectic work life and fell ill easily, so I would buy a chicken, crushed its bones and steamed into chicken essence for her. Her recovery was quick and she became healthier after consumption. At the time she gave birth to her child, I also prepared the chicken essence for her for 60 days, unceasingly. So I hope to launch this chicken essence to help people to get recharged with abundant energy, because urban lives can be so stressful and overwhelming with heavy workload." Staying true to her motto "making food that can only be served for your own family", there is no wonder that "Dashijie" continues to grow via word-of-mouth and captivate worldwide customers for its uncompromising quality.