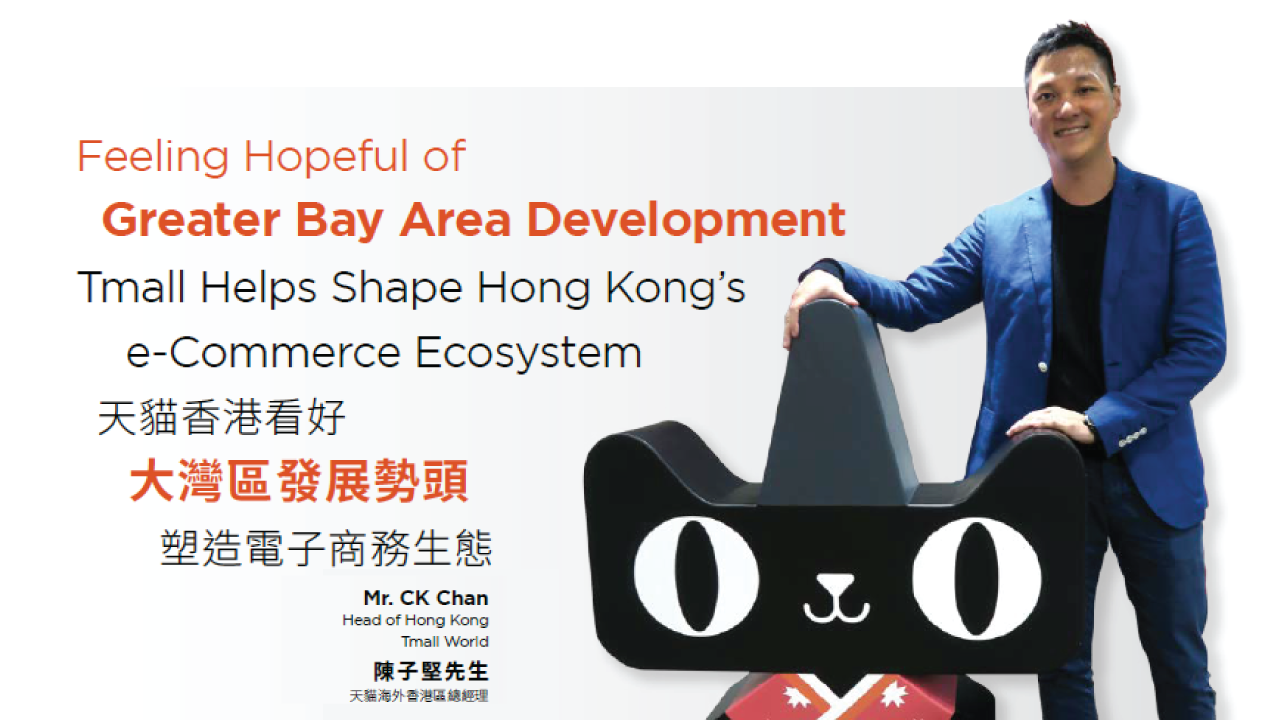 Feeling Hopeful of Greater Bay Area Development Tmall Helps Shape Hong Kong's e-Commerce Ecosystem
Body
China's State Council announced the new "Outline Development Plan for the Guangdong-Hong Kong-Macao Greater Bay Area" and identified Hong Kong, Macau, Shenzhen and Guangzhou as the four key cities and core engines for driving regional development. The blueprint also supports Jiangmen to cooperate with Hong Kong and Macau in developing into an integrated economic and business hub, especially in areas such as finance, tourism, e-commerce and so on. Riding the waves of booming e-commerce in China, the e-commerce market in Hong Kong is expected to grow at a rapid pace. With payment system, logistics systems and after-sales services growing more mature, the e-commerce ecosystem is taking shape and has potential to drive retail growth in Hong Kong in the future.
CK Chan, Head of Hong Kong, Tmall World, feels confident of Hong Kong's e-commerce market and said "Data from the National Bureau of Statistics of China showed that e-commerce takes up over 23%1 of the total retail sales in mainland China. In Hong Kong, only a relatively small percentage of e-commerce sales take up overall retail sales, so I think there is room for growth in local e-commerce."
"Hong Kong is the largest overseas market for Taobao and Tmall, and plays a major role in Alibaba's international business, because it is a stepping stone to expand our platform to other overseas markets." he continued.
Alibaba Group's financial results in the second quarter of the fiscal year 2019 revealed that by September 2018, the yearly active consumers at Taobao and Tmall broke the 600 million records, which is equivalent to 45% of the mainland Chinese population. The result in Hong Kong also triumphs, sharing a similar ratio of number of members-to-total popultation.
The most popular products for Hong Kong consumers on Taobao & Tmall include 3C products (computer, communication and consumer electronics), fashion and accessories, furniture, parental items and kids' toys. With billions of products on the platforms, it is not easy for consumers to search for what they want, so the company has deployed a series of measures and technologies to enhance their users' search experience. One of these enhancements has been to work with GS1 and adopt their international product barcode, which helps simplify the consumers' search process and facilitates merchants reaching their target customers.
"Many merchants, especially those aiming for global markets, list their products with GS1 barcodes on our platforms. Global users need only to simple scan a product barcode with a mobile phone, and the point of sales are listed out at once. Adopting technology with the international standards provides greater confidence to the consumers." CK explained.
CK asserted that the search capabilities on Taobao & Tmall are powerful. Beside barcodes, its image recognition and other technologies are sophisticated, achieving a much higher conversion rate than other channels. Based on customers' search or browser history, and coupled with machine intelligence, the platforms can customize and recommend the most relevant products to users, which usually gives a major boost to merchants' businesses.
Body
The Group has developed a variety of channels and tools to create different values for end customers, for example channels regarding the latest trends, live streaming to interact with KOLs (Key Opinion Leaders), flash sales pages and so on. These help merchants build their brands first and then boost sales and effectively engage with customers in multiple and non-intrusive ways.
CK described Alibaba Group's vision as business empowerment by leveraging the platform infrastructure and driving a local e-commerce ecosystem. "Beside marketing and promotion services, we work with different business units like payment and logistics services to enable e-commerce in Hong Kong to take off."
"At first, we built Alipay for Taobao only, but it has achieved much more than that. Now it penetrates into all major retail points of sales, both online and offline, bringing traffic and synergy back to Taobao. For logistics, we depend on one of our Group's subsidiaries, Cainiao Network, and its ecosystem partners. In mainland China, the economies of scale allows our merchants to provide free delivery, and same-day or next-day delivery in more than 1,600 locations in China."
"We are constantly upgrading our delivery service quality in Hong Kong to offer consistently robust services like in China, in terms of delivery, self-pick-up, service charge and efficiency."
CK thinks there is room for development in logistics. "The narrow roads and traffic congestion make a unique environment in Hong Kong and hinders motorbike delivery. And if customers are not at home, the property management usually does not allow product delivery. That is why Cainiao works with partners to offer Hong Kong users a variety of delivery options, including over 1,000 self pick-up points or cabinets and counting."
He hopes that as the Greater Bay Area continues to develop, Hong Kong consumers will be able to enjoy better delivery options in the future with a perfect balance between fees and efficiency. "They can buy whenever they want, and enjoy a seamless, convenient shopping experience because of our extensive logistics network."
Body
Hong Kong consumers demand high quality after-sales service, so Taobao & Tmall introduced local customer service and local product return service, empowering their merchant partners and bringing a distinct sales boost.
1. National Bureau of Statistics of China 中國國家統計局:http://www.stats.gov.cn/tjsj/zxfb/201901/t20190121_1645784.html
2. Alibaba Group website 阿里巴巴集團官網:https://www.alibabagroup.com/tc/news/article?news=p181102