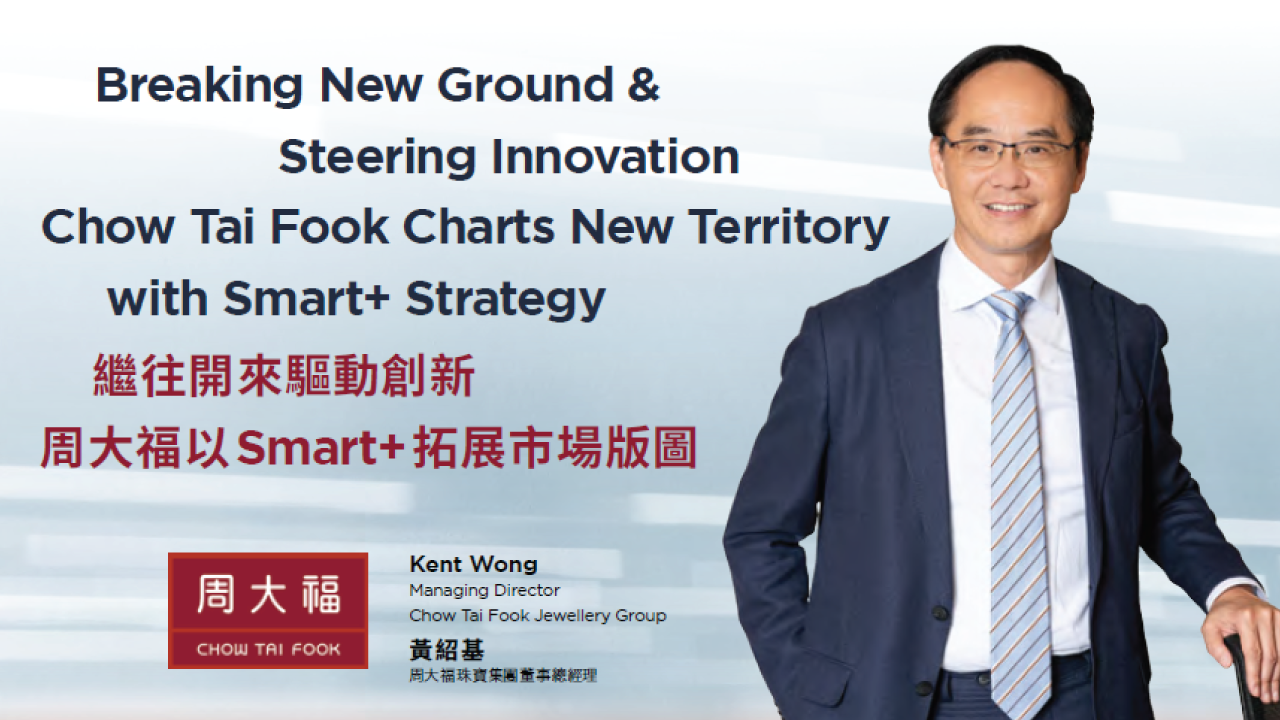 Breaking New Ground & Steering Innovation Chow Tai Fook Charts New Territory with Smart+ Strategy
Body
This year marks the 90th anniversary of Chow Tai Fook Jewellery Group. Sustaining its reputation of craftsmanship and heritage for almost a century, the Group has been aspired for innovation and transformation for just as long. Widely recognised for its trustworthiness and authenticity in Hong Kong and worldwide, how does Chow Tai Fook manage to be a game changer and preside its leadership in the rapidly changing market?
Change to Last - Marching into New Age with "Smart+" Strategy
Kent Wong, Managing Director of Chow Tai Fook Jewellery Group, is one of the drivers who lead the Group's transformation. Having been in the Group for more than 40 years, Kent witnessed the Group's various milestones like enterprise management, digitalisation, expansion into Mainland China market. He highlighted that innovation maintains at the Group's core belief, latest being its "Smart+" strategy, focusing on innovation, technology and sustainability with a goal of delivering exceptional customer experience.
Chow Tai Fook's "Smart+ 2020" strategic framework is a three-year work plan supported by dedicated Smart working teams, which are tasked with the delivery of each strategy from conception through to execution.
Multi-brand Strategy for Diverse Consumers
To meet the diversified needs of customers, Chow Tai Fook launched multiple brands like HEARTS ON FIRE and T MARK several years ago. The retail sales of T MARK in the fiscal year of 2019 had recorded an impressive RSV growth of nearly 76% in Mainland China and close to 73% in Hong Kong and Macau, showing remarkable progress.
"Each T MARK diamond is inscribed with a mark that carries a set of unique serial numbers, which enable customers to trace the life journey of a diamond from sourcing to production, making it one-of-a-kind in the world." Kent pointed out the superiority of the brand's products. "We further collaborate with GIA (Gemological Institute of America) earlier and use blockchain technology to deliver secure, digital diamond grading reports to consumers for the first time. It certainly adds weights to the confidence of our consumers."
T MARK also adopts the REAL barcode solution powered by GS1 HK, which uses patented cryptographic technology for anti-forgery on its jewellery card. It not only offers real-time authentication, but also effectively prevent the barcode from being replicated, ensuring the jewellery information that customers obtain are genuine.
Noting jewellery industry needs to bring in innovative technologies to keep pace with the times, Kent believes that these anti-counterfeit measures will enhance consumers assurance in purchases.
Body
Social + Experience Shops - Innovating Customers' Experience with Omni-Channel
Chow Tai Fook currently runs more than 100 e-commerce platforms, including its self-operated eShop as well as other marketplaces like Tmall, JD.com, HKTVMall and HKairport Shop. To foster an omni-channel retailing journey, the Group pursues social commerce that turns smartphone into a sales channel. For example, the Group engaged a famous actress as Brand Ambassador to promote its online exclusive jewellery pendant for Valentine's Day on social media platforms such as WeChat. Followers could act on their desires immediately to buy the pendants directly through the mini program under Chow Tai Fook's official WeChat account in their smartphones. Chow Tai Fook also launches a self-service experience corner for jewellery retail in Mainland China, extending the idea of "grab-and-go" to offer customers a faster check-out process and a more convenient shopping experience.
Body
Tailor-Made Jewellery Trending - C2M Production Follows a Customer-driven Approach
Research information by Hong Kong Trade Development Council showed that close to 75% of the post-80s and -90s in the 1st and 2nd tier Mainland cities preferred customised jewellery. Chow Tai Fook introduces "D-ONE" jewellery customisation online platform to engage customers in creating their own jewellery by choosing the diamonds and settings according to their own preferences. Customers can go further to experience first-hand the craftsmanship of their customised jewellery pieces, making the purchase more unique and personalised.
Chow Tai Fook runs three major production centres in Mainland China with a clear distribution of responsibility for each: Shunde Ingenuity Centre focuses on high-end precious jewellery for worldwide customers, and equipped with a Logistics and Distribution Centre using automation technology for national inventory replenishment; Wuhan Production Centre takes care of standardised jewellery production in large scale; Shenzhen Research and Development Centre is the test bed for various sorts of automation devices and machinery.
"We orchestrate our production and supply chain around four key principles – standardisation, automation, digitalisation and intelligence to realise our Customer-to-Manufactory (C2M) objective, which allows us to engage our customers from design to manufacturing." said Kent.
Body
Mining Big Data to Gain Customer Insights
Chow Tai Fook has successfully integrated RFID and IoT technologies with the "Inventory Control System" (ICS) that the Group developed for comprehensive application to the jewellery logistic and retail chains, through the use of smart devices, including RFID tag, Logistic Tray, mHand and Smart Tray. The Group, for example, is using Smart Tray to collect data from customer sales process and apply them in predictive analytics, inventory assortment and distribution and performance management.
Chow Tai Fook is also applying statistical modelling and analytical programme in merchandise assortment and distribution in its points-of-sale(POS). Sales and customer behavioural data is processed and transformed into automated distribution solutions.
"The RFID-based ICS can strengthen our logistic management, stock taking and control, and sales operations – and provides one-stop solution to enhancing operational efficiency and work accuracy on one hand while collecting big data for business analysis and decision making on the other, boosting our Group's efficiency in a significant way." explained Patrick Tsang, General Manager of Information and Communication Centre, Chow Tai Fook Jewellery Group.
Body
Jewellery Market Development
Addressing the volatile market environment, Kent advises the industry to embrace innovation and technology to diversify its product and service offerings, and to take advantage of the opportunities in Greater Bay Area by enhancing Hong Kong's role as the creative and connection hub. By connecting the Greater Bay Area and the international markets, Hong Kong will further solidify its global leadership in jewellery industry.
Body
Industry Level Up with IoT
Chow Tai Fook has long been in the forefront of developing and applying innovative technologies. It not only ushers in innovative ideas and raises the bar for the  ndustry, but also helps foster Hong Kong retail industry development. Patrick Tsang now represents Chow Tai Fook to sit in GS1 HK's IoT Industry Advisory Board, a group that is committed to promoting IoT adoption and fostering an IoT ecosystem. He believes IoT technologies are the foundation of the smart city design, for example the use of RFID to capture and transmit data and monitor status in retail industry can greatly facilitate its work flow such as production, logistics, warehouse and resources management, among others. He encourages GS1 HK to continue advocate the benefits and applications of IoT to its 8,000 corporate members and the industries involved.