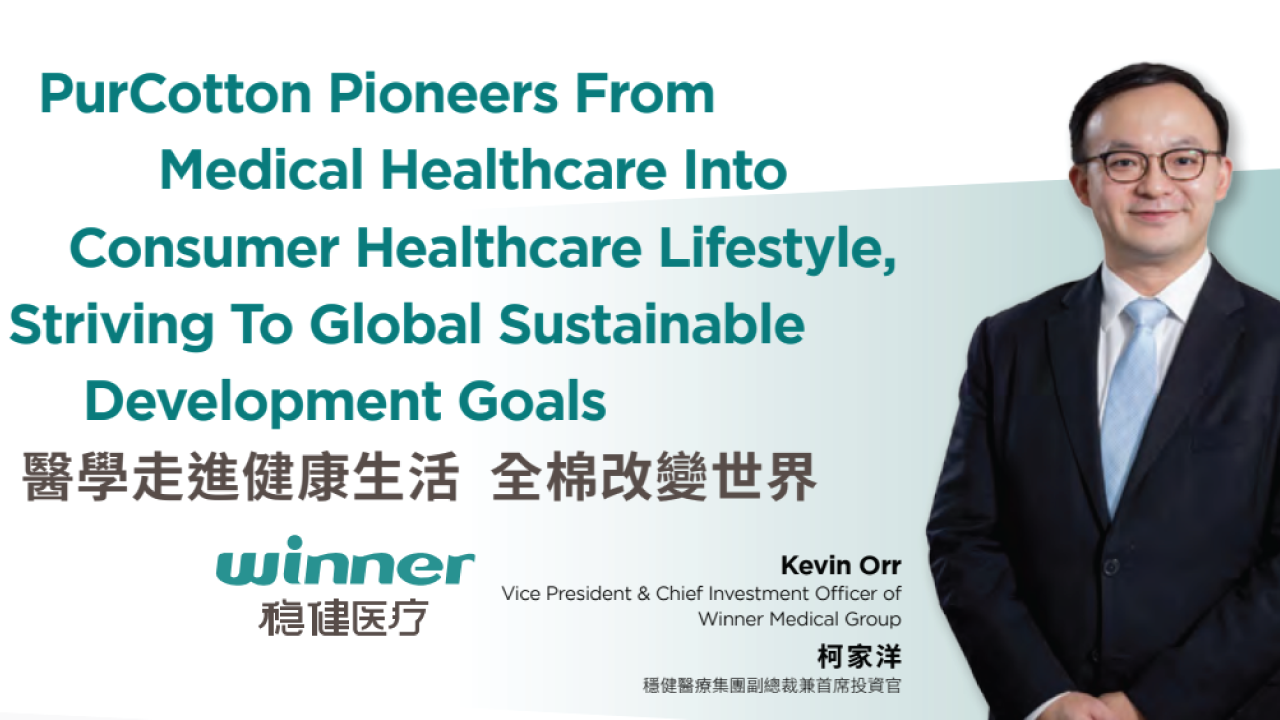 PurCotton Pioneers From Medical Healthcare Into Consumer Healthcare Lifestyle, Striving To Global Sustainable Development Goals
Body
In end of January 2019, Hurun Research Institute announced the "Hurun Greater China Unicorn Index 2018", which selected a number of enterprises valued at US$1 billion or more. Within the list of those that operated in Greater Bay Area, Shenzhen PurCotton Technology Co., Ltd (Purcotton®), one of the subsidiaries of Winner Medical Group, takes one of the spots in the top-ten.
Going into B2C Market
Founded in 1991, Winner Medical is specialised in manufacturing, research and development, distribution and exporting of medical dressings, surgical consumables, as well as infection prevention products. In 2009, the company diversified its B2B business model and expanded to consumer product market under the "PurCotton" brand with 100% cotton products. The expansion from medical healthcare market to consumer healthcare has been successful, realising transformation of the company businesses.
Inherited from Winner Medical's new advance fabric material technology in medical cotton-based products with 100% cotton spunlace nonwoven patented manufacturing processes, PurCotton developed four different categories of lifestyle products, including PurCotton Kids, Women, Men and Home product lines, which are immensely popular among consumers.
PurCotton relied on online sales channels at the initial stage. With the number of physical stores rose sharply, from 100 stores opened in 2006 to over 210 stores in more than 40 cities, the revenues from online and offline businesses both drive a balanced growth now.
Body
Harnessing Technology Throughout
Kevin Orr, Winner Medical Group's Vice President and Chief Investment Officer, says applying new retail technology and digitalisation in every aspect of its business has been one of reasons that boost the company's rapid growth.
At PurCotton's smart production and logistic centres situated in Mainland China, the company is using automation & robotics technology and aims to input more of such technology in the future for greater efficiency in production and logistics. In addition, the company regularly explores and upgrades its artificial intelligence (AI) technology for adoption in various aspects.
PurCotton is continuing to explore more new retail digital solutions within its physical stores – such as exploring electronic price tag system available in the market. The company is also examining new functionalities of the omni-channel new retailing system, so that it can instantly update all related information for certain items or items in certain stores in response to special promotion integrated in between online or offline for members.
Kevin pointed out that these new retail digital solutions can connect with company's inventory management system, along overall supply chain and point of sales, which helps drastically lower stock inventory & reduce operation risks to achieve targeted marketing results and enhance overall sales outcome.
Body
Maximizing the Benefits of Data
Being GS1 HK member, Winner Medical uses GS1 barcode at point of sales and supply chain to support operations in cashier, product replenishment, logistics, helping to raise efficiency and reduce expenses. With GS1 product database connected to WeChat platform, this enables billions of users / consumers to simply scan and obtain product information provided by brand owner. Users can also share in social media moments and get directed to designated online platform, helping companies to open up new sales channels.
"Today, businesses are increasingly relying on digital technology and big data analytics to achieve omni-channel sales and stock management. It's difficult to make precise decisions without optimising smart systems & technologies." Kevin says.
Through online platform, Purcotton is able to collect and analyse the purchase data and other big data of members to see how sales trends vary from region to region. Kevin says the company is now exploring more ways of interacting with consumers – such as suggesting follow-up purchases supported with digital coupons or other personalised deals. "We're investing a great deal of resources into digital technology – using artificial intelligence to mine data and exploring augmented reality/virtual reality to find out more about our consumers' needs, helping us to create better functioning, higher quality products."