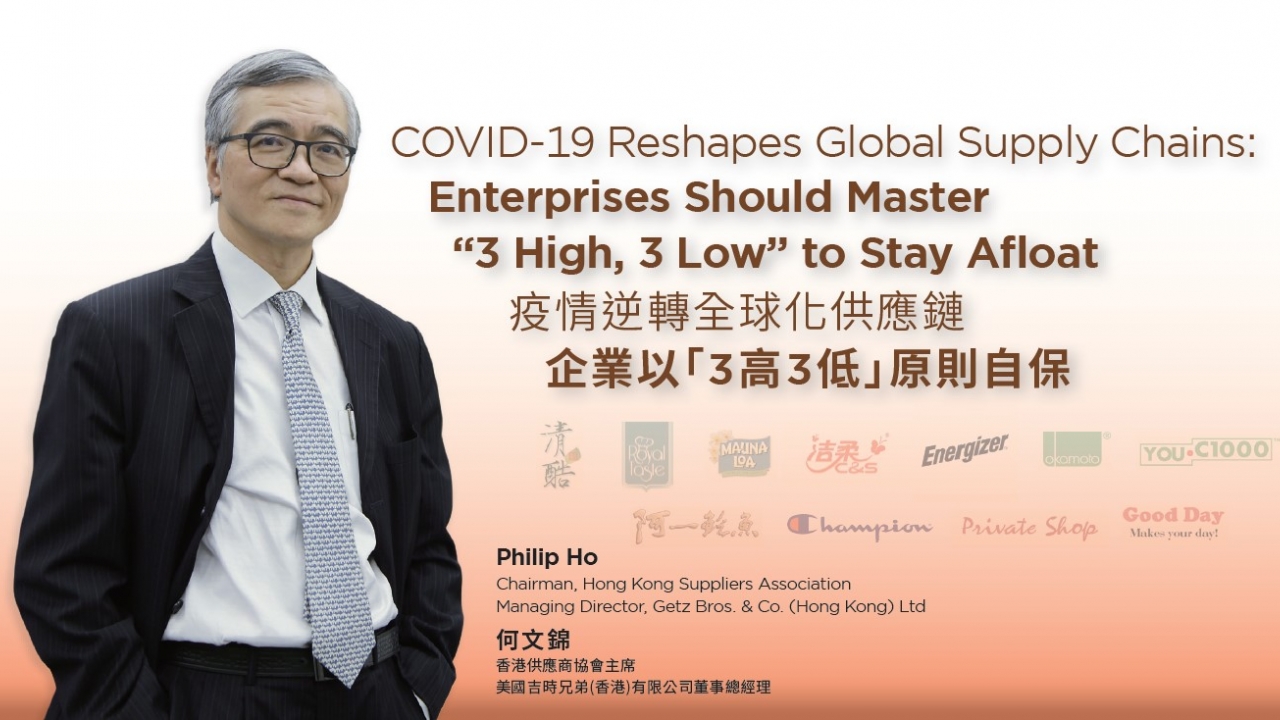 Executive Connect COVID-19 Reshapes Global Supply Chains: Enterprises Should Master "3 High, 3 Low" to Stay Afloat
Body
COVID-19 pandemic and the associated lockdowns in many countries have created economic turmoil and impacted supply chains globally. Philip Ho, Chairman of the Hong Kong Suppliers Association and Managing Director of Getz Bros. & Co. (Hong Kong) Ltd, expects that as the daily lives and habits of local citizens have been impacted and forced to change and adapt, there will be continuous fluctuations in Hong Kong's domestic demand and supply chain in the second half of 2020. The pandemic, US-China trade war and the US's plan to strip Hong Kong of its special trading status are making it more difficult to accurately forecast the demand and supply conditions. Enterprises are recommended to explore different kinds of supply chain solutions to ensure uninterrupted supply and respond flexibly to the changing market demands.
Stable Supply to Hong Kong without Disruptions
When the pandemic was at its peak in the last few months, Hong Kong people were snapping up household goods and groceries out of fear of scarcity. Representing the Association, Philip recalled that he had urged citizens not to panic buy as every supplier has sufficient inventory based on the normal local demand. Take Getz Bros. for example, a distributor of a host of brands including C&S toilet rolls, Energizer batteries, Okamoto condoms, Sensa Cools herbal drinks, Taikoo sugar, Royal Taste luncheon meat, Ah Yat abalone, Samyang noodles, etc., have an average of 10 standard containers (about 50 to 80 tons) shipped to Hong Kong every day. There was minimal, if any, supply shortage encountered even during the pandemic. At that time, staff at Getz Bros. had spent extra hours and efforts to closely monitor the demand and inventory, and contact suppliers frequently in order to ensure stable and timely supply of goods.
"We usually stock up one to two months of inventory to maintain our supply to over 10,000 retail stores and catering outlets in Hong Kong, particularly before Chinese New Year. Besides, suppliers will normally pre-arrange replenishment orders for distribution after Chinese New Year, as some factories might be closed for long during the festive season."
Philip said the goods distributed by Getz Bros. come from all over the world. Around half of them are from South East Asia, over 30% from Mainland China and the rest from Europe and the US. "During the COVID-19 outbreak, household goods and food suppliers in Mainland China have actively imposed quarantine and preventive measures, and hence most of them were able to resume work quickly after a short period of closure and ramp up production. Goods supply was only disrupted temporarily . On the contrary, the pandemic continues to surge in the West and South East Asia, putting much pressure on logistics delivery and cost. With lockdown and stay-at-home orders implemented in most countries, people have avoided shopping in the street, and the international trade has faltered. Both sales and cargo shipments have dropped, leading to lesser sea freight sailing frequencies, longer logistics cycle and rise in supply chain costs."
Barcode Optimizes Inventory Management and Digitisation Accelerates Cash Flow
To cope with business growth, Getz Bros. relocated its warehouse to Hutchsion Logistics Centre at Kwai Chung Container Port Terminal 4 last year. Occupying an area of over 110,000 sq. feet, the new warehouse is designed for both ambient and temperature-controlled storage, with the latter taking up half of the warehouse space. It has three-layer adjustable steel racking designed specifically for palletized goods , supported by electric forklifts that greatly enhance storage capability and cargo movement efficiency. It is also equipped with over 60 CCTVs and an alarm monitoring system operating 24 hours for security surveillance. There is also a repacking centre set up to cater for various clients' needs. All container trucks and other vehicles can go straight to the warehouse, which can handle the loading and unloading of 10 vehicles/containers at the same time. This has greatly enhanced the operational efficiency and competitive edge, catering for different business models and requirements of customers.
Getz Bros. uses GS1 barcodes in various storage and retail operation scenarios to increase efficiency. "With only 20 storekeepers in our warehouse, they make use of barcodes extensively to identify, store, pack and deliver tens of thousands of incoming and outgoing goods every day. The standard is also applied in every storage zone and location, playing a key role in our goods identification, stock-taking and tracking processes. As we work closely with both brick-and-mortar retail stores and online e-commerce platforms, we need barcodes to efficiently exchange accurate product information and sales data with our business partners, to ensure products availability and replenishment." Getz Bros. has also leveraged GS1 HK's ezTRADE platform to exchange electronic orders and shipment notices with trading partners, enabling them to achieve greater efficiency. "ezTRADE has been used by most of the large retailers in Hong Kong. There's no exception for suppliers. The platform helps reduce manual errors, accelerate data accuracy and stock replenishment. As a result, we only need a few staff to process over 10,000 orders every month. This is one of the cornerstones in our digitisation journey."
Body
Alternative Solutions in Response to Supply Chain Disruptions
In the past, some merchants kept just-in-time stock inventory to optimise warehouse space. The current worldwide pandemic shows the vulnerability and risk of supply chain, because factories and production lines can be suspended in some places. Philip advises companies to identify weaknesses in their supply chains, such as over-reliance on one single supplier in certain areas. They may have to look for alternate suppliers in those areas and set up early alert systems as well as response and remedial mechanisms to tackle supply issues. An agile and flexible supply chain helps companies respond quickly and effectively to supply issues and the volatile market demands, which can turn into a key differentiator for companies.
He points out that many logistics companies have started to use technologies such as electronic signature or shipment tracking to increase supply chain transparency. Getz Bros. uses transportation management system to carry out route planning and fleet management. Integrated with artificial intelligence and data analytics technologies, the system provides comprehensive transportation and distribution features to optimise delivery schedule. The system can track goods delivery in real time and forecast inventory accurately, reducing manual errors in invoice processing. It can also provide sales and inventory data report to help staff evaluate delivery performance and enhance operational efficiency.
Body
Mastering "3 High, 3 Low" for Survival
Philip believes enterprises should hold on to the "3 High 3 Low" principle in order to weather the economic downturn and the global supply chains volatility:
Increasing market demand forecast accuracy
Increasing sales and marketing efforts
Increasing delivery and supply capabilities
Lowering supply chain costs
Lowering inventory backlog
Lowering overall procurement costs
Consumers are increasingly seeking for more product information, for example its manufacturing, production and delivery data. This is especially true for food and personal care products, because they directly affect consumers' health and safety. Philip has reiterated that the primary responsibility of a supplier is to provide quality products to consumers, so that they can enjoy them with peace of mind. He thinks the industry should work together to build a robust tracking system so as to create a more transparent supply chain, which helps fortify quality, crisis management and other systems. It also helps in the compliance to regulatory requirements and boosts consumer trust for the industry.