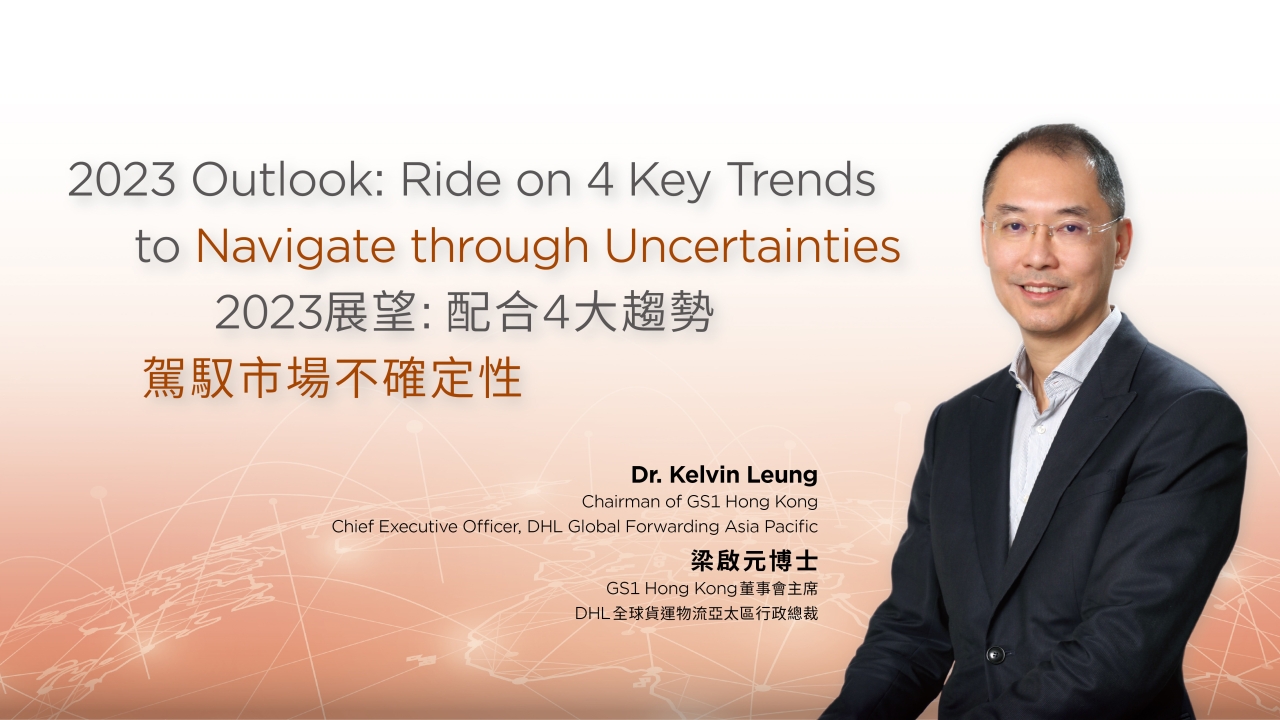 2023 Outlook: Ride on 4 Key Trends to Navigate through Uncertainties
Body
It has been a roller coaster ride for the global business community in 2022. From a slowdown of the pandemic early this year to multiple outbreaks of coronavirus variants, and from market recovery anticipation to sudden rate hikes along with the Russia-Ukraine crisis, all of these phenomena are painting an uncertain outlook to the future.
Dr. Kelvin Leung, Chairman of GS1 Hong Kong and Chief Executive Officer of DHL Global Forwarding Asia Pacific, believes that Hong Kong's road to recovery depends on the resumption of inbound travellers to Hong Kong, easing quarantine requirement in China borders, and the overall confidence level from global economies. He expected global trade might rebound in Q4 next year when inventory levels become healthier and new orders being placed. To grapple with adversities, he advised companies to take advantage of 4 economic trends – globalisation, digitalisation, e-commerce, and sustainability development.
Soaring on Hopes China Leads Path to Normalisation Amid Challenges
Kelvin reckoned that the pandemic-induced disruptions to supply chain has left many markets still in turmoil. "The paradigm shift from 'just-in-time' to 'just-in-case' supply model is prevalent. Companies used to keep 1-2 months' of inventory, now their stock level shot up 150% to 200%; they would place orders six months to one year in advance to avoid any unexpected supply chain issues." China, as the world's largest exporter, has casted shadow over the global trade and supply chain with its on-going stringent anti-pandemic policy.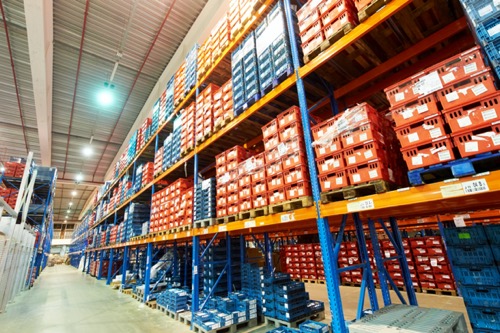 With the spillover effects from Russia-Ukraine war that caused price spikes in commodity goods like oil and food and hence the high inflations, the US has tried to tame the inflation by increasing the interest rate multiple times, at the expense of global currencies devaluation. In the looming recession prospect, both global consumers and merchants are cautious about spending and procurement, making the overall market sentiment still in dismal.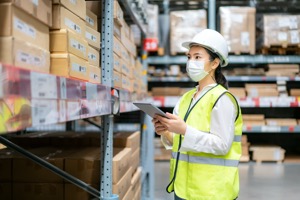 "The chain reaction of all these issues has made the future full of uncertainties. I hope China will relax its quarantine policies soon, so the Chinese consumers may splash out for 'revenge spending', giving opportunities for the flow of people, goods, and money back to their normal levels."
Body
Globalisation, Digitalisation, E-commerce
Globalisation has given rise to the free flow of capital, technology and talent across the world, but also damaged the global economy like domino effects during the pandemic. Still, Kelvin believes globalisation has its merit. "Trade unilateralism has been on the rise, but regional collaborations remain active in Asia, like those within the Greater Bay Area, and the RCEP (Regional Comprehensive Economic Partnership) - globalisation can manifest in many different ways."
Another unstoppable trend Kelvin believes is digitalisation, which has become the cornerstone of all businesses and will only expand in breadth and depth. While the uptake of e-commerce has slowed down lately, it is going to sustain at a level higher than the threshold of pre-COVID times. "DHL has been helping clients in B2B, B2C and B2B2C businesses to capitalise on the e-commerce growth with a range of solutions, such as our smart warehouse solution. One of our clients used to manage loading, dispatch and stock-take manually, which is not only time-consuming but also prone to error. We stepped in to support its digitalisation by using AGV (automated guided vehicle) for goods picking, and drone scanning for stock-take, among others, raising its efficiency exponentially and putting them at a better position to ride on the e-commerce megatrends."

Sustainable Development
DHL has pledged 7 billion euros to accelerate the roadmap to decarbonisation by 2030. The investment includes cleaner fuels for flights, e-mobility fleet and climate-neutral buildings. "Take biofuel procurement for example, we would examine if the production process would produce any carbon dioxide to ensure they are 'green' enough. I think sustainability has become everyone's core value, so companies of any sizes should really start implementing related measures within their operations if they have not already."
Kelvin noted the company has just completed the maiden flight of "Alice", a fully electric commuter plane for DHL, and have used drones to deliver goods to a small island in Germany. While committed to zero-emission, he admitted not every market the Group operates in has established carbon efficiency practice, due of the varying regulations and development stages in different markets.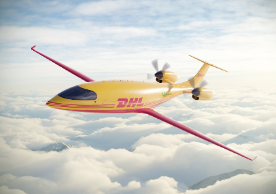 Compete for Talents and Promote Digital Economy
This year's Policy Address has a decent coverage on measures to attract enterprises and talent. Kelvin agreed to its directions and believed that its measures would be effective at achieving their goals, paving way for Hong Kong's economic recovery. "DHL has strived to attract and retain talent besides using financial rewards, we have imposed an EIBD policy (Equity, Inclusiveness, Belonging, Diversity) and flexible working hour. To mitigate the effect of talent crunch, we leverage the expertise of employees from other markets to coach local colleagues or even participate in client's projects via telecommunication tools."
Kelvin echoes the HKSAR Government's focus on digital economy and asserted that in order to build a smart city in Hong Kong, concerted efforts covering talent, infrastructure, regulations and public awareness are critical. As the Chairman of GS1 Hong Kong, he is excited to see the launch of "1QR", the next generation of GS1 barcode, which supports merchants' marketing with a simple QR code, and increases product transparency for consumers.
Body
"GS1 HK has laid a strong foundation for the digital economy development. It will continue to play an important role in fostering more data-centric operation models in the future, when the GS1 barcode and QR code coexist."
Acknowledging that GS1 HK's e-business platform, ezTRADE's ability to process tens of millions of transactions, Kelvin is delighted to know that the merchants' trade data captured on the trusted platform are turning into financing application proof for SMEs. This is not only beneficial to the local digital trade financing ecosystem but is also conducive to thedevelopment of a digital economy.

"Data is the backbone of the economy nowadays, and SMEs should capitalise the potential out of it." Having helped companies identify, capture, use and share data for years, the latest GS1 HK's Smart Operations solution is further assisting business to analyse and process data throughout their supply chain including production, warehousing and logistics, hence boosting additional efficiency.
Recommendations: Opening Borders, Establishing Maritime Authority, and Relocating Terminal
While Hong Kong's current "0+3" quarantine arrangement benefits the local residents, inbound travels remain weak, thus the flight frequency and options of destination are still at their sub-optimal level, posing hurdles for Hong Kong to retrieve its role as the international aviation hub like the pre-COVID times, Kelvin observed. "Passenger flights have certain level of cargo capacity, which is especially useful for small batches of goods fulfillment for e-commerce orders. I hope the HKSAR Government will lift the quarantine requirement as soon as possible which will facilitate the flow of goods as well."
In addition, Kelvin recommended the Government to set up an official maritime authority similar to the capacity of Airport Authority, to facilitate a unified communication channel with all stakeholders within the industry; and to relocate the current Kwai Tsing Container Terminals to not only free up more spaces in the city centre for residential buildings, but also open up opportunities for the Hong Kong maritime sector to expand. As volatility becomes the market norm, Kelvin believes that in every crisis lies opportunities. He advises industry fellows to recognise their own advantages and collaborate for wins. Only by jumping on the bandwagon of four major trends - globalisation, digitalisation, e-commerce and sustainable development, companies will break through adversities and leap forward to the future.