China Introduces GS1 GTIN for Customs Clearance
Body
China Customs has rolled out a GTIN (Global Trade Item Number, i.e., barcode number) reporting function for its single window declaration system. This represents a key step for the adoption of GS1 barcodes in customs clearance and will help to enhance the standardized import and export customs declarations.
From Jan 1st, 2022, China Customs will require GTIN (barcodes) as a mandatory field for the import of certain products including infant food, wheaten food, biscuit, beer, imported wines & liquors, cosmetics etc to facilitate declaration process. 

Customs declaration gets easier with GTINs
An imported product can be automatically identified and its declaration elements such as classification, country of origin and specification can automatically appear in the single window system if its GTIN is provided and such product information already exists in the database.
"Declaration by GTIN" provides a convenient and fast method for enterprises to complete the declaration form "within a second" through intelligent autofill instead of the normal manual entry. Enterprises can now enjoy an intelligent auto-fill feature by using GTIN. This simplifies and speeds up the declaration process and improves accuracy.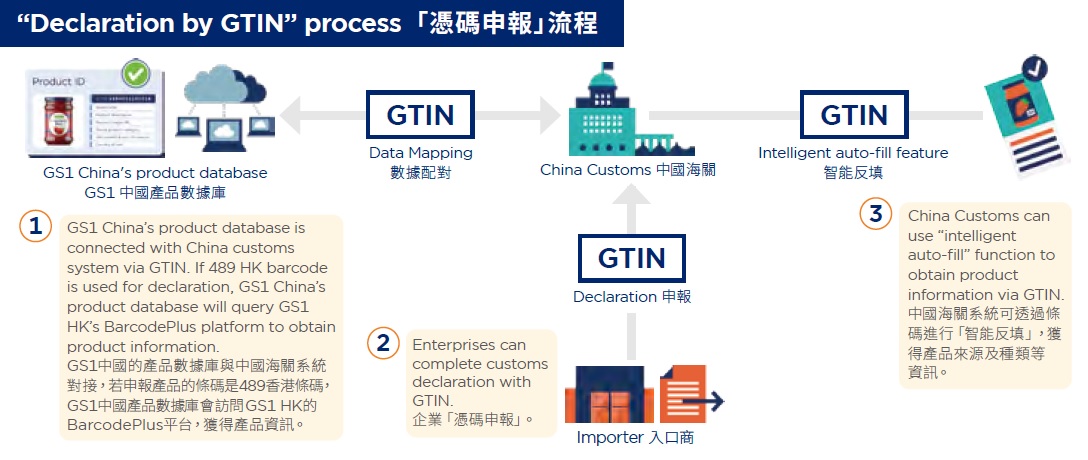 Cross border trade in Asia Pacific region could also benefit
In July 2018, a strategic cooperation agreement was concluded between China customs and GS1 China, who then jointly established a collaborative model of data sharing and promote the adoption of barcodes in customs clearance. In response to the China Customs GTIN Import Declaration:
For Hong Kong companies with goods exporting to China but do not have GTIN: Get your barcodes by applying membership to GS1 Hong Kong as soon as possible to speed up the declaration process. If you wish to import infant food, wheaten food, biscuit, beer, imported wines & liquors, cosmetics etc to China, barcodes must be adopted to facilitate declaration process.
For Hong Kong companies already have GTINs: upload your product data to the GS1 HK BarcodePlus platform to enable GTIN (barcodes) for customs clearance & ensure data accuracy. 
 
Reference Information:
General Administration of Customs P.R. China (in Chinese only) http://www.customs.gov.cn/customs/xwfb34/302425/2554480/index.html