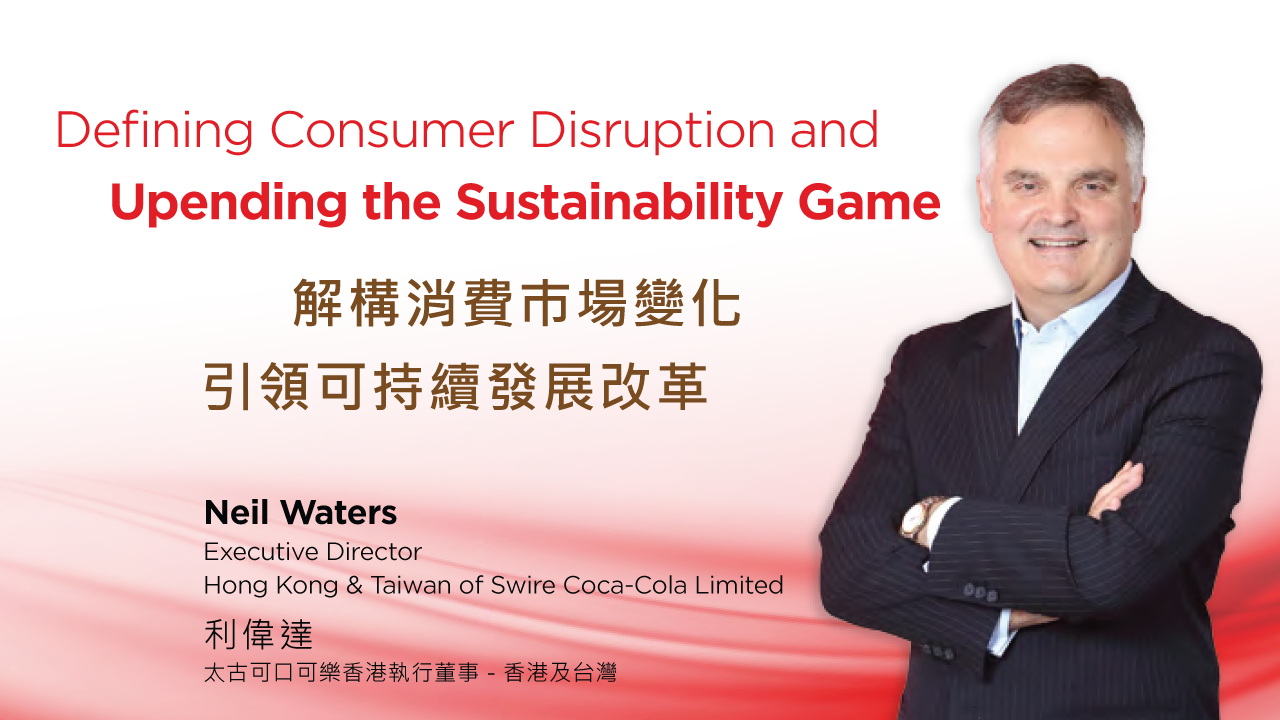 Defining Consumer Disruption and Upending the Sustainability Game
Body
The world has been grappling with the COVID-19 for months now, leaving no businesses immune from its impact, not even for Swire Coca-Cola HK, the leading beverage company that supplies more than 20 brands of sparkling and still beverages in Hong Kong.
Neil Waters, Executive Director – Hong Kong & Taiwan of Swire Coca-Cola Limited, said ensuring safe and smooth operation of its local manufacturing facilities continues to be a priority. He also revealed how the company rides the storm together with its wide network of distribution partners, retailers and restaurant owners, looks beyond the crisis and continues to stride in its sustainability journey.
Turning around Swiftly from Disruptions 
At the early stage of the virus outbreak, China's nationwide lockdowns caused a massive delay for factories to reopen after the Chinese New Year holiday. Packaging materials could not be delivered from the mainland and had posed challenges to Swire Coca Cola HK's local production plant.
Fortunately for the company, a contingency plan has been in place. The safety inventory built up before the holiday provided Swire Coca Cola HK extra time to react to the crisis. For a few weeks in February, the supply chain team worked tirelessly to monitor and resolve any potential issues along the supply chain. They flexibly adopted different logistical arrangements, such as temporarily storing raw materials at the ports instead of in-city warehouses, and considered different transportation routes from land, sea and air to ensure stable material supply. The production lines continued to run on schedule to fulfil demands from the retail stores. Neil applauded the excellent job of his teams in avoiding any out-of-stock situation.

​
Banking on Three New Consumption Trends
There has been minimal level of the social activities due to the COVID-19. "Closures of theme parks, cinemas, bars and restaurants have brought sales to end-consumers at these entertainment outlets and eateries almost down to zero," Neil said. "But we are lucky to have a wide distribution base that allows us to shift focus to wherever consumption opportunities remain."
He also observes three types of consumption trends emerging strongly during, or even before the COVID-19, that the company banks on for some immediate and longer-term opportunities. 
Safe Shopping
Traditional and new retail channels that cater to consumers' needs for a safe shopping environment have thrived during the crisis, Neil observed. We have seen that consumers are primarily visiting supermarkets within their own neighborhoods, meanwhile, more consumers are now accustomed to purchasing their entire basket of groceries online and have it delivered to their doorsteps. Various food aggregators' apps have also prospered. 
"Swire Coca-Cola HK's total e-commerce strategy is in line with the accelerated shift from 'bricks-to-mortar' to 'clicks-to-mortar' models in the retail sector. It is supporting clients' online sales points more seamlessly, as well as building up its own online platforms to create more consumer touchpoints."
Biopolar Shopping
"Some consumers have displayed a 'bipolar shopping' pattern, where they continue to seek for more affordability with some larger purchases, and are at the same time willing to trade up for smaller portions of premium goods." Neil referred to the "Coca-Cola" mini can launched in 2019, which comes in 200ml per can as compared to the ordinary size of 330ml.
The COVID-19 will have economic ramification on the general public, which means having more appropriate price-packaging strategy would be important as consumers become more selective in their daily purchases.
Health Conciousness
The COVID-19 has raised awareness on all sorts of personal health issues including healthier diets. Neil sees consumers moving towards more health-conscious beverage choices, with items such as unsweetened and low (or zero) calories drinks gaining popularity.
"These behavioral changes will probably stay even after we come out of the COVID-19," Neil said. "I read a recent research study suggesting that humans on average need around 60 times repetitions to form a new habit. Indeed, the COVID-19 may linger sufficiently long enough for this to happen."
New Norms, New Business Models
Among all of the company's partners, restaurants and drinking outlets are the most severely hit by the COVID-19, with a significant part of their revenue lost due to all kinds of dine-in restrictions. Chances are that some consumers might never return, as many have come to enjoy home cooking and times spent with friends and family around their own dining tables – settling into the new norm.
At the moment, Swire Coca-Cola HK is actively helping these customers stay afloat with new sales strategies such as offering "lunch box and coke combo". The future may look bleak to some of them, but Neil remains hopeful that the current challenge will also spark many new ideas and even new business models.
Taking Leadership in the Sustainability Spaces
According to data from the Hong Kong Environmental Protection Department*, a daily average of 139 metric tons of PET plastic bottles are disposed at landfills in Hong Kong, the aggregated mass equivalent to seven double-decker buses. Neil said Swire Coca-Cola HK's overarching sustainability goal is to better manage these plastic wastes in the city, and it has been running a number of local initiatives across two primary strategic pillars.
Reduce Waste at Source

 

 

The Bring Your Own Container (BYOC) initiative aims to reduce the use of plastic by encouraging local citizens to consume beverages with their own containers. Swire Coca-Cola HK aims to install several hundred Bonaqua Water Stations in public locations, including country parks, mountain trails, sports grounds and shopping malls by year end, allowing local consumers to conveniently refill their own bottles with Bonaqua water.

Now, the initiative has expanded to offering other sparkling drinks such as Coke and Sprite. A new edition of the hydration station has been set up in one of the shopping malls in Mongkok.

"All these BYOC beverage dispensers are automatically sterilised with ultraviolet light each time after use, while the machines' exteriors are sanitised every 30 days with disinfectant spray to ensure good hygiene." Neil said.

Closing the Recycle Loop

The second pillar focuses on collecting and recycling used bottles by leveraging an extensive network of corporate partners and non-government organizations to create more pivotal change in the society.

The main part of it is the "Tap, Return & Earn" beverage bottle redemption scheme launched together with the Octopus Cards Limited and the World Green Organisation (WGO) in September 2019.

The machines are designed to accept plastic beverage bottles of any brand with capacity from 330ml to 2 litres. Information stored in a bottle's barcode is scanned for identification before the bottle is compressed and deposited into the machine, then the consumer earns a rebate on the Octopus card. Barcode plays a central role here to help citizens to go green via "Go Digital".

More than 5000 types of beverage bottles have been included so far. This clearly shows the commitment of Swire Coca-Cola HK given this recovery includes collection of brands well in excess of their own portfolio. In the past, these bottles would be shipped away to offshore recycle sites, but this open loop will be closed once Hong Kong's first dedicated polyethylene terephthalate (PET) and high-density polyethylene (HDPE) local recycling facility, produced food-grade ready plastics commences operation by the end of this year. "In Hong Kong, there's still no proper 'closed loop' recycling system that allows for collection and recovery and reprocessing. In Q4 of 2020, Swire Coca-Cola , together with 2 other partners, will open HK's first PET/HDPE recycling plant – New Life Plastics at Tuen Mun Eco-Park, showing our company's commitment and leadership in creating fundamental change for a more efficient and self-sufficient plastic waste management system in Hong Kong," Neil said proudly.

Strengthening Consumer Trust with Recognition
Caring for the society and its consumers, and ensuring product quality and safety, are among the key reasons for Swire Coca-Cola HK to be named the "Consumer Caring Company". "We recognise consumers' habit change and the market dynamics, proactively offering the most relevant and timely products and services, whilst also striving to raise our standard and quality levels. I believe these traits are in our organizational DNA," Neil said. "It is indeed an honour to have received this high-profile and well-known award for 9 consecutive years ."
Swire Coca-Cola has participated in the "Quality Food Traceability Scheme" for the 5th year and has benefited from GS1 HK's stringent assessments, winning "The Diamond Enterprise Award" from 2017, being the most prestigious award under the scheme, serving as a powerful testimonial to the outstanding performance of our supply chain. This scheme also helps us review and identify room for improvement, and continue to strive for excellence."
As Co-Chairman of ECR HK, an industry advisory board initiated by GS1 HK, Neil understands consumers demand better transparency of the products they purchase, from source to retail touchpoints. The board is working on a "smart product label" initiative that advocates better disclosure of information such as ingredients and nutrition value with a QR code print on the package.  "lt will be a win-win for consumers to have more quality assurance and for businesses to better engage with customers by connecting offline to online." Neil explained.