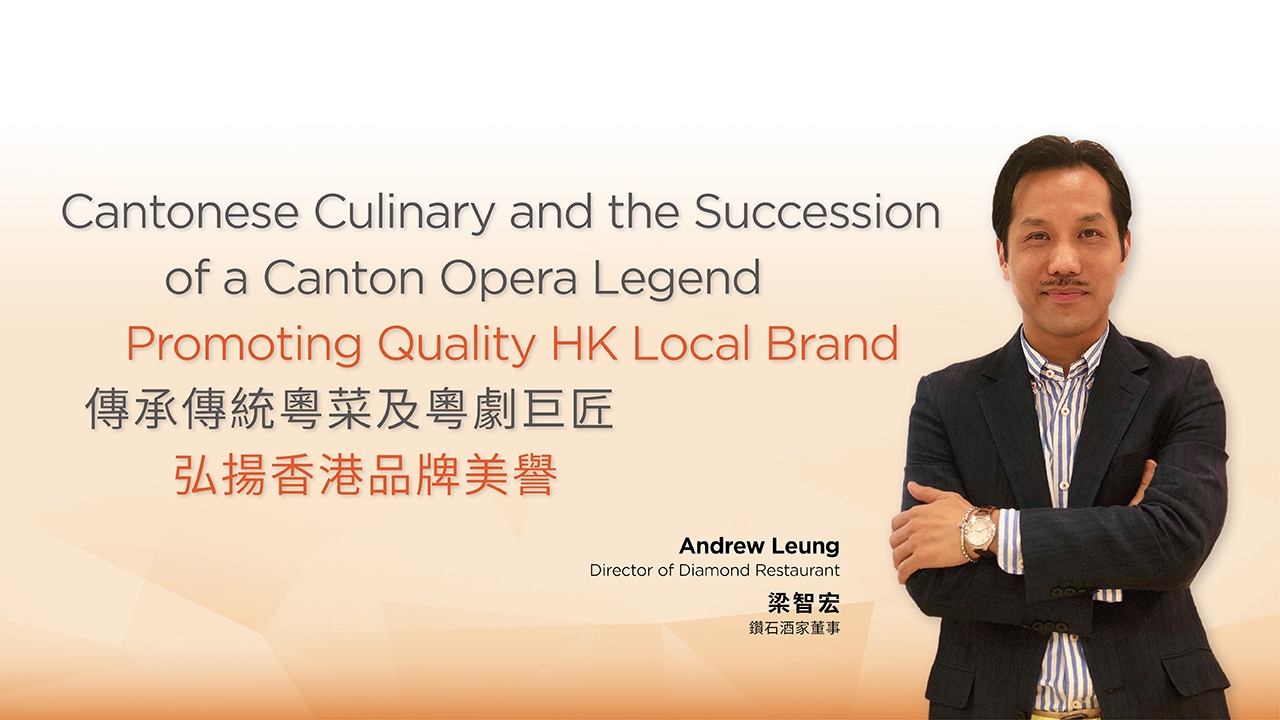 Cantonese Culinary and the Succession of a Canton Opera Legend
Body
Promoting Quality HK Local Brand
Andrew Leung, Director of Diamond Restaurant, has spent years to build two seemingly irrelevant brand names: Diamond Restaurant, the famous Chinese restaurant brand that brings lots of fond memories, and Pharmabelle, a personal care business that promotes natural products. A household name for foodies and an up-and-rising brand for wellness advocates, both have inherited values and principles passed down through generations.
From Tradition to Specialty
Located in southern Australia, Tasmania is endowed with unspoiled and the purest waters, which is why the seafood bred there is known for its pristine, rich taste. Knowing this, Andrew decided to add wild Tasmanian abalones to the Diamond Restaurant portfolio. Caught in the deep sea and canned after cooking, the abalones maintain their original juicy texture with rich protein and have become the signature of the brand. "The nutrient-rich wild abalone are the nature's superfood. We are proud that our products are certified by Abalone Council Australia, testifying both the product rarity and our commitment to ocean sustainability."
Served in the leadership team for a French luxury jewellery brand overseeing the Greater China market in earlier years, Andrew is committed to maintaining Diamond's prestigious image by focusing on quality rather than quantity when enhancing the product variety. He is dedicated to bringing premium Chinese food ingredients sourced around the world to the local market. "Beside Australian seafood, we procure wild dried seafood all the way from New Zealand and South Africa, purchase aged tangerine peels from Xinhui, produce abalone in braised sauce in Taiwan as well as hand-made naturally sun dried egg noodles in mainland China. These exceptional delicacies have been served in in Cartier's VIP parties and high-end restaurants like Yung Kee."
Small Barcode Turns into Big Opportunities
Diamond Restaurant's products are now available in physical or digital stores of city'super, Pricerite, Wing On, Yue Hwa and Ztore. Andrew promotes the products by creating and sharing new recipes, and setting up pop-up stores. He believes GS1 HK barcode is a useful tool for product management and online listing, which increases product exposure through better online and offline promotions, raises consumer confidence and enables the company to develop O2O retail. With a mobile scan, consumers can be directed to online outlets or GS1 HK Product Website (wall.gs1.hk).

Diamond's Reputation Appeals to the New and Old
Andrew's maternal grandfather, Mr. Kam Shui-fai, is the founder of Yung Kee Restaurant and Diamond Restaurant, and his paternal grandfather is the legendary Cantonese opera actor, Mr. Leung Sing Por, MBE. The 74-year-old Diamond Restaurant is not only filled with Andrew's childhood memory, but also the collective memories of many Hong Kongers. "Costing over millions of dollars, the Grand Hall in Diamond Restaurant had hosted numerous wedding banquets and birthday parties, and the artefacts now become Hong Kong Heritage Museum collections. Not only does it inherit Chinese banquet feasting culture, but also holds a generation of fond memories. Even though the physical restaurant no longer exists at the moment, the Diamond Restaurant-branded gourmet collection attracts customers to revisit the good old days."
Establishing New Brand with Legacy of Quality
Harbouring the family reputation and status, Andrew adheres to quality-first principle when he develops the personal care brand Pharmabelle. "Australia's abundance of natural ingredients speaks its quality."
Pharmabelle's signature body wash is aloe vera base that soothes and hydrates sensitive and eczema-prone skins. The SPF zinc oxide cream is reef safe, protects the environment and our health. "The summer in Hong Kong is humid and sultry, causing eczema for many. They found our products provides great relief to their symptoms, and many have become Pharmabelle's loyal customers through word of mouth."
To bring all-round care inside-and-out, the brand provides Manuka honey, floral infusions, etc., that enhances immune system, supports anti-oxidation and detoxification for the users. Designed for Asians, Pharmabelle provides health solutions at an affordable price.
Hong Kong Brands Enjoys Advantages

As the pandemic continues, Andrew said that it has little impact on business because the brand aims mostly for Hong Kong customers. In addition to the brand's own online store, the products are available at Harvey Nichols, Wing On, Royal HK Yacht Club, K11 Beauty, Nail Bar etc. He is also considering to develop cross-border market. "Hong Kong and overseas products often convey high-quality and reliable image. I believe mainland consumers are willing to spend a premium for it, especially Australian natural brands managed by professional pharmacist, which is a sign of great confidence."